Share Android Screen: Have you ever wanted to share your Android screen with another device Other PC, or another device to your Android phone? Here's allow to Share Your Android Screen on Other's PC, Android, iOS Device, phone, tablet. I mean, have you ever wanted to show someone what's happening on your device to the second even without dealing with cables or huge downloads? You know, SHAREit is the best way to share your files, phone control apps.
There are different methods to do so, but the majority of them require that you have a rooted device, and rooting their device is not exactly what many users want.
But now we have an application that can easily allow you to share your screen with anyone who has Internet access and a web browser – whether smartphones, tablets, PCs or Mac. This application is named ScreenMeet, and it is the best way to share Android screens without any complications.
See also:
Why Would You Want To Share Your Screen?
ScreenMeet's official Google play store description reads this app is useful for you:
Service and Account Management teams screen sharing e-learning, online training, and technical support.
Sales and Marketing professionals sharing presentation slides, websites, and mobile app demos.
Field Service Technicians to share change management orders with customers.
Anyone to easily share camera photos, live videos, and drawings with their family and friends.
Mobile App Developers to screen share product updates with teams and clients.
Is ScreenMeet Compatible With All Devices?
 ScreenMeet is compatible with Android versions greater than Lollipop (5.0), Windows 32-bit and 64-bit and 64-bit Mac OSX.
How Does ScreenMeet Function?
ScreenMeet is super simple to use. When installing the application, you must register first. You get two options for this – either use your Google account or sign up through the traditional way ie using a name, a password and an email address.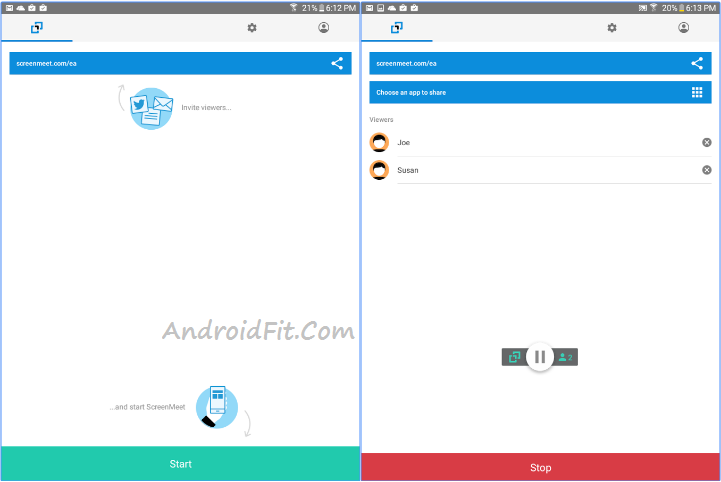 Once registered, you will get a link to share. Give this link to those with whom you are sharing your screen. For this unique link, it will have your name in it. Tell your people to visit this link using a browser on any device. Once they are there, press the big green start button at the bottom of the screen.
Your screen is now shared with those who opened this link into their browser.
In terms of control, you can see how many people are on the screen, application sharing, and activate the password protection to secure the link. You can also pause the presentation if necessary.
ScreenMeet offers a 30 day trial period, after which you'll have to get a monthly subscription. In the trial period, you can share your screen with 50 people at a time. There are two subscription models once the trial period is over. You can choose your bag to say the current limit of 50 viewers, and sharing is limited to the Android platform or go for the standard pack which offers options such as up to 50 viewers, Android sharing, Windows sharing, sharing Mac, Dial-in bridge and knock on Attach.
The best thing about ScreenMeet is it does not require additional downloads and other things. Just share the link you get after you save and you're good to go.
ScreenMeet.com also includes unlimited audio conferencing, so can say goodbye to all those complicated online meeting tools, and say hello to ScreenMeet 🙂 and rock on Share Your Screen on Other PC, Android, iOS Device.
See also: Best Android screen lock apps and widget
Do you share your screen often with others? What application do you use? Did you find helpful ScreenMeet? Tell us in the comments below!
Tags: ScreenMeet screen share app, share screen via ScreenMeet app, Share Android Screen to PC, Share Computer Screen to Android, ios device.