Since Android devices began with an RGB LED for notifications light as change led notification light, it has become an integral part of the platform. Although it may seem a simple addition, it is very underestimated. LED notification sure that you know failed notifications even when your phone is away and while ambient displays are gaining popularity, LED notification remains the preferred solution for many users.
The notification light on phones and tablets is disappearing slowly. The functionality once staple is now only found on some devices, and a host of other reporting systems have sought to bridge the gap. The most popular of these systems is room display, which has gained popularity with OEMs over the last two years; even own range of Google Nexus phones have made the plunge.
See also: Take control of notifications with Android Marshmallow
In addition, you can completely customize the LED notification behavior on Android. Before I tell you how you can do it, here's how you can first activate the pulse notification on your Android smartphone:
Enable Pulse Notification on Android.
New Google Nexus devices, the Nexus and Nexus 6P 5X, are both equipped with an RGB LED notification light. The small light is a convenient way to remind or alert you to notifications pending.
However, you will need to enable the small flashing light before you can start using it.
LED notifications or notifications of pulses are not enabled by default on Android smartphones. To enable it, head to Settings-> Sound & notification and switch "Pulse notification light".
If you are using Android N(Android Nougat), go to Settings->Notifications, hit the settings cog icon and enable "Pulse notification light".
After enabling LED notification lights on your smartphone, you can use third party app like "Light Manager, Light Flow etc" to customize everything related to notifications, including LED light.
Completely Customize the LED Notification Light Colors with Light Manager App
After enabling the "Pulse notification light" option with this simple process.
Install Light Manager from the Google Play Store

Allow Notification Access

Launch Light Manager and let the required permissions when prompted. You will be prompted to allow "Notification access" for the application, then go ahead and switch on and select "Allow" when prompted following.

Customize Your LED Notifications

From inside Light Manager, you will have options to change the LED settings for different types of notifications. To change the notification light for each of these types of messages, simply touch the one you want to change and select a new color. In addition, you can add new types of notifications by scrolling and pressing "Add App."

Before your new color notification can work, Light Manager must be restarted. Just touch "Restart Manager Light" at the top, and you'll be good to go.
Use Light Flow to Customize Notification Light LED Colors (Non-rooted devices)
First, you need to install Light Flow (free) on the Google Play Store. The app is available for free and a paid version ($2.49), which removes ads and supports customization thousands of app notifications. The application provides a persistent notification on devices running Android 6.0 or higher and if you do not want, you must install the Light Flow Legacy (which is the older version of the application). However, you will be missing out on other specific features such as Marshmallow execute permissions. Once you've installed the app, here's how to customize the notification LED light with this:
When you open Light Flow, you have to give access to the App notification access. You can simply type "Set up" and turn Light Flow in the notification access page. If you jump here you will find the option in Settings> Sound & notification> notification access.

Then you will be presented with a home page and a few tips on the application. You can press "Got it" to move forward.
You will see the list of applications, including notifications that you can customize. Next to each application, you have the option to change the sound, vibration pattern and color LED notification.
You can also press the floating button again to add a custom notification light for various applications, settings and contacts. You can press the button three dots beside app to disable notification or go to specific notification settings for an app.
In the Settings page, you'll find tabs for: notification, light, sound, vibration and more. In the "Lights" tab, you can enable / disable the LED light; change the color, the length and flash rates. There is a plethora of colors to choose from and a ton of different flash and notification rates.
For global LED settings, you can go to the application settings and check "LED Control", which features options depending on the hardware of your device.
Note: Many devices do not support third-party applications to control LED lights and you can head to Light Flow's Settings> Device Settings and Root.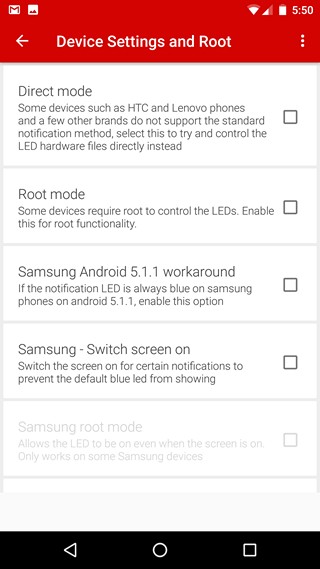 Rooted Devices for Light Flow
Light Flow provides more control for rooted devices, but it all depends on your device. Some devices have limited functionality, while some will have all the features available in the application. If you have a custom ROM on your device, chances are, you already have options to control the LED lights of notification in the Settings page. For example, CyanogenMod 13, you will find options to customize the behavior of the notification light in Settings-> Display and lights.
Ready to add more colors to your device's notification LED?
There are many uses of LED light notification customization of your Android smartphone. For example, you can define a color and pattern specific to an application like WhatsApp and a different color and style for different applications, which will ensure that you know if the notification is enough or not important. Thank you to the Light Flow app, you can do things easily and we like the fact that the application does all the features available to non-rooted devices too.
Read more:
Enable Blurred UI (LP) Feature on Android Phones [iOS style]
If have any idea or suggestion about the post "How to Customize/Change Notification Light LED Colors Behavior on Android". Then please leave a comment below…. 🙂