Print Files From Android Device using Google Cloud Print app
If sending an email to your desktop computer is always your method of printing from your Android, now is the time that changes. If you are a Android device user and want to print files such as images, email, or document on your Android device, you can do it easily with the help of applying Cloud Print. Using Google Cloud Print, you can print just about anything from your Android phone or tablet to a printer, even if it is an older model.
Cloud Print – which is a free android app developed by Google that lets you print directly from your Android phone. It supports many printers, but for the best experience, a Cloud Ready printer is recommended. These types of printers can connect directly to the Internet and do not need a computer to work. A complete list of cloud-ready printers can be found on the Google website.Google Cloud Print works not only with Android – it also works with any device running Chrome, including iOS and any desktop or laptop. Putting in place.
If your printer does not have cloud capabilities, you can still connect your classic printer to Google Cloud Print via your PC. For this to work, you need to add your printer to Cloud Print.
See also: How To Use Your Android Device As a Microphone For Your Computer.
Want to print from Android to old-fashioned paper? Quickly get started using Google Cloud Print.
Adding your Classic Printer to Google Cloud Print
Launch Google Chrome on your PC. If you do not, you can download and install from the official page of Google Chrome.
Click the "Menu" button in the upper right corner of the window and click "Settings."
Click "Sign in to Chrome" to enter your Google account. Ensure that you are logged in using the same Google account you are using on your Android device, because only then, the printer will be synchronized with your device.
Now click on  'Show advanced settings' and Scroll down to the Google Cloud Print option then click on 'Manage' button.
You will see a button "Add Printers" under the Classic printers section. Click on this button.

A confirmation message will displayed on the next screen. Select a printer connected to the computer. Click "Add a printer (s)" to confirm. That's it.
Now the printer is accessible via Google Cloud Print. To be able to print from your Android phone or tablet, you need official Google Cloud Print app for Android.
Most Android smartphones that come with Android 4.4 and above already include the Google Cloud Print feature. To activate it, go to Settings -> Print, and then activate the "Cloud Print" service.
If your Android device does not pre-installed service, just head to the Play Store and download Cloud Print app for free. You can check if it is installed by opening the Settings app and tapping printing. If it says "No service installed" means that you do not have Google Cloud Print. Press the 'Options' menu in the upper right and press "Add Service". The Play Store will be open, select and install "Cloud Print". Make sure that Cloud Print is also active in the print menu in Settings app. Once completed, you are ready to print from your Android device.
Before starting printing, make sure your Computer is connected to the Internet you are logged into your Google account in Chrome and your printer is turned on.
Printing from your Android Device
Open an image or document you want to print on your Android phone or tablet. Press the 'three dot' at the top right and select "Print". The file will then be loaded into the Cloud Print app. Use the drop down menu from the top down and choose the printer you want to print from. Tap the icon of the printer and your document or image will be printed.
Printing Web pages is also possible through Cloud Print. Just open your Android browser menu, 'Share' button tap, and select "Cloud Print". From here you can then print the Web page to any of your printers registered on Cloud Print.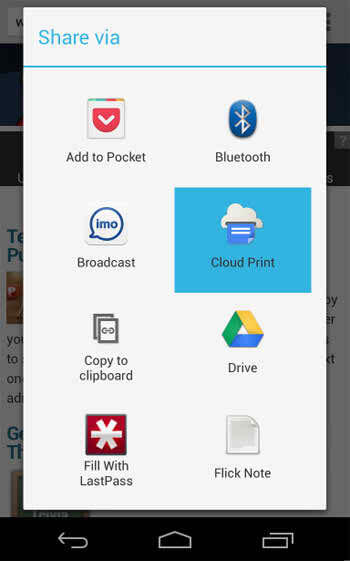 As for printing Gmail messages, Google's Gmail app for Android does not have an option that allows you to print your mails. But, if you access your Gmail account through a Web browser application, you can print your mails. Just open a Gmail message in your browser, tap the arrow to reveal additional buttons, and select "Print".
---
Cloud Print is not just for Android. Now that you're set up, you can head to any computer running Chrome, sign in with your Google account and print directly to your printer at home even when you are away. Simply select your printer in the Print dialog box when you use Chrome.
It also works with iOS devices. Just install PrintCentral Pro to start printing emails and attachments, contacts, web pages and text messages from your iPhone or iPad.