Here's shared some method as How to Print Out Text Messages from Android Cell Phones via PC (Windows/Mac). If you are used to communicate with other people by sending text messages. You will find your phone memory is always getting full of all kinds of messages you should delete them to free more space. Troublesome, right? Or sometimes you can store important messages to other places to check for pleasure or to remind you of precious memories. Or you even need to keep certain messages as evidence in case of a civil court for fear they are lost to bad removal and some additional unforeseen reasons. In such cases, the SMS print records on paper may be a modest solution. But how to do it?
Where are your text messages located on the Android Phone?
As is well known, you can print documents on your computer through a printer. So if you need to print paper text messages, you'd better export and save the messages on your computer as a printable format at first. After that, you can get messages on paper by a local printer easily. However, the problem is – how to copy messages from Android to your desktop? It is logical that the text messages are always stored on the internal memory of the mobile phone or SIM card. But due to the storage limitation of the SIM card, almost all of the messages stored in the internal memory of the phone. Thus, it is seems impossible to export your SMS necessary to the computer via a single USB cable. Here's shared some method to Print Out Text Messages from Android Cell Phones.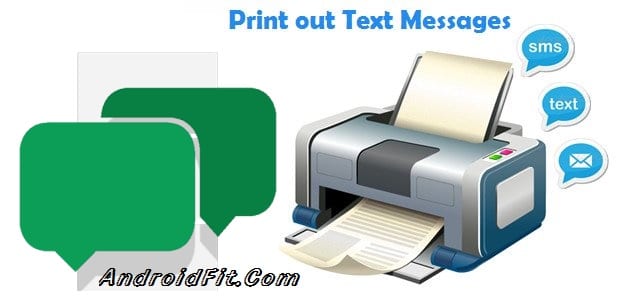 Method #1: How to Print Text Messages Printing Through Email via SMS Share from Android to Mac or PC 
First Install SMS Share – Share Messages by GilApps from here.
After installation, Launch SMS Share. you can tap "Open" from its Google Play page.
Alternatively, you can look for the app in your app drawer.
Now select a text message thread. This will be the thread you want to share to your e-mail.
Tick which message in the thread you want shared.
Now you can share with your Gmail account or any e-mail app of your preference.
Tap on "Share" in the upper-right side of the screen. when you're done selecting your messages. Your messages will be sent to your e-mail.
Now Login your  receiver Gmail (which you used to sending your SMS) on your PC or Mac.
Open your e-mail account.
Select the thread that has been e-mailed to you.
Now Click on Print Button to Print Text Messages from Android.
Method #2: How to Print Text Messages from Android on Windows/Mac
Launch the program after the installation, then enable USB debugging on your Android phone. Here's How to Enable USB Debugging Mode on Android Phones and Tablets.
All files are listed on the panel, including applications, music, photos, video, contacts, and so on. Please select the "Contacts" icon and click the "SMS" button on the left panel.
Then you can preview all your messages, mark messages that you need to print. After that, you can hit the "Export" button to export and save messages on your computer as a printable format.
Be sure your computer is connected to a printer, and then find.
Open the exported file to your computer and print it directly.
With it, you can export all text message to the computer with a single click, and before performing the export command. You are allowed to get a glimpse of the whole conversation in the program directly. In addition, this program can fully compatible with almost all brands, including Android Samsung, HTC,LG, Motorola, Google, Sony, ZTE, etc. So you'll never worry about the phone model.
Note: If your Android phone is not connected to a printer, you may need to send message files to a computer that is connected to a printer.
That's all! This is all the printing steps SMS messages from an Android phone. If you have the same need, then please do not hesitate to do it now!
Read more:
– How to Know Who Has Read My Whatsapp Group Message on Android
Tags
how to print text messages from cell phone
email my texts
how to print text messages from samsung galaxy s4, HTC, LG, Nexus, Xiaomi, ZTE.. ETC.
how to email text messages from android
how to print text messages from verizon cell phone