The Google Play Store is the go-to destination for Android users to download and update apps, games, and other digital content. However, like any digital platform, it's not immune to occasional glitches and errors. One such frustrating error that many Android users encounter is the dreaded "Something Went Wrong, Try Again" issue. In this post, we'll delve into the causes behind this problem and provide effective solutions to help you get your Play Store up and running smoothly once again.
What is the Issue with Google Play Store?
The "Something Went Wrong, Try Again" error message can appear when you're trying to access the Google Play Store, browse through apps, or even when attempting to download or update an app. This vague error message can be frustrating, leaving users unsure of what exactly went wrong.
Possible Causes
Network Issues: Sometimes, the problem might not lie with the Play Store itself, but with your network connection. A weak or unstable internet connection can cause interruptions while communicating with the Play Store servers, leading to this error.
Caching and Data Corruption: Cached data and corrupt temporary files accumulated over time can hinder the proper functioning of the Play Store. This can result in unexpected errors, including the "Something Went Wrong" message.
Outdated Play Store App: Using an outdated version of the Play Store app can cause compatibility issues with the server-side changes. Keeping your apps up to date is crucial for ensuring a seamless experience.
Google Account Issues: Problems with your Google account synchronization or authentication can also trigger this error. If there's an issue with the account linked to the Play Store, it might not function properly.
Server-Side Problems: At times, the Play Store servers themselves might be experiencing difficulties. This is usually a temporary issue that Google resolves on its end.
How to fix Something Went Wrong, Try Again Issue with Google Play Store on Android
You can follow the troubleshooting steps below and fix Sorry, There was a Problem with your Request Login Error on Instagram:
#1 Restart Google Play Store or Your Device
When you encounter the above case, in the first place, you are recommended to relaunch the Google Play Store app or further your device (mobile phone, computer, etc.).
#2 Check Network Connection
Secondly, you should check out your Internet connection to see whether there is a problem. You have to make sure that you have a stable and good bandwidth while using Google Play Store.
You can turn off and turn on the network connection, switch to Wi-Fi or Ethernet, or use another network. Besides, you may need to restart or power cycle your router or modem, as well as even flash your DNS.
Sometimes, just putting your device closer to the router may fix the issue. Or, you can toggle on and off airplane mode to reconnect your Internet.
#3 Match Date and Time
The mismatch of date and time can also cause that error. To deal with this, just set the right timezone or region with the below steps.
1. On your phone, go to Settings > System > Date & Time.
2. Enable Set time automatically and Set time zone automatically.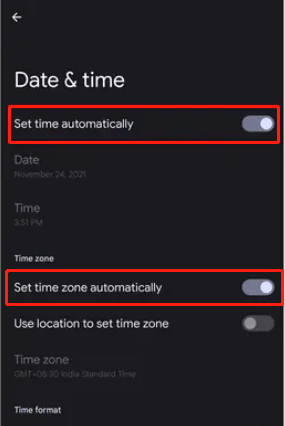 #4 Sign out and Sign in to Google Account
Also, you can try to sign out of your Google account and sign in it again in Google Play Store to handle the "Sorry, something went wrong on our end. Please try again." or similar problem. Maybe you have recently changed your Google account password or signed in with multiple accounts.
In Google Play Store, navigate to Settings > Passwords & Accounts.
Press on your email address.
On your Google account settings screen, tap the Remove Account button and confirm.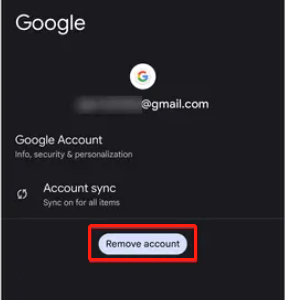 Then, log back into your Google account right there using Add Account option.
If re-logging in the Google account doesn't fix the issue, you may sync the account to see whether it helps. Just tap the Account sync option on the Google account settings screen and follow the guide.
#5 Manage Google Play Store Preferences
Besides, an improper app preference may also result in that error. So, you have to check or reset your Google Play Store preference.
The Google Play Store has a native setting for only downloading apps over WiFi. If you have this option on and you are not using a Wifi, your downloads will be paused until you connect to WiFi. So, you can easily get the problem solved by disabling that feature.
In Google Play Store, head to Settings > App download preference.
Under App download preference, switch your selection to Over any network.
Tap DONE.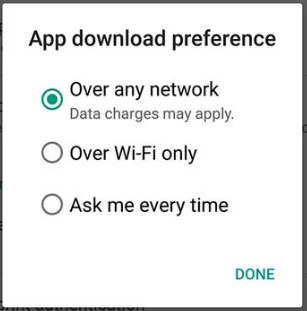 #6 Clear Google Play Store / Google Play Service Cache
If your problem still exists, you may consider a data storage issue. That is to say, you may try to clear the data cache of the Google Play Store or Google Play Service.
In Google Play Store, move to Settings > Apps > See all apps > Google Play Store > Storage & cache.
Under Google Play Store storage settings, tap the Clear cache option.
Also, you are suggested to force stop Google Play Store and restart it.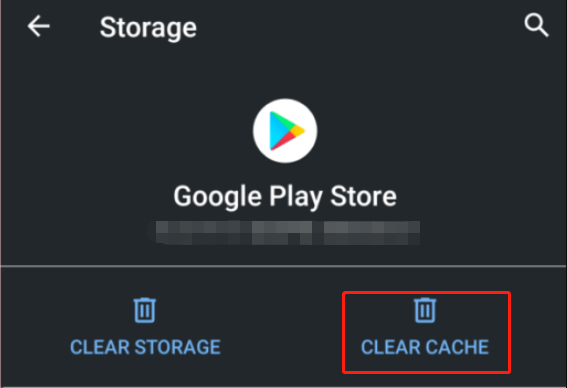 #7 Uninstall/Reinstall Google Play Store
Moreover, you can try to uninstall the updates of the Google Play Store to downgrade to its previous version. Or vice versa, if you are currently not running its latest version, just update to its newest edition to see whether the issue disappears or not.
Or, you may need to uninstall Google Play Store and reinstall it on your smartphone or other devices.
#8 Install APK Files from Web Browser
If unfortunately, none of the above solutions have successfully solved your problem and remove the "sorry something went wrong. Please try again later" warning, you can find the APK files of your target apps by searching in your browser and installing them directly from their official websites.
Unlike the App Store on iPhone, there is no limitation on adding apps from other resources on Android devices.
#9 Rely on Google Play Store Alternative
Lastly, you can make use of the replacements of the Google Play Store. Usually, your brand of cellphone has its own app store. For instance, Samsung mobiles have Galaxy Store. If your phone doesn't have its app store, you can take advantage of Amazon App Store to get the programs you want.
Conclusion
Encountering the "Something Went Wrong, Try Again" issue on the Google Play Store can be exasperating, but it's not an insurmountable problem. By following the troubleshooting steps outlined in this blog post, you'll likely be able to resolve the issue and enjoy a hassle-free experience on the Play Store once again. If the problem persists despite your best efforts, you can consider reaching out to Google's support or seeking assistance from relevant online forums where other users might have encountered similar issues. Remember, technology isn't always perfect, but with a little patience and know-how, most problems can be overcome.