Podcast For Android: If you have a long drive, such as to learn while you are working, or you simply need some noise to help you fall asleep, best podcasts  are the answer. And even if none of these things describe you, but you like to learn new things and hear ideas, surely you already have an impressive list of aligned podcasts that you like to listen to. Here's we shared 10 Best and Popular Podcast Android Apps (Podcast For Android).
Today we have put together a list of our 8 best apps to listen to podcasts on your Android device. If you're looking for a new way to listen, this list is for you! Whether you want something simpler in nature or a unique application, there is something here for everyone.
Pocket Casts – One of the best Podcast For Android
Pocket Casts award-winning and only $ 3.05, is one of the best Podcast apps available for listening to podcasts. However, there is so much more to Pocket Casts than simply listening to your favorite podcasts. There are so many different features that Pocket Casts turns every podcast into a unique and personalized listening experience for you, from any Android device, including Chromecast and Android Wear.
Pocket Casts is the best podcast app for Android. Not only has it been around for a long time, constantly adding great features that fit naturally into the Android ecosystem, but it has great discovery tools to find the best new shows.
With each podcast you subscribe to, you can choose to receive notifications for new episodes or disable them and simply visit the application from time to time to see what happens. And if you have specific podcasts that you want to listen to each episode, you can set up Pocket Casts so that each episode is automatically downloaded to your device so you can listen to it when you're ready, even offline. These are some of the impressive features Pocket Casts has to offer, and we sincerely hope you give them a shot.
[appbox googleplay au.com.shiftyjelly.pocketcasts]
Spotify – (Podcast For Android)
Spotify is one of the most popular and popular music streaming services in the world. Beginning in early 2016, Spotify also began offering podcasts. There are not many podcasts available there yet because the service is so new, but we have no doubt that the number of podcasts available will skyrocket with time. You can download and use the service for free as long as you do not mind some audio ads or you can fork $ 9.99/month for the full, ad-free experience. If you already use Spotify, there will probably be a point where a second podcast application will be redundant.
Here's Spotify Mod APK (Spotify Premium Hack) + Spotify Music APK
[appbox googleplay com.spotify.music]
Google Play Music – Best for beginner
Play Music is relatively new in the podcast scene (bizarre, is not it?), But Google's streaming music service has built-in podcasts with aplomb, Existing user interface to which you are already familiar. Some of the podcast prowess of Play Music is derived from the simplicity of the application: a great discovery portal, and lots of choices, without overloading the user with features. In addition, there is an excellent support Chromecast and Android Auto integrated because, finally, it is Google!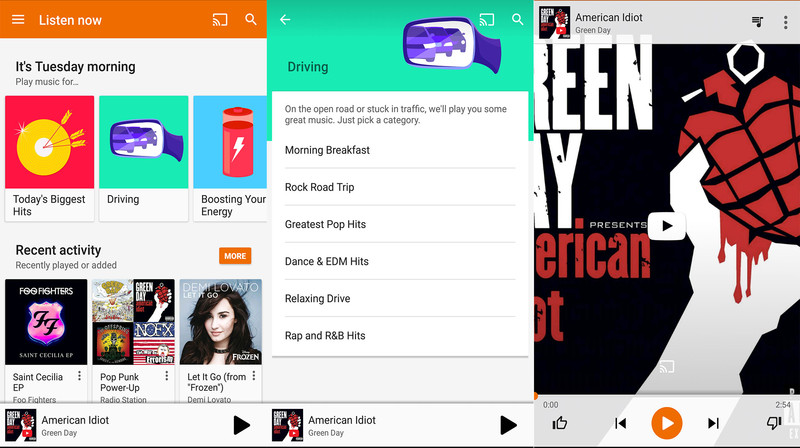 Google Play Music launched their podcast platform in mid-2016. Play Music synchronizes your subscriptions to the podcast on devices and platforms, so if you subscribe to a bunch of great shows on your Android phone, those shows will be available when you connect via the web.
For the simplest experience to start, Google Play Music is the perfect place to listen to your podcasts. And because it's already installed on your phone – there's very little configuration required!
[appbox googleplay com.google.android.music]
SoundCloud – Music & Audio
With over 135 million tracks,  SoundCloud has become an increasingly popular site for independent podcasters to post their stuff. It is the world's largest music and audio streaming platform. This is a bit harder to find given the wide range of audio content, but everything works well once you have found the podcasts you are looking for.
It has a good appearance, modern interface with solid controls. You can "favorite" tracks to listen to them later. This is simple and you will almost exclusively broadcast podcasts here rather than download them.[appbox googleplay com.soundcloud.android]
TED
Perhaps some of the most polished, thoughtful podcasts and talks in the world, TED is an app everyone should have. If you've always wanted to get tips or hear ideas, TED is the perfect place to search for it, whether you want to know how to make conversation with someone, or what to do when you receive these fraudulent emails.
Having the TED application makes all TED content extremely efficient and accessible. On the application you will have access to the podcast and discussions in the form of video or audio. They are available for offline downloading, or you can have the application create a playlist that they think will be good for you.[appbox googleplay com.ted.android]
Podbean Podcast App for Android
In Podbean Podcast App, you will find the typical features of your podcast. Search for or search for specific or random podcasts to listen to, download for offline listening, create playlists, and more. But the most interesting thing about Podbean Podcast App is that it has a unique feature that sets it apart from other applications.
In Podbean Podcast App, as you continually listen to the podcasts you are interested in, the app will recommend other podcasts. If you are constantly looking for great content that you will enjoy, it's fantastic! Every time you listen to another podcast, Podbean Podcast App creates better and more appropriate recommendations. [appbox googleplay com.podbean.app.podcast]
TuneIn Radio
TuneIn Radio has been a longtime favorite for many people who love podcasts and Internet radio. The service comes with a ton of options for podcasts although the podcast owner will have to make them available on TuneIn before they can listen to them.
If you are looking to discover new interesting shows and podcasts, Stitcher is still unmatched. It has a huge database of content and, after subscribing to some shows, Stitcher knows what you like, and will recommend some fun stuff you've probably never heard of.
In addition to podcasts, you can also enjoy talk shows AM/FM radio (original podcasts), and many other stations with different types of content. If you get pro subscription, you can also live live NFL, MLB and NHL games which is fantastic if you are in the sport. This is one of the best podcast apps out there, hands down.[appbox googleplay tunein.player]
CastBox
If you are looking for a mix of things to sink, CastBox is the way to go. With Castbox, you can listen to FM music on audio books, radio, and podcasts. Not only is it a fantastic way to catch up with your favorite conversations and podcasts, but it will help you mix things up a bit and give you the opportunity to listen to something else for a change.
With over 340,000 podcast content available, you are sure to find everything from your favorite favorite podcasts to the simple search for a topic and selecting a podcast that looks good. Also, with all the different media available on CastBox, it might seem a bit confusing to use, but never fear! With CastBox, you will get an awesome widget that will allow you to control all this from an easy location.
[appbox googleplay com.podcast.podcasts]
Podcast Republic
Currently, this android Podcast Republic is available in 10 languages. And apart from your phone, it also supports tablets and Android Wear, so you can stream your audio podcasts (or video!) From wherever you are. There is even a "car mode" and a sleep timer to make things easier if you're trying to drive or want to listen to a podcast while falling asleep.[appbox googleplay com.itunestoppodcastplayer.app]
Podcast and Radio Addict
If simple to learn to use, if you are not already an adicte podcast, Podcast Addict will surely turn you into one. You can search any podcast for android, by show or episode, browse randomly to find something new that might interest you. Oh, and no need to subscribe, you can download individual episodes directly on your device.
Podcast Addict also has several different features that will help you customize your listening experience. For example, you can adjust the podcast playback speed, skip silent moments, etc. You can also create specific playlists, which are great for road trips or trips.[appbox googleplay com.bambuna.podcastaddict]
See also:
Closing for Best Podcast app for Android
Podcasts are an awesome run time with Podcast For Android (Podcast Android Apps), but just as fantastic if you're multitasking, too. Whatever your case, we hope you have found a new podcast app for android from this list that has exactly what you are looking for.