20 Best Android Widgets to make Your Phone's HomeScreen more awesome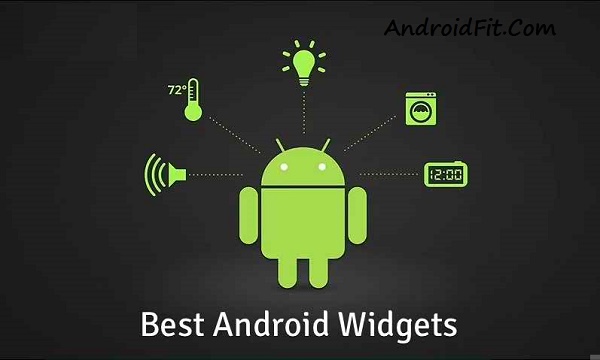 For people who like to do things, the home screen of best Android widgets is almost indispensable. Rather than packing your launcher with a bunch application icons. You can use widgets for quick information at a glance in a beautiful package Or provide access to an outlet in a specific functionality in your applications.
Most of the android widgets you find through a quick search will clock weather and variety, but they are obviously in abundance, which means you should have no trouble finding one you like. So instead, I'll cover some of the best widgets for Android in 2022 that focus primarily on getting stuff done, and I hope your productivity levels will soar as a result.
We are listing down the apps in various categories so that you can find the perfect Android widget you've been looking for all this while. So, here it goes to jump section:
Best Android Weather Widgets
1. Meteogram – Weather Graph
I know I said I did not want to cover weather widgets, but Meteogram is much more useful than your standard gadget "Current Conditions". It provides graphs that display the temperature or the probability of precipitation throughout the day to come, and it can also be configured to display additional information in that format. There are 5 main themes of colors, but the individual labels can be set to any color of your choice, so you always know what type of weather to expect with a quick glance.
⇒ Install It from Google Play Store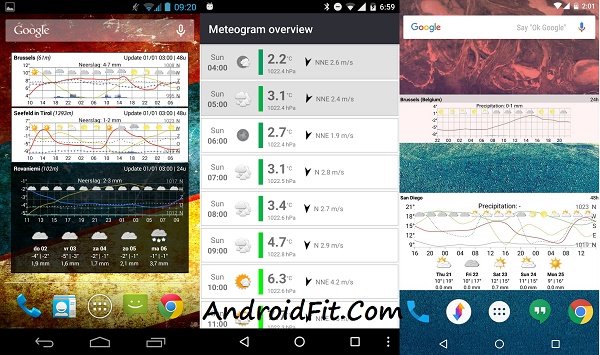 2. 1Weather
1Weather is a good looking weather widget. Who, over time shows the clock and a Google search bar. You can either let the app use your location or add custom locations. Customization options include background selection (live weather, dar, light, transparent), icon set, focus, the clock face and more. You can also set an application to launch when the widget is tapped.
Moreover, 1Weather app brings you weather details like precipitation, wind and with some great transitions and graphics that make it fun to use.
⇒ Install It from Google Play Store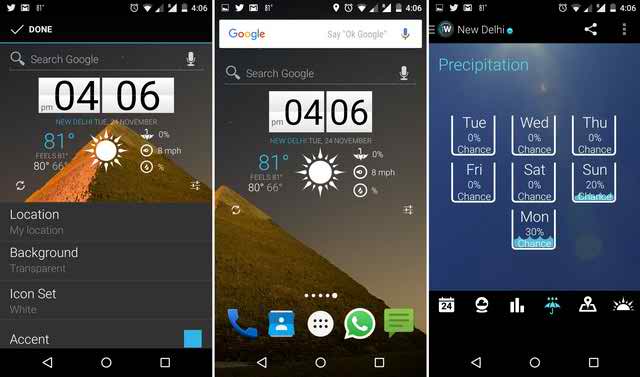 3. Transparent Clock & Weather
What we liked most about Transparent Clock & Weather is that it brings a ton of widget templates and that too in a number of sizes, so you will never be short of options. You can completely customize the widget, as there are options to change the skin style icons weather widget, police time and much more. You can also set up the time and date, time and location and application notifications.
With tons of cool widgets, and Transparent Clock time also brings great weather app with features such as forecasts of the moon, precipitation, humidity, wind details and more. The application is free, but is limited regarding the options and it also includes ads. The premium version includes ads and delete all the settings.
⇒ Install It from Google Play Store (Free, Premium $2.83)
Best Android Clock Widgets
1. Minimalist Clock Widget
Minimalist Clock Widget offers more than 20 clock designs and all seem very polite. The number of great choices clock appealed to us very much and we are sure you will find them so cool. With cool clock designs, you can customize almost everything. You can change the color of each particular thing on a widget and some color options depend on the clock you use. With the clock, you can choose to see the weather, battery level, and time zone on the widget.
Minimalist Clock Widget is fairly new, but we are confident about it and we're sure you should check. You can thank us later!
⇒ Install It from Google Play Store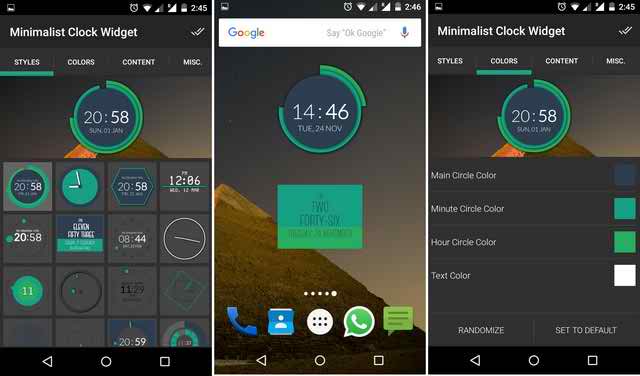 2. Onca Clock Widget
Onca widget clock widget is perfect if you like a clock interface with a simple, minimalist interface. It also allows you to customize the widget to suit your needs.
The free version of Onca Clock Widget lets you select the font size, adjust transparency, seconds show / hide or date or ring background. It also allows you to open certain applications when tapped on the clock widget or date. The Pro version can be purchased with in-app purchase, and it allows you to customize the appearance of hours and minutes, change colors, add more minute marks. The Pro features can be previewed in the application before you buy, so you can give it a try and see if you like enough.
⇒ Install It from Google Play Store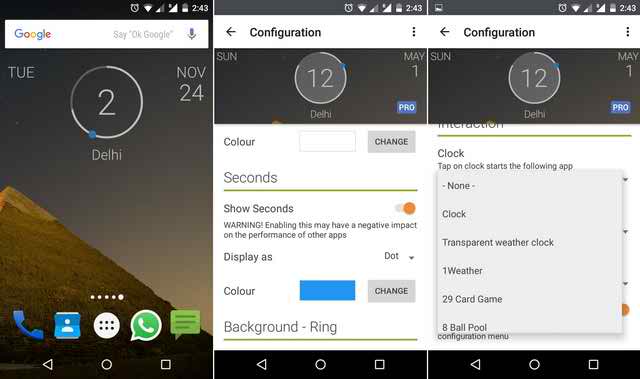 Best Android Quick Widgets
1. Power Toggles – System Settings
With over 1 million installations, Switches power is definitely a fan favorite. This widget is about as powerful as it gets because you can adjust nearly every system setting at the tap of a button, and even affect long-press actions to each of your rocker. There are two available widgets 1×1 record and a band 4×1 and the former is very customizable with a wide range of theme options.
⇒ Install It from Google Play Store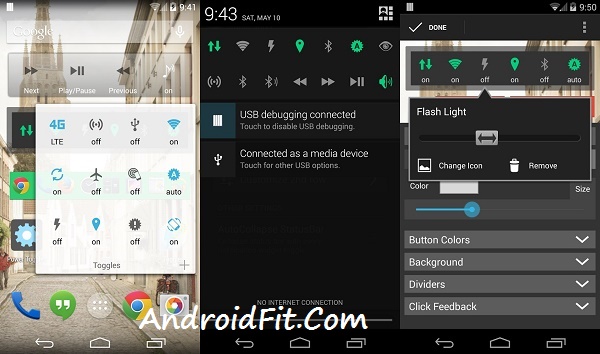 2. Slider Widget – Volume Levels
Over the years, the volume menu of Android has seen several revisions, but not all of them have been welcome changes. So, depending on your Android version, you may want an easier way to adjust the volume levels and is there Slider Widget comes in. All system volumes (and even brightness and rotation) can be adjusted with a simple tap and then dragging the cursor to pop-up, it makes managing your volume levels incredibly easy.
⇒ Install It from Google Play Store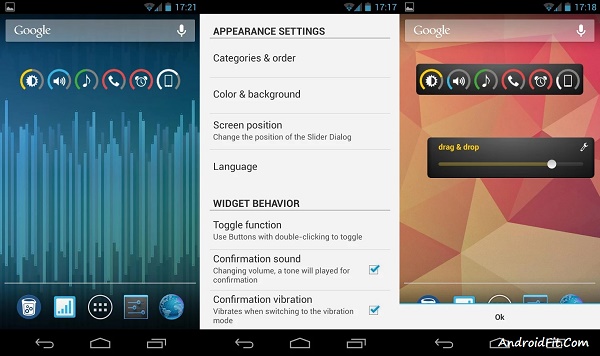 Best Android App Launcher / Dialer Widgets
1. Circle Launcher
Circle Launcher is a widget, not a pitcher, as the name suggests, but the functionality it provides in the widget almost eliminates the need for a pitcher. The widget allows you to launch an application, call a contact or go to your brand with a great ease. Apart from this, there are a plethora of options to customize the label of the widget, the widget icon, animation, background gradation, icon size, background color, offset, text size and color Moreover. The application also allows you to save your configurations, you can restore on another device, so you do not have to put up all over again. The application is available in a free "light" version, the free version "Swipe" free "ad included" version and a paid version.
The version "Swipe" lets you slide in selected areas on the Home screen to open launcher Circle. You can choose the area, width and sensitivity of the scans. The "announcement" version includes ads in the circle of launch that you have installed. The paid version of the app unlocks different styles of widgets and more customization options than what you saw in the light version. While the names complicate, functionality and widget usability make it.
⇒ Install It from Google Play Store(Free "Light" version, Free "Swipe" version, Full version $1.00)
2. AppDialer Pro Widget
Find an app on your Android device can have serious, especially if you do not have this app on the home screen. Well, not anymore, thanks to AppDialer Pro widgets. It is a cool widget that allows you to search for applications through a smart QWERTY alphanumeric keyboard or predictive. The widget searches for applications, people and different parameters as well. It also provides a quick launch panel in the notification bar and other customization options.
AppDialer comes in a free version but it is very limited and it will warn you to buy the Pro version so many times that you could end up deleting the application. So, get the free version just to have an idea of how the application works and then get the Pro version before changing your mind.
⇒ Install It from Google Play Store (Free, Pro $3.99)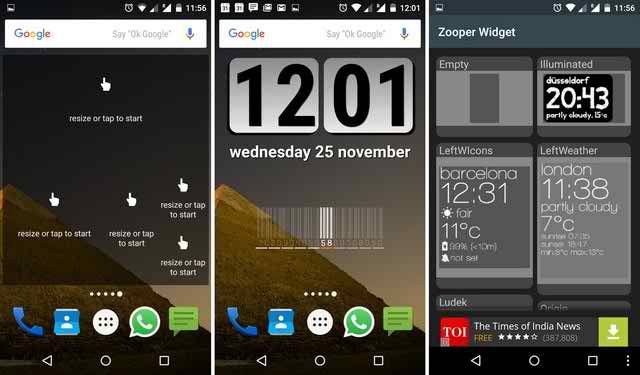 Best Android Calendar Widgets
1. Event Flow Calendar Widget
Event Flow Calendar Widget app is a stylish calendar widget that hooks into your existing Android system calendar to show upcoming events in one of two formats, a calendar view that shows your upcoming appointments, or monthly view that gives you 30 days at a time. There are white and transparent themes available in the free version and some interface-tweaking options, so you can get a nice look to go with your easy-to-view schedule. You can unlock all the themes and configurations with an in-app purchase of $ 0.99.
⇒ Install It from Google Play Store (Free with in-app purchase for Premium version)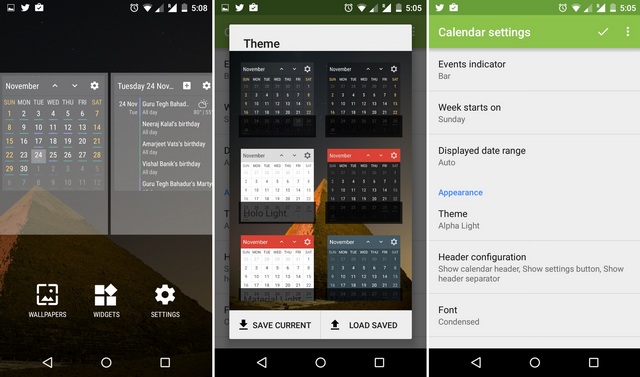 2. Calendar Widget: Month
Calendar Widget: Month calendar widget is a cool enough, that comes with the support of more than 70 themes. Just click the magic button in the application and you will have a slide showing all the themes that are available. With fresh themes, there are options for the calendars you want to view, lunar calendar, change the colors of events and more.
The Calendar Widget : Month app is free on the Play Store, but there are various in-app purchase to remove the ads and get premium themes. If you have trouble finding the application after installation, in memory goes by the name "Month".
⇒ Install It from Google Play Store (Free with in-app purchases)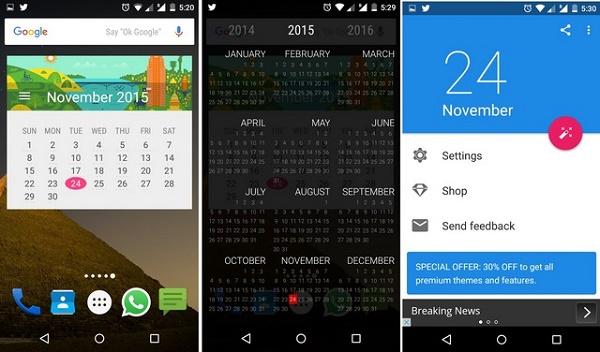 Best Android Battery Widgets
1. Battery Widget Reborn
Battery Widget Reborn app is a highly rated and most downloaded battery widget. It brings a battery widget and an extra battery chart widget, which shows you a graphic of your battery. With widgets, the app also provides battery status panel on the notification bar. Other features of the application includes statistics, power control latch, power saving parameters and more.
The widget of the battery and a chart widget comes with configuration parameters as ability to choose what to see on the widget, battery meter, width, drop shadow, color, on-click action and more. The application is available in a free version but contains ads. The paid version does not provide additional functionality, but remove the ads.
⇒ Install It from Google Play Store(Free, Pro $2.25)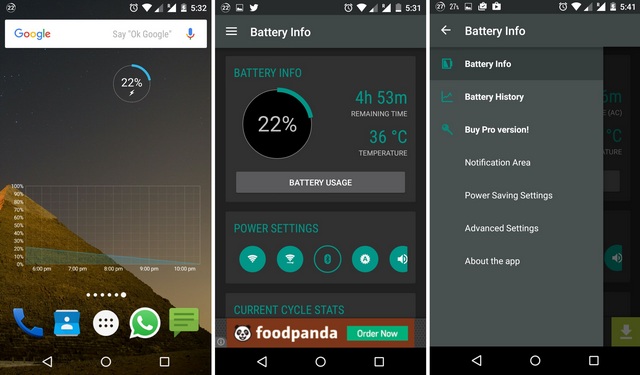 2. Battery HD
battery HD has been a popular battery widget app for quite a few years now and it is still one of the best widgets. It brings different widgets (compact and horizontal) that show the battery charge levels, time estimates for specific use, temperature, voltage and time since last charge. It also allows you to change colors, configure notifications and alerts charge level and more. The application also shows you details battery as the time required to charge by AC & USB, the health of the battery and more.
The application is available free on the Play Store and it has ads, but you can get the Premium version, if you are really allergic to ads.
⇒ Install It from Google Play Store (Free, Pro $4.24)
Best Note Taking Widgets
1. Google Keep
Google Keep is a valuable tool to take notes, create reminders, checking lists of things to do and more. Your creations are synchronized across all your devices, so it's a perfect cross-platform app but on Android, widgets are an even better experience. With the 3×2 widget, you can choose to only show specific types of notes that are fully interactive. Then, with the 3×1 widget, you will have instant access to creating new notes and reminders.
⇒ Install It from Google Play Store (Free)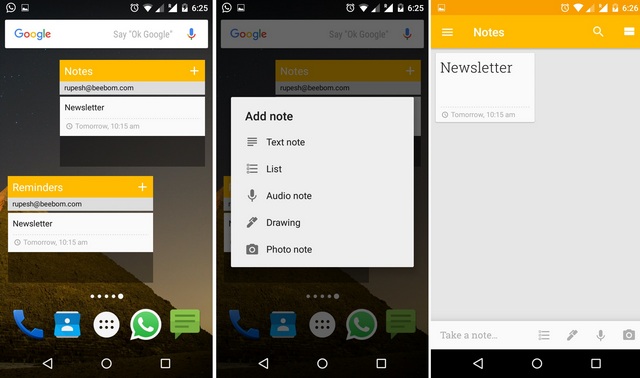 2. Sticky Note+
If you like having sticky notes on your Android home screen, Sticky Note+ should be a good bet. The app cool sticky note is easy to use and there is not much noise about it. You can share your notes, set reminders, create checklists, change color, text size, and size. It also includes a number of themes, if you're one of the people who get bored easily.
There is also possibility to save your notes to the SD card on your phone or sync your notes to Google Drive. The cool widget app is available for free (including ads) on the Google Play Store.
⇒ Install It from Google Play Store (Free)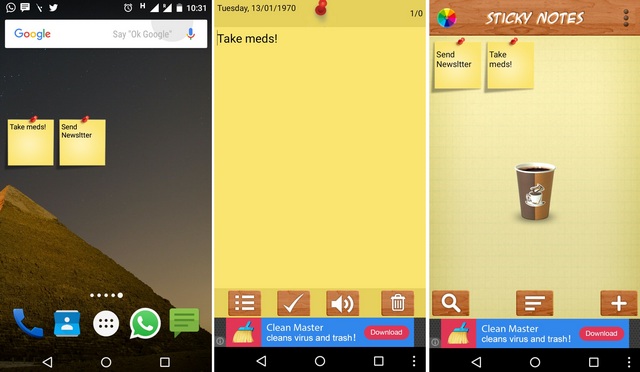 Best Android News Widget
1. Palabre – RSS Feeds
Palabre is already an impressive flow and Feedly player that features the latest news in a beautiful mobile-friendly format, but the widgets it offers make the application even more of a joy to use. You can select the subscription to display in one of three different widget sizes, then when you see an interesting article, just tap it to view the site in the Material Design Palabre drive interface.
⇒ Install It from Google Play Store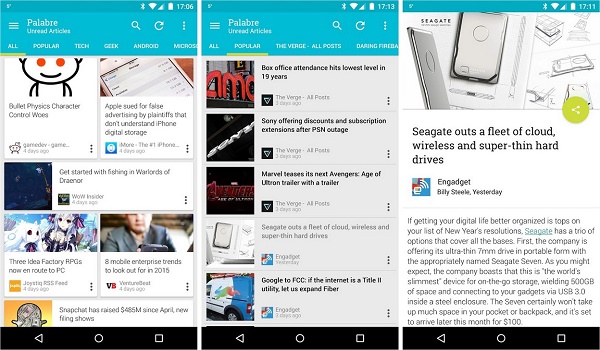 Best All in One Widgets for Android
Beautiful Widgets
Beautiful Widgets is another popular app widgets which has been around since the early days of Android. As HD Widgets, Beautiful Widgets is also passed by the updates to ensure that it remains viable. The app includes widgets for smartphones and tablets and you can customize as you wish. There are cool widgets for clock, clock and time, toggle, battery and calendar. In addition, there are several options to choose from for each of the widgets.
The application is available in a version freemium, but we recommend the paid version because the free version is very limited, as regards the sources and widgets. Developers also allow you to get a refund within 24 hours if you do not like the app.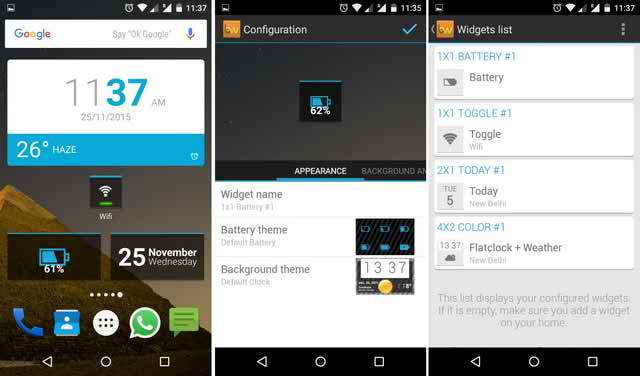 ⇒ Install It from Google Play Store (Free, Paid Pro $2.12)
Best Custom Widget maker Apps
1. Zooper Widget
Zooper Widget is a cool application that lets you create on widgets.There measure are several size options for widgets and you can add custom widget models from the application. You can also create your own templates and add custom fonts, icon sets. There are some unique features like WYSIWYG editor with support for layers, much like Photoshop and Gimp.
Speaking of widgets, there are widgets for clock and time, battery, WiFi and network details (data usage), alerts, sunrise and sunset and many other details. The free version (including ads) application is quite limited when it comes to Widget configurations and save them and also lacks support for apk themes & Buzz launcher.
⇒ Install It from Google Play Store (Free, Paid Pro $2.99)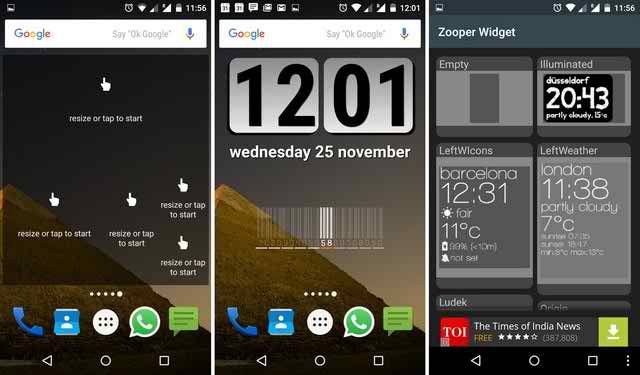 2. Minimalistic Text: Widgets
If you like minimalistic widgets, then you are going to love Minimalistic Text. It offers simplistic flat widgets for time, date, weather & battery and you can customize every bit of it. There are options to change the widget orientation, background, layout text style, widget content and tap & double tap behavior. It also supports custom widgets, tasker integration and launchers like Buzz.
The features might be a little convoluted for some but if you like tinkering with widgets, you should give it a try. Furthermore, the app is available for free although it does include ads and in-app items.
⇒ Install It from Google Play Store (Free with in-app purchases)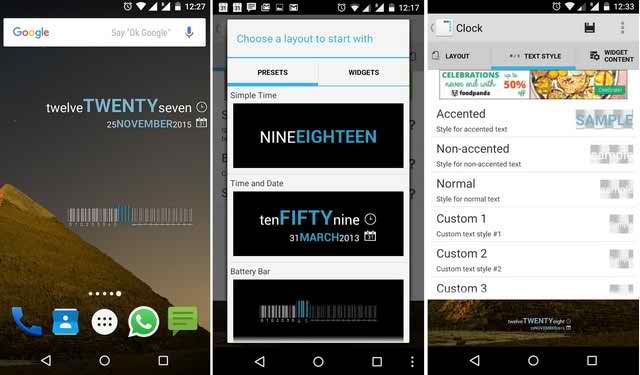 SEE ALSO: Best Free Calling App for Android
These are the best Android widgets that we have found. Give them a try and let us know your experience. Your feedback is important.