In today's digital age, music streaming has become the preferred way for millions to enjoy their favorite tunes. The convenience and accessibility offered by online music streaming sites are undeniable. Whether you're looking to discover new artists, create personalized playlists, or simply enjoy your all-time favorites, there's a plethora of options available. In this article, we'll explore the 13 best online music streaming sites that offer free access to a vast library of songs.
Here are the 13 Best Online Music Streaming Sites
#1. Spotify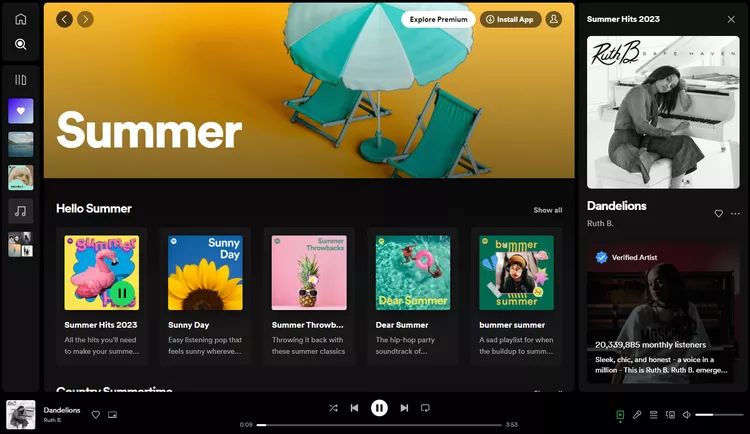 It's no surprise that Spotify is one of the leading names in the world of online music streaming. With its vast library of songs, user-friendly interface, and personalized playlists, Spotify has transformed the way we listen to music.
Spotify boasts a massive collection of songs, spanning across genres, languages, and eras. Whether you're into pop, rock, hip-hop, classical, or any other genre, you're bound to find your favorites here. From chart-topping hits to indie gems, Spotify has it all.
One of Spotify's standout features is its ability to curate personalized playlists for users. The "Discover Weekly" and "Release Radar" playlists offer a tailored selection of tracks based on your listening history, helping you discover new music that aligns with your tastes.
#2. YouTube Music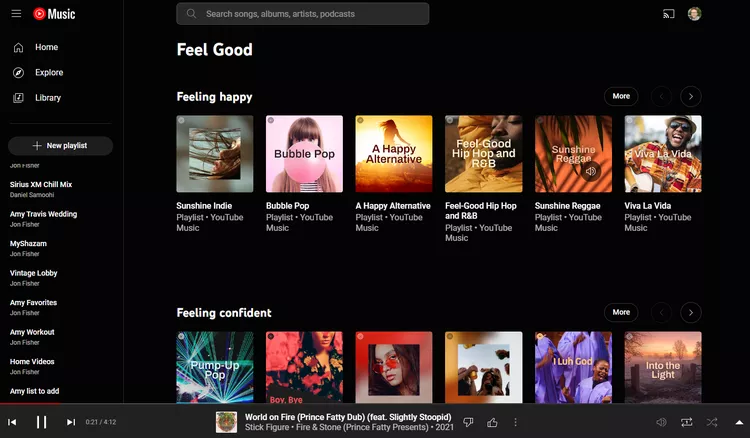 In the ever-evolving landscape of online music streaming, YouTube Music has emerged as a prominent player, offering a unique combination of official tracks, music videos, and user-generated content.
One of YouTube Music's standout features is its seamless integration with music videos. While other streaming platforms primarily focus on audio tracks, YouTube Music provides users with access to a vast library of official music videos. This adds an extra layer of engagement and entertainment to the music streaming experience.
Beyond music videos, YouTube Music also offers official audio tracks, remixes, covers, and user-generated content. This diversity of content ensures that users can find both mainstream hits and lesser-known tracks across various genres.
#3. Pandora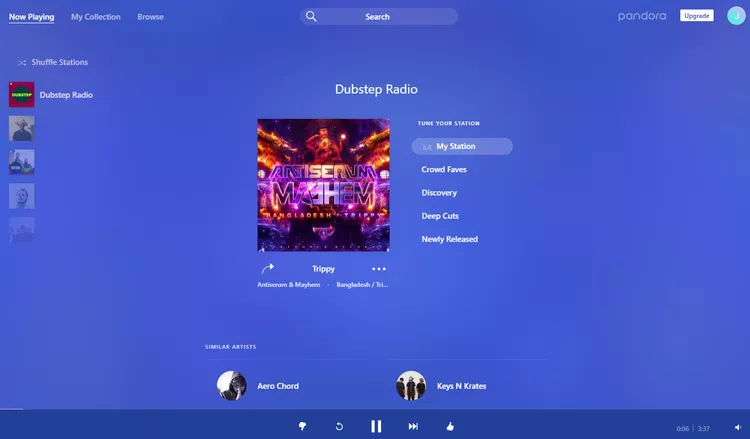 When it comes to personalized Internet radio, Pandora has been a pioneer and a beloved choice for music lovers since its inception. With its unique approach to music discovery and personalized stations, Pandora has carved out a special place in the hearts of listeners.
Pandora's defining feature is its ability to create personalized radio stations based on your favorite songs, artists, or genres. This dynamic approach to music discovery means that Pandora introduces you to new tracks that align with your preferences.
Pandora's unique approach to music discovery through personalized radio stations has earned it a dedicated following. By focusing on music attributes and adapting to user preferences, Pandora delivers a continuous stream of tailored tracks. Whether you're seeking to expand your musical horizons or want to curate stations that match your exact taste, Pandora offers a listening experience that's both engaging and interactive.
#4. Jango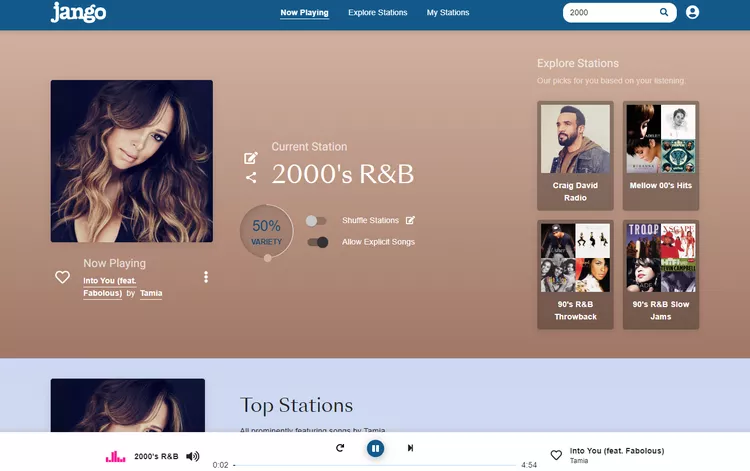 Jango is a hidden gem in the world of online music streaming, offering a radio-style platform that's focused on introducing users to new music and artists. With its simplicity and dedication to music discovery, Jango has found its niche among listeners who want to explore a diverse range of tracks and expand their musical horizons.
At the core of Jango's experience are user-curated radio stations. These stations are created based on genres, artists, or songs, and are designed to introduce listeners to new tracks that align with their interests.
Jango's radio-style platform shines with its dedication to music discovery and its commitment to showcasing both popular hits and emerging artists. Its user-curated stations, simple interface, and focus on introducing listeners to new tracks make it a valuable addition to the online music streaming landscape. Whether you're looking to expand your music library or simply want a refreshingly uncomplicated music experience, Jango is worth exploring.
#5. SoundCloud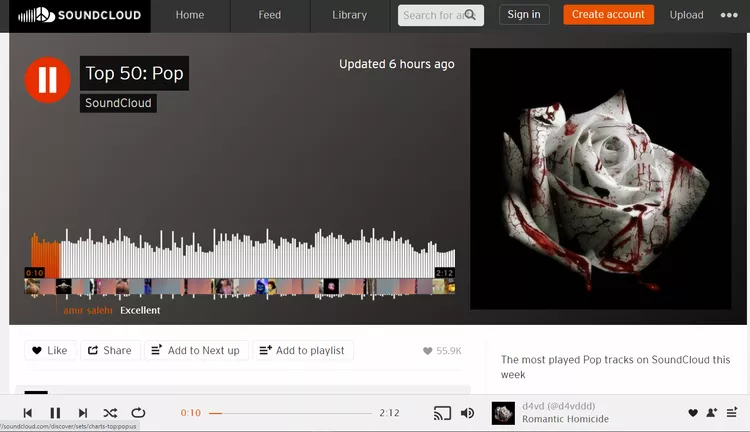 SoundCloud is a unique and dynamic online music streaming platform that has gained immense popularity among both independent artists and music enthusiasts. With its focus on user-generated content and a diverse range of music, SoundCloud has become a go-to platform for discovering emerging talent, sharing original tracks, and exploring a wide array of genres.
SoundCloud's focus on independent artists, user-generated content, and a diverse range of genres has cultivated a unique and vibrant music community. Whether you're an artist looking to share your music or a listener seeking out new and innovative sounds, SoundCloud offers an experience that celebrates creativity and fosters connections between artists and their audiences. It has become a platform that encourages exploration and supports a wide spectrum of musical expression.
#6. TuneIn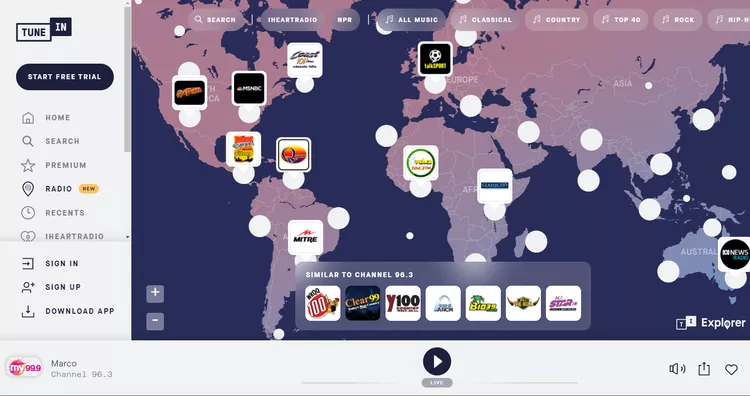 TuneIn is a versatile online platform that offers a diverse range of content, including live radio stations, podcasts, and music streaming. It's a one-stop destination for those seeking a mix of live broadcasts, on-demand shows, and a wide variety of music genres.
TuneIn's diverse content offerings, including live radio, podcasts, and music stations, make it a versatile platform that caters to a wide range of interests. Whether you're in the mood for music, looking to catch up on the latest news, or interested in exploring podcasts on various topics, TuneIn provides an engaging and comprehensive listening experience. Its ability to connect you to both local and global content ensures that you can find something that resonates with you, no matter where you are in the world.
#7. iHeartRadio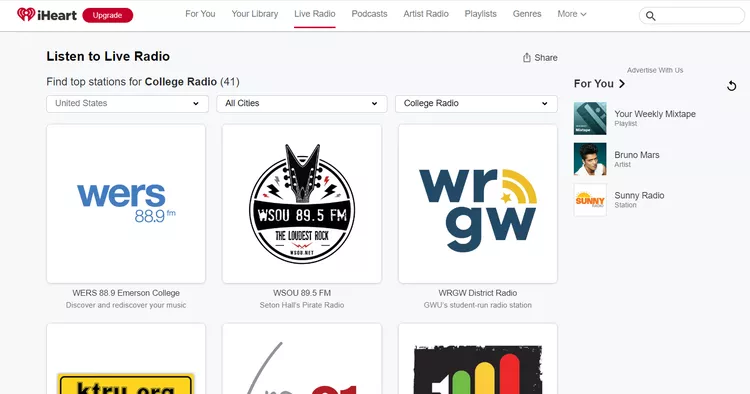 iHeartRadio is a popular and comprehensive online music streaming and radio platform that offers a wide range of content, including live radio stations, podcasts, playlists, and personalized music recommendations. Known for its seamless integration of radio broadcasting and digital streaming, iHeartRadio has become a go-to destination for music enthusiasts and podcast lovers alike.
Users can create and personalize their own playlists based on their preferences. Whether you're in the mood for a specific genre or a mix of your favorite songs, iHeartRadio lets you curate your music experience.
iHeartRadio's combination of live radio, podcasts, personalized recommendations, and a variety of curated stations makes it a versatile platform for music and audio content consumption. Whether you're looking to listen to your favorite local radio station, discover new podcasts, or create customized playlists, iHeartRadio offers a well-rounded and engaging experience that caters to a wide range of preferences and interests.
#8. Mixcloud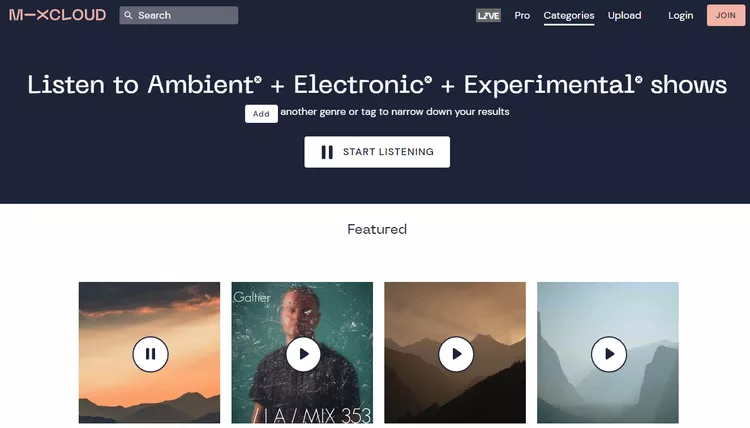 Mixcloud is a unique and vibrant online platform that specializes in hosting DJ mixes, radio shows, and podcasts. It's a hub for DJs, radio hosts, and music enthusiasts to share and discover curated audio content. With its focus on long-form mixes and diverse genres, Mixcloud has carved out a niche for itself in the world of online music and audio streaming.
Mixcloud is renowned for its extensive collection of DJ mixes and curated radio shows. It's a platform where DJs can showcase their skills and craft seamless blends of tracks across various genres.
Mixcloud's dedication to DJ mixes, radio shows, and long-form audio content sets it apart as a unique platform that celebrates music curation and exploration. Whether you're a DJ looking to showcase your mixes, a listener in search of diverse music mixes, or someone interested in podcasts and talk shows, Mixcloud offers an immersive and engaging experience that caters to a wide range of audio content preferences. It's a vibrant community that values creativity, curation, and the joy of discovering new sounds.
#9. Dash Radio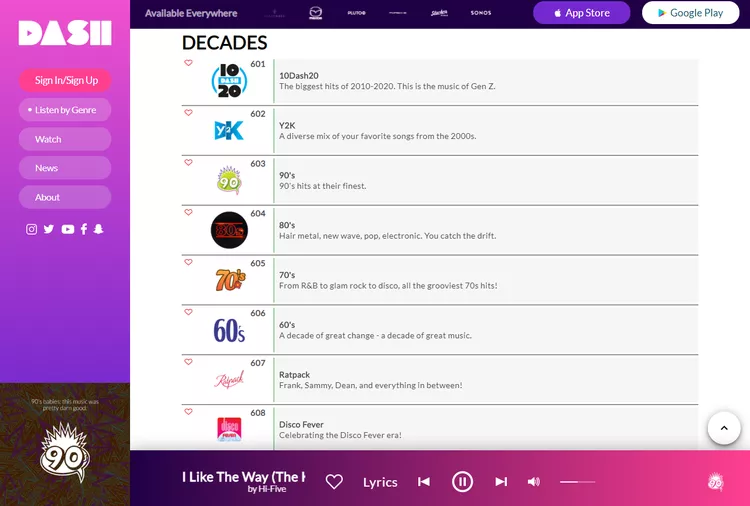 Dash Radio is a distinctive and innovative online radio platform that offers a curated selection of live radio stations, each hosted by influential DJs, artists, and tastemakers. Focused on bringing the spirit of traditional radio to the digital age, Dash Radio provides a diverse range of music genres, talk shows, and original content.
Dash Radio features a wide array of curated radio stations, each helmed by well-known DJs, artists, and music industry personalities. This curated approach ensures a high-quality and engaging listening experience.
Dash Radio's dedication to curated live radio stations, diverse music genres, and original content creates a dynamic and immersive experience that bridges the gap between traditional radio and modern digital platforms. Whether you're seeking to discover new music, connect with DJs and artists, or enjoy ad-free radio programming, Dash Radio offers a unique and community-driven approach to music and entertainment. It's a platform that brings the essence of radio back into the digital age, appealing to those who value authenticity and engagement in their listening experience.
#10. AccuRadio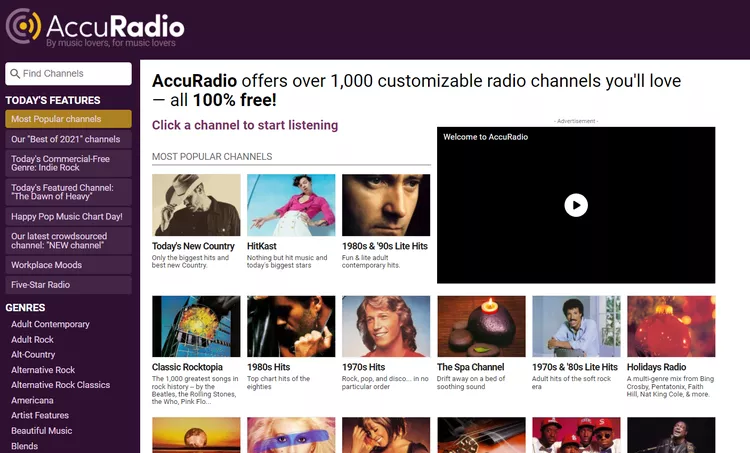 AccuRadio is a versatile and user-friendly online radio platform that offers a wide range of curated music stations spanning various genres, decades, and moods. With its focus on customization, listeners have the ability to fine-tune their music experience to match their preferences. AccuRadio's dedication to providing a tailored radio experience sets it apart in the world of online music streaming.
AccuRadio's focus on customization, diverse genre offerings, and the ability to fine-tune stations to match individual preferences make it a standout platform for personalized radio listening. Whether you're in the mood for nostalgic hits, exploring new genres, or creating a soundtrack that matches your current mood, AccuRadio's user-friendly interface and extensive station options provide a highly tailored and engaging music experience. It's a platform that empowers listeners to curate their own radio stations and discover new tracks that resonate with their unique musical tastes.
#11. LiveOne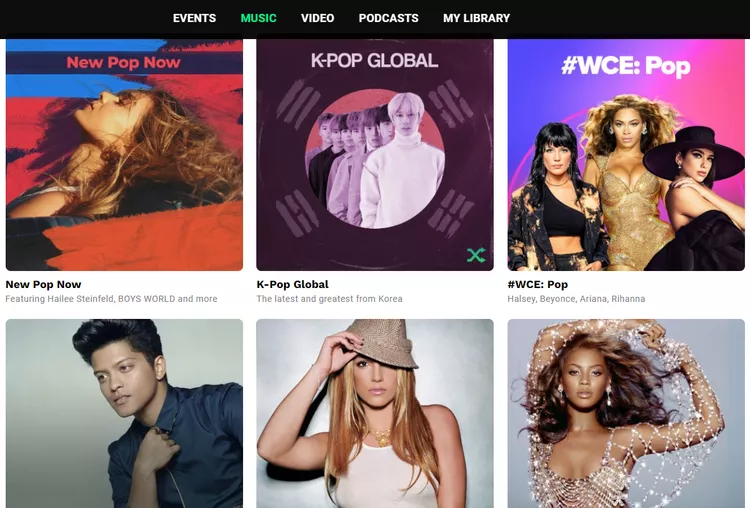 With LiveOne, you can create custom radio stations built around the songs, genres, and artists you enjoy. After choosing the type of music you like to listen to, LiveOne streams similar music mixed in with the songs you suggested.
In addition to streaming live festivals and events, you can also browse through radio-like stations, which is a great way to discover new music.​​​ The service works from various mobile devices through their mobile app.
You can buy a subscription for more features. There's a Plus version with no ads, unlimited skips, and maximum audio quality. The Premium version includes those features, as well as offline listening and the ability to play any music on demand.
#12. StreamSquid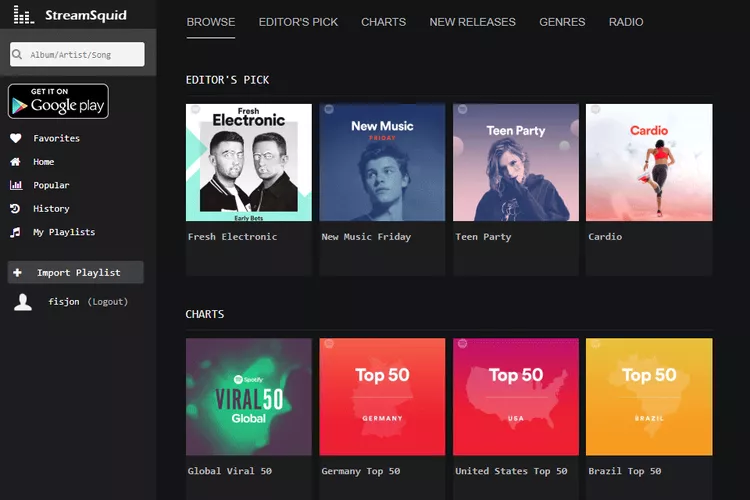 StreamSquid is another free music streaming service you can use without making a user account. What makes this website different from the others is that it plays audio from YouTube without the videos.
Stream your favorite YouTube music by searching for the artist or song title. StreamSquid also includes its own music collection and has several ways to help you find your new favorite song.
There's a section dedicated to popular music on StreamSquid and one for trending tracks. I also like the genres — in addition to the normal ones are others like focus, workout, sleep, gaming, romance, and travel.
#13. Myspace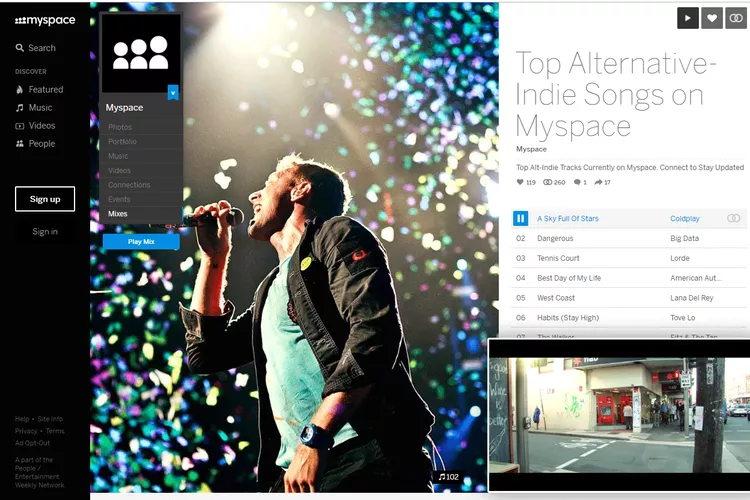 Previously a popular social networking site, Myspace has been remade into a music platform. Hear songs you know and discover new tracks, and you don't need a Myspace account to do it.
Find music by searching for the artist or song name. There are many genres to choose from as well as Myspace mixes such as Top Country Songs, Top Pop Songs, and others for alternative indie songs, rock music, best songs by year, and more.
Overall, this is a decent place to listen to music, but it's never a first choice for me. The website feels weird to use, and the music always takes a bit to finally start.
Conclusion:
The digital era has revolutionized the way we enjoy music, and the abundance of free online music streaming sites is a testament to that. From classic hits to underground tracks, these platforms cater to diverse tastes. While premium subscriptions often offer ad-free listening and additional features, the free versions provide an excellent starting point for music enthusiasts on a budget. So, whether you're looking to discover new sounds or simply enjoy your favorite tunes, these 13 music streaming sites have got you covered.