SHAREit APK Download is a free file sharing app that works across multiple operating systems. Download and install the latest version of SHAREit v4.0.58_ww apk app on your Android phone as well as on Android tablets for free and start transferring your heavy files from one mobile to another mobile within seconds.
Now Apk Fact dedicated for you to provide SHAREit Download App official links for Android device. Here's also shared how to use SHAREit app from android to android device.
SHAREit Android Apk – file sharing features:
Share files whenever & wherever! without No network restriction
Best Faster file transfer, the highest speed goes up to 20M/s.
Enables you and your friends to transfer and receive files at a time
No USB! No data usage! No internet needed!
You can also share your files on Cross-platform. Such as they support computers, tablets, Android & iOS & Windows Phone & Windows XP/7/8.
The easy way to share your files!
Replicate contacts, music, videos, SMS messages, MMS messages, apps and other data from your old phone to the new one in just one click.
whatever you have Transfer… You can share any files, likes Photos .jpg, videos .mp4, music .mp3, installed apps .apk and any other files.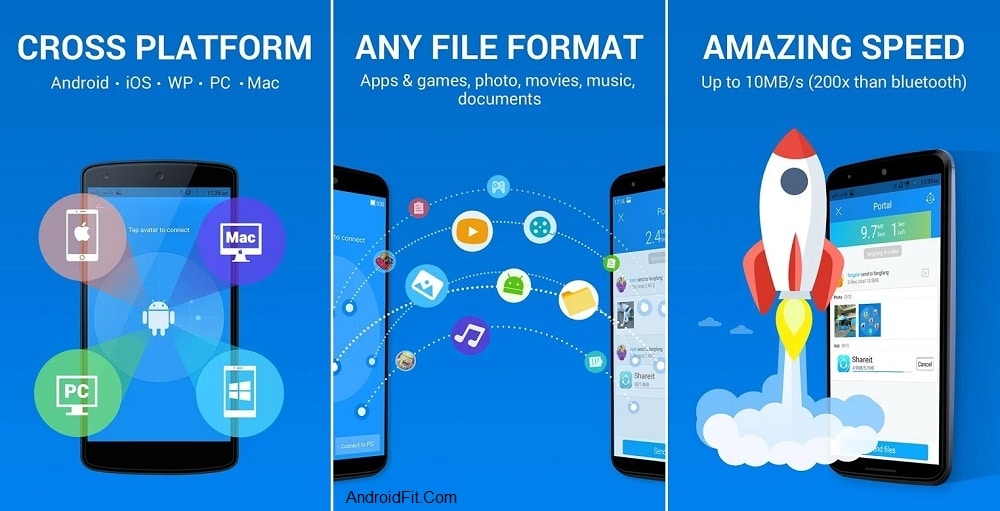 How to use SHARE it Apk?
If you are new to this application, you may need the complete guide with screenshots so you can easily use this app and transfer or share files such as pictures, sound, etc. with your friends.
Requirements:
To begin transferring the files between one device to another, all you need is the SHAREit application installed on both the devices. You can download the shareit app for PC to use in windows.
The devices going to transfer the files must have a WiFi functionality only and need any other data connection.
How To Steps (Android to Android device):
Go to your Shareit app from Android device and tap on "Send" button.
Now Choose the files you want to share. Once you selected the files tap on "Next" button.
Now the app will search for the nearby SHAREit device.
Now open SHAREit app from receiver device and click "Receive". (Not that: do this before sender tap on Next Button)
Now your app on the phone will show the nearby device. Tap on the device from your phone, so that it will start sending the files to another android device.
_ How to Share Your Android Screen on Other PC, Android, iOS Device
Watch this video for clear about this, if any problem.. just comment below…
Some important FAQ about Shareit App
Q. Why can't I find anyone?
First, please check if the recipient started ShareIt. Shareit may attempt to use your WLAN connection to find another user before starting a home network. Make sure the recipient is also connected to the same wireless local area network, if available. If a wireless network is not available, please have the recipient restart shareit.
Q. Can I share a whole folder at a time?
Yes, after you choose to send files, the file browser will open. Select the folder you want to send and click 'Select'.
Q. Is there a limit on the size of a file I can share?
No, but very large files will take longer to share.
Q. How does SHAREit transfer files without a network connection?
SHAREit uses a WIFI technology called SoftAP that creates a personal network to which other devices can attach and send or receive files.
Q. Can other shareit users connect to my camera and start sharing files without my approval?
No, you have to accept their invitation connection before you can start sharing files with you. Only if you trust a user device shareit can shareit start transferring a file without having to accept the transfer.
Q. Which brands of devices does it support?
SHAREit covers all device platforms, regardless of operating system. Dell, Xiaomi, Samsung, ZTE, Huawei, Sony, Lenovo, HP, Mac,Coolpad, OPPO and vivo are all SHAREit-compatible.
Q. Error message: Fail to parse the installation package
Your SHAREit download may be corrupt. Please download and re-install SHAREit.
SHAREit v4.0.58_ww APK Download (Android)
You can immediately download and install the SHAREit apk android application's APK file to easily transfer file image messages to all your other Android mobile or computers. We share the latest version file for you.
shareit Apk download for PC windows 10
SHAREit Apk offers you a simple way to share all your photos, files, applications and more for your buddies. Initially, Shareit was developed for Android, iPhone and Windows Phone. Due to the increasing demand for this application among PC users and its exclusive features, the download of SHAREit Apk for PC was officially launched.
Following are the requirements of SHAREit download for PC
512 MB of RAM
50 MB of free space
Intel Pentium IV or more faster
SHAREit Apk Download
for Android (Official):

Just click on download link which is provided here and you can download this amazing from app its official website too.
Get Android latest version from Google Play Store.
APK Version: v4.0.58_ww
APK Size: 5.82 MB
Developer: Lenovo
SHAREit APK Download
Old Shareit Apk Download:
Download Share it for other platforms:
What's New in v4.0.58_ww
Fix the problem of some devices that receive pictures but don't display in gallery
Fix App crash bug with few phones
Add built-in cleaning function, release more storage space on devices
I hope that you enjoyed this post on how to use & SHAREit Apk download. Share it with your friends on social media. Do let me know any doubts/clarifications via comments.