Talking Tom Gold Run Cheats, Tips And Tricks: Talking Tom Gold Run is a game that you should have if you like the racers and games with endless single premise. In this game, Tom will drive past obstacles and oncoming vehicles to help go after those who stole the gold. Here is a list of our Gold Run Talking Tom cheats to get you started!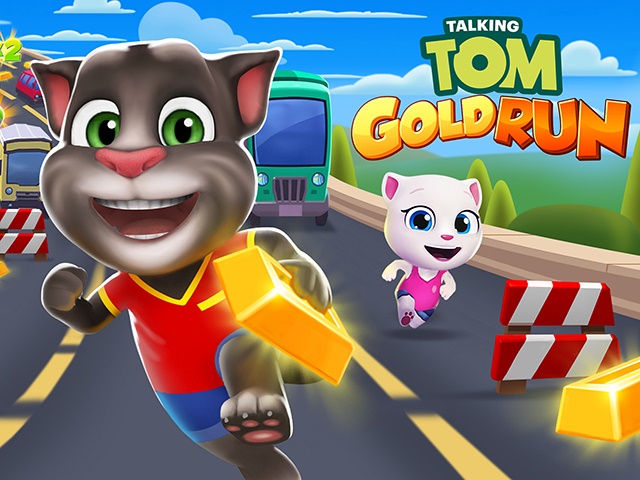 How to controls Talking Tom Gold Run(Know the basic).
Watch the short tutorial earlier in the game will help you learn the basic moves and controls you need to do to help Tom move forward. Change of direction by dragging left or right. quickly tap the screen to make him jump and avoid obstacles on the bottom. Tom is able to move from side to side in the air, so do this if you want to collect additional pieces halfway flight.
See also: Trio-ketchapp Cheats and Tips to Quick Shape-Changing
Game objective and features: Talking Tom Gold Run
Early in the game, you will play Tom and be introduced into the story where a thief has taken your gold. Your main objective in this game is to run as far as you can and build your high score, without getting hit by oncoming vehicles. Other objectives are to collect as many coins and bonuses along the way and build your dream home.
Avoid colliding with buses and other obstacles.
Barriers execution immediately stop racing, then the game will ask if you want to continue or start again. Dynamites can be exchanged for another run. However, there is a much better choice just restart the game, because lives are limitless.
Gold and bonus items for Talking Tom Gold Run
Gather gold to purchase special items that can improve your chances of your race or avoiding obstacles. You can also buy a helmet to avoid getting scratched your first collision, a magnet to collect all the gold coins close and hitchhike on plans and collect flying coins, and a golden boost to collect more coins than usual.
Updated Tom and Friends.
View ads for packages falling from the sky and go up the plane to earn gold to upgrade Tom and his friends. This is a great way to earn bonuses for nothing, so watch several times if you have time. In addition, play longer to receive a free safe where you can get bonus items to use for characters upgrade as well. Know that each of the friends can do.
Improve the home of Tom and special items.
Unlock features of your home in exchange for gold and subsequently increase your score multiplier. You can also unlock other areas of your home like the vault where you can get more bonus points to be used for other purchases and even upgrade special items like magnets. Also, if you play a little longer, you can get a free safe without having to spend valuable game currency.
Download Talking Tom Gold Run->
We hope you enjoyed our Talking Tom Gold Run Cheats, Tips And Tricks. What are you waiting for? Go chasing that thief now!
Share your gaming secrets by commenting below!
Related Post: