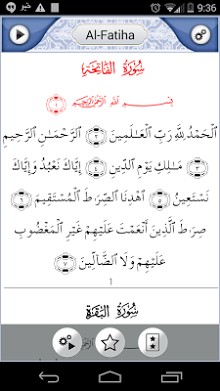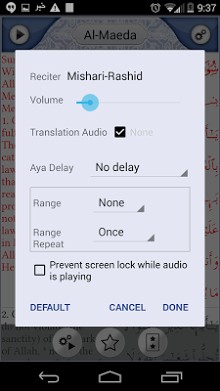 "www.quranexplorer.com" now comes the Android platform.
If you like the app please take the time to give us a Five star review: it really helps. Jazak Allah.
Quran latest software for the Android, iPad and iPhone.
Free Quran Explorer version features:
.-  lovely Uthmanic script font.
.- Option to display side by side English translation by Mufti Taqi Usmani.
.- Full text Arabic Quran.
.- Portrait and landscape mode.
.- Bookmarks (up to 3 markers).
.- Scalable fonts size.
.- Full audio recitation of famous Qari (Sheikh Rashid Mishari).
.- Sura and Juz index.
.- Function pinch / zoom to change the font size.
.- Recitation of high-quality audio with verse highlighted.
.- Goto aya feature.
.- Fast audio playback through Sturdy download method with progress icon.
QuranExplorer free version has complete scalable Quran Text source Uthmanic all diacritics. English translation by Mufti Taqi Usmani is also included. Quran Explorer is compatible with phones and tablets in all orientations. Supports pinch / zoom function to change the font size. English translation appears side by side.
Full text Arabic and English translation has been proof-read by a Muslim scholar ('alim).
Paid version contain many many reciters, translations. English & Urdu translation unlimited bookmarks, audio, background audio, bulk download, disable standby feature and many more features.
Offered by: Noble Foundation for Education.
Requires Android: 4.0 and above.
It offers in-app purchases.
Apk App Size: 33 Mb