Mini Militia Cheats, Chat Codes, Hacks and Tips (Doodle Army 2 Mini militia tips)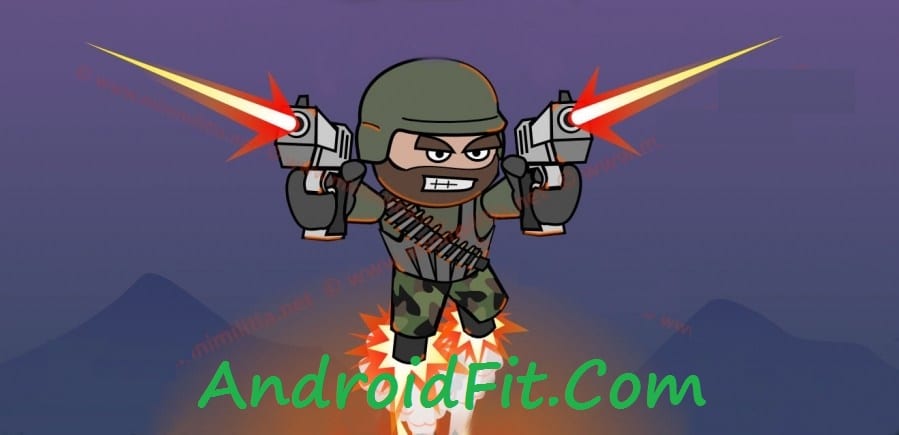 Doodle Army 2: Mini Militia Cheats, tips, and tricks. Single player or multiplayer, this Android game is driving everyone crazy nowadays. Day by day, Doodle Army 2 is becoming the favorite of all Android games. I love this game a lot and use Android to play every day, either multiplayer or single player whatsoever, this game makes me crazy …
Mini Militia Cheats to Play Doodle Army 2 game
I heard about this spectacular game 2 months before and I saw that this game has been accepted by most Android users who are interested in games. You can guess the popularity of the game among Android users because this Android game got 4.1 ratings in Google Play Store in 1 month. As thousands of people are daily looking for Doodle Army 2: Mini militia cheats tips aka mini militia tips,  battle points tips, Mini militia Cheats on Google. Can you believe, when I say this game Statistics show that it would certainly fight Clash of Clans, clash royale the game most played Android in the coming days …. !!

You can hate the game when the first time you see someone play, but once you play, i'am damn sure you will get addicted like me. There are many features that makes me the most play. – androidfit.com
See also: How do I use Lucky Patcher and Hack In-App Purchases without rooting?
Doodle Army 2: Mini Militia Features that loved you
Doodle Army 2: Mini Militia supports multiplayer mission without Internet Connection (but you need Portable Hotspot connection). it can be played with your 6 friends simultaneously in online version and 12 friends in WiFi version.
Also, it can be played along with your Google Plus friends by inviting them to the game.
The installation size of this game is only 42 MB of size.
Google Play Games Reward points for each of the achievements secured in the game.
In-app purchases for the Pro Player Pack for full access to online weapons, avatar customizations and dual wield ability.
without fuss war game: the player has held a rocker with a strong armor and shoes that allow the hero to fly.
The only one android action game that has got the most popularity.
Less consumption of Mobile Data while playing Online mode.
Another great thing about this game is that you can beat your own friends and be a great fighter. I use it to challenge my friends every day to fight in this game and there is a better way to spend your free time. And this Mini Militia Cheats will help you.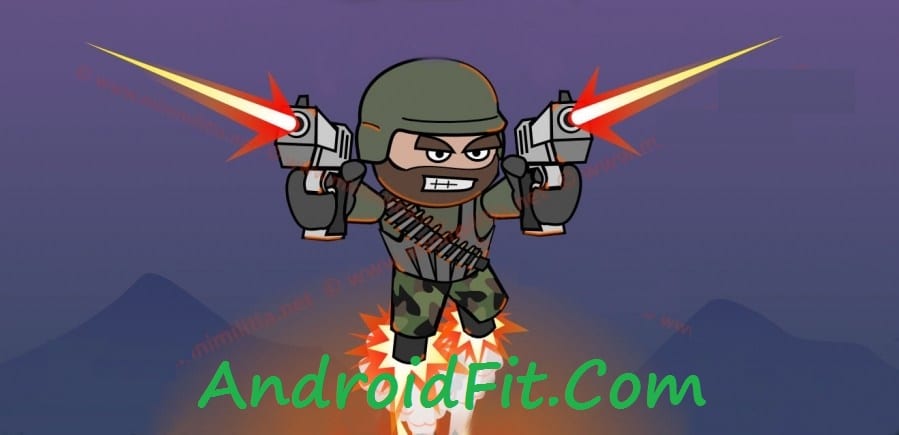 So what do you expect, if you have not yet installed this game, go to Google Play Store and install it now?
Doodle Army 2: Mini Militia Playing Tips
Crouch(or squat) when a grenade comes near you, and you will take reduced damage.
To improve rocket boot speed, melee while flying. Meleeing will give you an extra boost. Oh yeah, this also works for walking.
Have you been tired of people chatting and not hurrying up! So you can pwn noobs? Don't worry, Copy and paste the below code into the chat bar and the game will auto start.

i like to move-it

The best Maps in the game for a decent number of players is

Catacombs
Outpost
Lunarcy While most of the other maps are pretty big.

When you have shield and a bomb is thrown, lower down the shield and save your life.
See also: Download Lucky Patcher App & Crack Any Android Apps & Games
Message / Chat Codes for Doodle Army 2: Mini Militia
Mini militia is one of my favorite games androids. One reason to get a mini lot more popular militia game is due to messages/chat codes. In this article, I'll mention some of the messages codes used in the mini militia play. After reading this post, you will learn about all the mini militia messages or chat codes used in the mini militia game.
RU – ready up
LG – lets go,yea
BI – bring it
NN – noooooooooooo
GS – get some
CB – come on boy
HH –  A perfect fighting machine
CM – cover me
NS – Nice shot
WP – You wanna piece of me!
MO –  move out
GM – Oh, They got me!
GG – Good Game
There is a bug more or less well known through which some abbreviations are said by the "Mecha Doodle", quite different. They are short phrases that say in the tutorial, you can play. This bug can be activated when you start the tutorial, twist your head in a circle for some time as fast as possible and then leave again. orders for the cat remain the same, just the sounds change. They can not hear yourself.
Also, the ranks are:
Private first class   →  300exp
Sergeant  →   600exp
Private    →     100exp
Sergeant first class   →  1500exp
Corporal   →    400exp
Staff Sergeant   → 1000exp
First Sergeant (what I am, skill 39) →  1750exp
Master Sergeant   →   1500exp
2nd lieutenant  →  2000
Sergeant major  → 1750
Major  →  3000
1st lieutenant   → 2500
Lieutenant colonel  →   3500
Major general   →  40000
Brigadier general  → 4000
General  →  4000
Lieutenant General  → 4000
Commander in chief  →  10000   (i think)
General of the Army  →   5000
See also: [All Method] How To Use Lucky Patcher full tutorial 2016
MINI MILITIA CHEAT CODES
Real players will play and win, but if someone needs to cheat? Here are some Cheats and some hidden tricks that were found on the Internet. Some of them worked for me (Android) and maybe all of them work for other platforms (iOS, etc.)
Battle Point Pack – Three worth $0.99 for free – 'MG_lp85n3qFt5'
Battle Point Pack – One worth $0.99 for free – 'FZ_JpGdGF8E2W'
Pro Player Pack worth $0.99 for free – 'FH_sddpsGGOdf'
Battle Point Pack – Four worth $0.99 for free – 'SD_52FNXtsF2x'
Battle Point Pack – Two worth $0.99 for free – 'HF_FrT1savf2o'
7,000 Battle Points: Enter 'gummy bear'
No Reloading: Enter 'tootsie pop'
Captain of the Army: Enter 'duke'
Hack Mini militia Android Game for pro pack and battle points
I will be at your disposal an android application which will allow you to buy pro packs of mini militia for free but does not abuse the demand for other illegal uses.
See here: How to hack Mini Militia Pro Pack In Rooted Android
Rocket Boots and Walking Speed Trick
To improve the startup speed of the rocket, mixed during the flight. Meleeing gives you an extra boost. This also works when walking, jumping or crouching. You do not need specific weapons to do. The weapon you use simply defines the speed you are "wrong" with. Small weapons like the Magnum or the Machete work best.
Here's more  Amazing Doodle Army Mini Militia Cheats Tricks
How to buy items from Mini Militia store?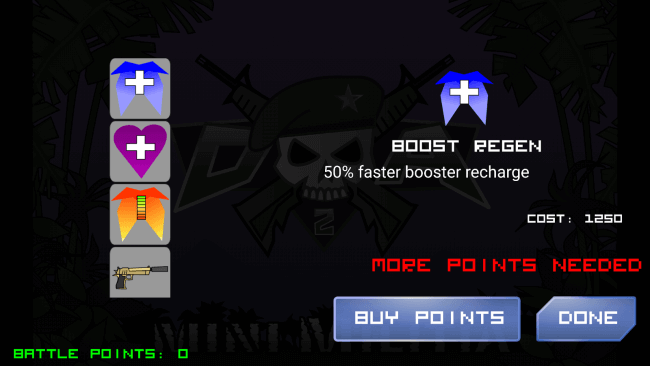 Battle points are needed to buy militia mini-store items. To achieve battle points, you have to play multiplayer online battles or fast game that involves many other players.
1 point = 1 kill
You will also be rewarded through the ranks to increase the level of experience. The different rank levels have already been explained above. Your experience level will also increase along with battle points when playing multiplayer battles online or fast play. A total of 14 items are available for purchase on the Doodle Army 2: militia mini store.
You can direct you to store by going to, Settings -> Store option
They are;
Health Regen
Handgun Clip Extender
Boost Regen
Golden Eagle
Boost Increase
Grenade +1
Handgun Clip Extender
Melee +10
Increase Accuracy
Rifle Clip Extender
Laser Sight
Mask Pack 1
Gas Grenade
Faster Reload 1
Faster Reload 2
Health Regen
This is more useful than the last. Because if we are out of boost, then health is the primary need. This health pack can recharge your health with a speed twice that of the normal. So better try to catch the first one before equipping other items. I have bought with my battle points. It's very useful for boost the game.
Cost to buy: 1000 battle points
Boost Regen
It increases to 50% of your jetpack recharges. This is the waiting time to increase the boost can be reduced. This can cause a good attack much more.
Cost to buy: 1250 battle points
Boost Increase
This is another best option to buy and is the most expensive one in the mini-shop militia games. This could increase the length of your boost of 20%, that is, you will get 20% more time in the air to fight the normal time you meet. This is very helpful in increasing the number of fatalities.
Cost to buy: 2000 battle points
Golden Eagle
This is a weapon that can be bought from the store with small points. In my view, this is not at all useful and it has less power than our default weapon. Anyway, if you bought it, you can play each time with the eagle golden desert.
Cost to buy: 250 battle points
Increase Accuracy
After buying the accuracy of your shooting section will increase and it is possible that your shots hit the enemy. It will increase your ball shooting accuracy of 20%.
Cost to buy: 2000 points
Grenade +1
As the name suggests, you can carry an additional grenade if your purchase this item from the store. Here you'll get a total of 4 grenades instead of 3 to start.
Cost to buy: 1000 points
Handgun Clip Extender
This will increase the size of the clip or the number of balls to the uzi and desert eagle 25% so you can take more shots than default. it's powerful for long time playing.
Cost to buy: 1250 points
Melee +10
Melee Attack Damage is increased by 10 damage if you buy this article.
Cost to buy: 800 points
Rifle Clip Extender
Just like the above item, this will also increase the clip size but for the m4, m14 and ak47 guns only by a percentage of 25.
Cost to buy: 1500 points
Gas Grenade
Unblock mask pack 1 (Hats and glasses custom section). You must purchase a mini militia pro package before you can unlock this article.
Cost to buy: 500 points
Laser Sight
Laser Sight can increase shot accuracy. If you buy this item with 1000 points you will get a bold laser sight instead of dashed lines for aiming.
Cost to buy: 1000 points
Faster Reload 1
Reduce Reload time for the desert eagle, uzi and magnum by 30%.
Cost to buy: 1000 points
Mask Pack 1
Unblock mask pack 1 (Hats and glasses custom section). You must purchase a mini militia pro package before you can unlock this article.
Cost to buy: 500 points
Faster Reload 2
Reduce reload time for the ak47 m4, and m14 by 30%.
Cost to buy: 1500 points
These are all the 14 items that are available in the mini-shop of the militia, we can expect more articles in future updates.
See also: How to Become a Professional Player in Mini Militia (Doodle Army 2 Pro Tricks)
Description of Mini militia android game

The intense multiplayer combat experience with up to 6 players online or using local wi-fi. Train with the Sarge and sharpen your skills offline training profile, Co-op and survival modes. Take a multitude of types of weapons, including sniper rifles and flamethrowers.
Features explosive online and local multiplayer war! Intuitive dual-stick shooter controls. Cards open world using rocket boots for extended vertical flight. zoom control, melee attacks and double the capacity to handle with modern and futuristic heavy weapons and grenades. Play battles based team in this lively fun drawing on the theme crossing between Soldier and Halo.
Why you don't trying to  Become a Professional Player in Mini Militia
Doodle Army 2 Mini Militia (a.k.a. DA2), based on the original stickman shooter in Doodle Army, was created based on player suggestions and feedback. We love to hear your ideas so thank you and keep them coming! Give a call to Sarge the email link in the game!
Purchase the Pro Player Pack to get full access to the ability to handle two additional customization items and avatar online weapons such as the rocket launcher, sniper rifle, laser, saw the gun and more!
See also: How to solve "Unfortunately app has stopped" errors
Thank you for reading this article. More information will be updated soon. If you enjoyed this article please share it with your friends and also comments below if you have questions or suggestions regarding this position. Please register for the newsletter of this blog for updates all the hot days to your email instantly.
Related Post:
Tags: Doodle Army 2: Mini Militia Cheats Tricks, Chat codes Hacks, Mini Militia Cheat codes Hacks,  Mini Militia Cheats, Chat codes Tips, Hacks and Doodle Army 2 Tips.