Use Lucky Patcher to Hack In-App Purchases without rooting? [Unlimited billing hack]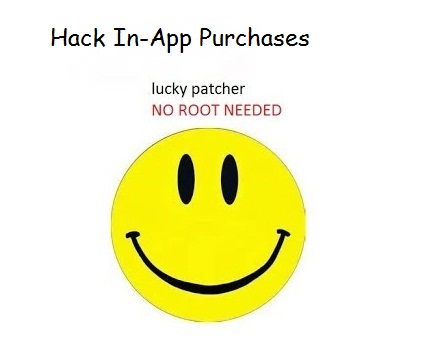 Here's will learn about how to use Lucky patcher in-app purchase without root. You can use it on any app & game. that have available custom patch for lucky patcher to hack In-App Purchases (hack in-app purchase game as Unlimited billing hack).
Yes .. you can use it without rooting your android phone too … the only difference is that if your phone is rooted it can make the necessary changes in the installed application. As the method of hacking in-app purchases (billing hack) available for rooted devices, but not for non-rooted devices. And if it is not rooted then you must first generate a new patched apk apps using lucky patcher, then uninstall the installed version and install the patched version …. then Lucky patcher will surely work on in-app purchases .. tested it myself.
Read Also: Lucky Patcher: Crack Any Android Apps & Games (with video)
Related post: Download Xmodgames apk & Hack Games with Rooted Device
See also: Lucky patcher custom patch available apps and game list in 2022.
Unlimited billing hack: Use Lucky Patcher to Hack In-App Purchases without rooting?
Someone asked me to describe the process. Here together is how we do it.
1. 1st download Lucky Patcher apk app
2. Install in your android phone.
3. Open the app. you will see something like that.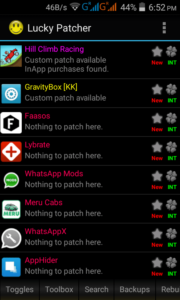 Click on the application you want to modify. Like I hill climbs racing selected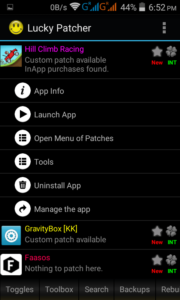 How to use lucky patcher without root for in-app purchases
Now Click on "Open menu of patches"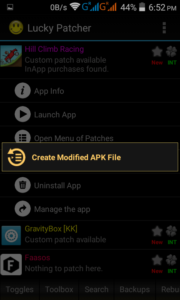 this time click on "create modified apk" to create modified app.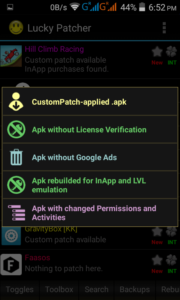 If Custom patch is available, click on. If the click does not work "Apk rebuilt for InApp and emulation of LVL". Here I click on "Apk rebuilt for InApp and emulation LVL".
Now Click on "Rebuild The App" & wait for patch results
If the patch pattern showed no chance success.Then displaying all failed means no chance that we got cracking pattern app.Here successful patch.
Click on Go to file button.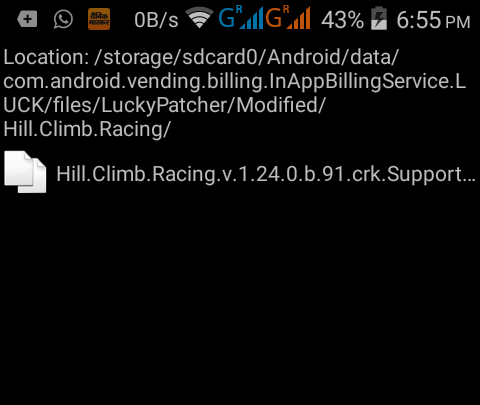 Click on the file. Select Uninstall & install.
It will ask you to uninstall the application. Go installed on the uninstalling app. After uninstalling cancel.
return to the modified app. Again click on it and select Install.
After the installation is done. Open application that you changed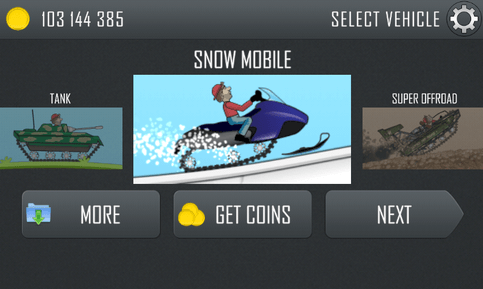 Try to buy some coins. Click on GET parts.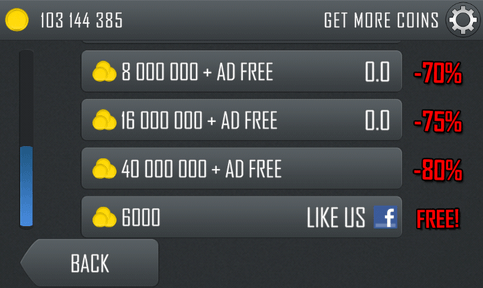 Select one of them.Click on it And window patcher will open the chance
Now tap on 'Save purchase for restore' then Click on Yes… And you are done.
Similarly, following this lucky patcher tutorial, you can hack in-app purchases any games, whis game offers in-app purchase as like Candy Crush Saga, Subway Surf, Temple run OZ etc.
Sorry, Lucky Patcher can not hack in-app purchases, who want to hack like Dream Girlfriend, Clash of Clans, Asphalt 8: Airborne, CSR Racing …. etc game.
See also:
Use Lucky Patcher to Hack In-App Purchases: Last word
I think now you guys have not the slightest doubt. If you think about "How to use lucky patcher and Hack In-App Purchases without rooting." (this Unlimited billing hack ) Article is informative, kindly share this article on  Google+, twitter, facebook, and other social forums.  If you have any new idea / thick like this work or Already have problem with Lucky Patcher hack in app purchase game/app? Read comment section and leave a comment here …