10 Best Free Android Multiplayer Games To Play With Friends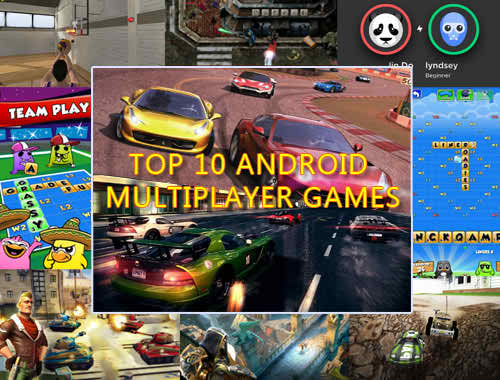 Android Multiplayer Games To Play With Friends.
Playing games on smartphones has become a favorite pastime for many of us. Whenever we have free time or want to relax, open up just one of our favorite games and start playing. However, it's more fun to play with friends or challenge them.
There are many Android multiplayer games where you can challenge friends or team up with them to challenge others. If you are looking for the best Android multiplayer games to play with your friends, here is our list of the 10 best multiplayer games that work with The Internet, Wi-Fi or even Bluetooth, and can be downloaded for free on your Android Device.
Asphalt 8: Airborne

Asphalt 8 is one of the best car racing game for Android. This game has great graphics and amazing car games. You can run in different seasons and tracks, maneuver through the air and perform stunts in the race.
Airborne offers a multiplayer mode with up to 8 opponents. The best thing is that you can play this game on the LAN with your friends. There are also challenges ghosts where friends can challenge your best time on the track and race a ghost without your having to be there. The game is available for free on Google Play.
Word Chums 
If you like word games, then you should give a try Chums words. This game is extremely well made with graphics and fun sounds, and the multiplayer is like no other, offering customizable characters, a comprehensive dictionary, and the promise of a good time with friends. This game consists 3-4 players and you can play against your friends or Chumbots strange opponents.
Real Basketball

Real basketball is an addictive game designed for fans of basketball, which has become one of the best and most downloaded games on Google Play basketball. The graphics are truly amazing and there is little fun game modes where you can show off your basketball skills.
This game is packed with many elements to build a beautiful personality such as characters, basketballs, uniforms, and courts. You'll get a dashboard that shows you the game statistics, The game offers both single and multiplayer modes. The online multiplayer mode allows you to play with friends and other real players. If you are a fan of basketball, you will surely enjoy the stunning real basketball experience life Real Basketball.
GT Racing 2: The Real Car Exp

GT Racing 2 is another best racing game developed by Gameloft. Similar to asphalt 8, GT Racing 2 features hundreds of cars and tracks with customizations. But this game is more realistic physics and reproduced in the game as close to authentic as possible dynamic.
It features super-realistic 3D interpretations of 71 cars on 13 tracks actual license, and the different times of day and weather conditions while you test your skills, and multiplayer. In multiplayer mode, you can challenge your friends or with real players from around the world on the internet.
Dungeon Hunter 5

Dungeon Hunter 5 is the fifth installment of the popular series of action-RPG from Gameloft. He brings impressive graphics, epic storyline, and hack n slash gameplay mechanics. As the latest following the Dungeon Hunter series, it introduces new dungeons, skills and crafting systems and the weapon upgrade system.
In addition to the solo adventure, the game also has a popular multiplayer component that includes the co-op mode where you can play with friends, PVP mode to fight against other people, and you can even team up and participate corresponds to death.
Blitz Brigade

Blitz Brigade is an online FPS (first-person shooter) game that is similar to the popular PC game shooting, Team Fortress 2 and Battlefield Heroes. The game features colorful 3D cartoon graphics and soundtrack.
In Blitz Brigade you can engage in multiplayer battles with up to 12 players to choose to belong to one of five different classes; Soldier, Gunner, Medic, Sniper, and stealth. Each of them has unique equipment and special features, but you must unlock them, except soldier who has from the beginning. You can use 3 different vehicles in the battle and fight with over 100 powerful weapons. Blitz Brigade is the best and biggest battleground for Android today. Download Blitz Brigade and now enjoy the greatest game online multiplayer shooter on your Android device.
Gun Bros Multiplayer

Gun Bros Multiplayer is a shooter with the double stick as the classic Contra. In the game, you will have to browse planet to planet to free the planet from invaders. There is a huge arsenal of weapons to choose from and the game has an amazing interface.
As the name suggests, the game is designed to play with other players. There is also an option to add a favorite player to your friends list so you'll be able to play together when you are both online.
Re-volt 2: Multiplayer

Re-Volt 2: Multiplayer is a simple car racing game that will make you addictive. It is a remake of Re-Volt 2, with the addition of a multiplayer mode. In this new edition of Re-Volt 2, a player can face up to 4 players from any part of the world.
There are different types of cars you can choose, which includes race cars, formula cars, and even monster trucks, you can customize the car according to your needs. During races, players can use different types of power such as missiles, oil, water balloons, etc. There are 4 game modes and over 264 steps. In each step, you will find different scenes and sketches where you get to take on opponents controlled by human or computer.Re-Volt 2: Multiplayer is an outstanding 3D racing game with great graphics and will surely keep you entertained for hours.
New Words with Friends
New Words with Friends is a free social game developed by Zynga Words with Friends (formerly Newtoy, Inc.). It is similar to the classic Scrabble board game where you have to play against an opponent, placing the words on the board of a selection of seven letters in your rack. Up to 20 players can be played simultaneously using push notifications to alert players when it is his turn. You can invite your friends to play instantly via Facebook, Twitter or random match opponent. There is a game chat if you feel like talking to your boyfriend multiplayer, then you can do so using the chat option.
QuizUp

QuizUp is a quiz that allows you to compete with your friends or other players from around the world, in different games of trivia. Before each game, you are matched with a real person and you will both head to head in a quiz.
There are over 550 topics to choose from, ranging from the arts to history, education for companies, and even games and applications so that you will not ever have to worry about running out of quiz to test your knowledge.Apart from the quiz appearance, you can discuss your favorite subjects in community forums, follow people with similar interests, earn achievements, etc. Once you get in the game and start to use all these features, it offers a fairly rich experience. There is also a settings menu where you can tinker with things like notifications and sounds.