How to Save & Reduce Data Usage on Android.
With unlimited data plans disappearing faster than rainforests and data consumption on the rise, cherish every MB is to become common practice. So if I told you that you could reduce your half of mobile data consumption in less than a minute? It is easier than you might think. Just follow these 8 steps to use the least mobile data usage on Android.
See also: How to Controls allow or block Apps Internet Access on android.
1. Restrict background data
The best way to back up data is to tell your applications (or the Android system itself) to restrict database. Background The data is all Internet traffic that happens when you are not using an application: email synchronization, updating feeds, weather widgets, and so on.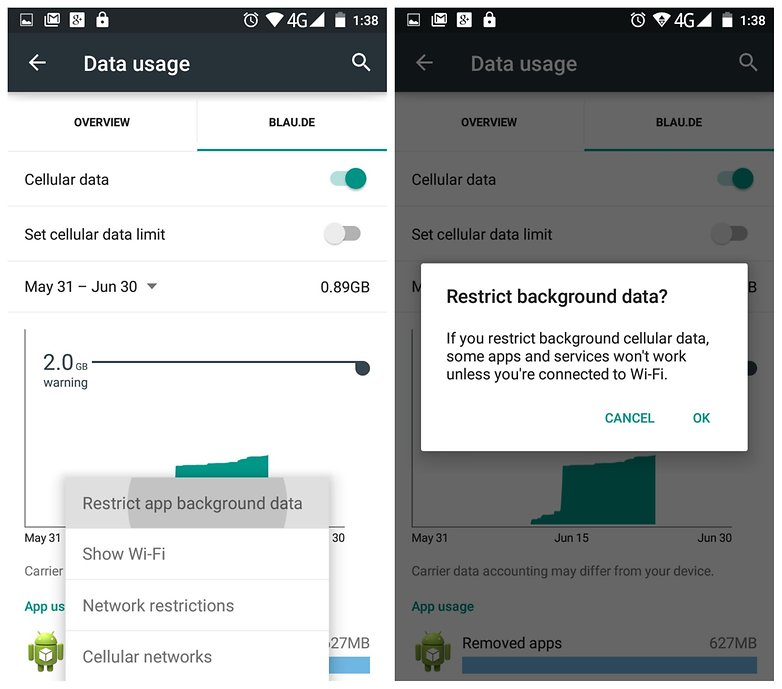 You can also specify the Android system to limit background data in Settings> Data usage> Restricting background data or for individual applications in Settings> Applications (according to the Android version you have). You can also change your synchronization settings for Google services to Settings> Accounts> Google> select the account, then uncheck the services you do not want to synchronize automatically.
2. Disable automatic updating applications
The other huge charge of your data allowance comes from the occasional bout of updating the Google Play application. If you put the Play Store with automatic updating of applications, even on a data connection, which could be chewing its way through your allowance every month without you even knowing.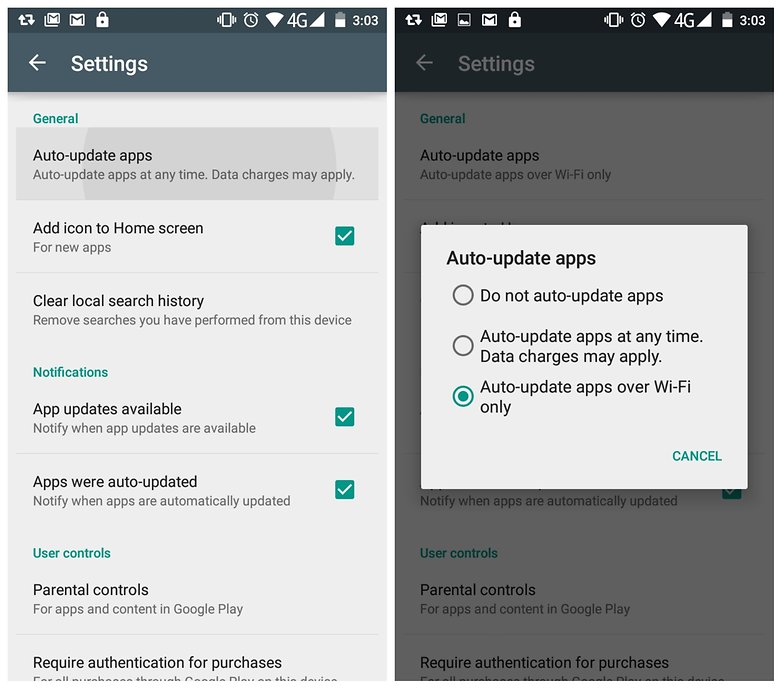 To check, go to the Play Store and drag the left navigation drawer. Tap Settings and at the top you will see Auto-Update Apps. Tap this and make sure it is set have 'Do not auto-update apps' or 'Auto-update apps over Wi-Fi only'. To manage individual applications, go to My Apps, select an application and click the overflow menu to check or uncheck  Auto-Update.
3. Save Data Usage on your internet Browser
 Use Webpage compressing Browser: The most popular Opera mini, UC Browser and UC mini browser for Android that provides experience fast & smooth Web browsing. it's a totally free browser for android mobile. Adaptable configuration helps you adjust your way to surf different network connections, allowing data to reduce costs, save data and speed up page load compression. It's also featuring bookmarks, private browsing, Powerful downloader with multi-task, background, with auto-re-connection. See also Best Android Browser Apps.
Use Opera's video compression: The Opera browser for Android now has a video compression very useful option, which can save you a data load if you often watch videos on the go. To use, simply download the Opera browser, go to Settings> saving data and check the box that said compression of the video.This setting allows you not only to save the data, but also means that the videos are more likely to charge more quickly.
Turn on data compression on Chrome: Most of you are probably Android supporters. And so, you are also likely Chrome users. Did you popular Google browser has a feature that can significantly reduce data consumption? Google says this should save you about 50% in the data. All without you even feel a difference. In fact, you may feel some changes – Navigation will get faster!
What Chrome data compression option is made route all your web browsing by Google servers. The search giant takes data from the website, compresses, optimizes for the small screen and sends it to your device.
All you have to do is open Chrome, press the 3-point menu button and select Settings. Click on the surveillance data and then activate the option in the upper right corner. You are done!Now that I have spoken to your ear off, let's keep this simple. First open Chrome on your Android phone or tablet. (This can also be used on your PC with an extension, if you will.)//Press the menu button three points.
4. Download Opera Max
Data compression The Google feature is great and all, but it only works in Chrome. What about all the other applications? They spend you much precious internet juice. Those who want to scale the compression system can have Opera with Max, a data management application that comes from a major competitor of Chrome – Opera (duh).
This application is quite impressive, as it does essentially the same as the compression of Chrome data, but for every single application in your smartphone. As a result, the user can save about 50% of data on everything they do with their devices.
It is also possible to micro manage consumption by blocking specific applications to access data through mobile access (or WiFi, although I do not see the point of this). The homepage Opera Max will then show you a detailed description of how much data you've been saving. These megabytes add up quickly!
DOWNLOAD OPERA MAX FROM THE GOOGLE PLAY STORE!
5. Identified and limits / delete high consumption applications
Settings> Data usage you can get a look at the applications that consume the most data in both the foreground and the background. This can be very useful to know what applications you need to restrict.
Take Gmail, for example. On my phone, he downloaded 451 MB of emails in the background. If I felt I did not use enough application to justify as much data use, I could remove the application, limit how often it syncs or prevent downloading of attachments, anything that would reduce consumption data.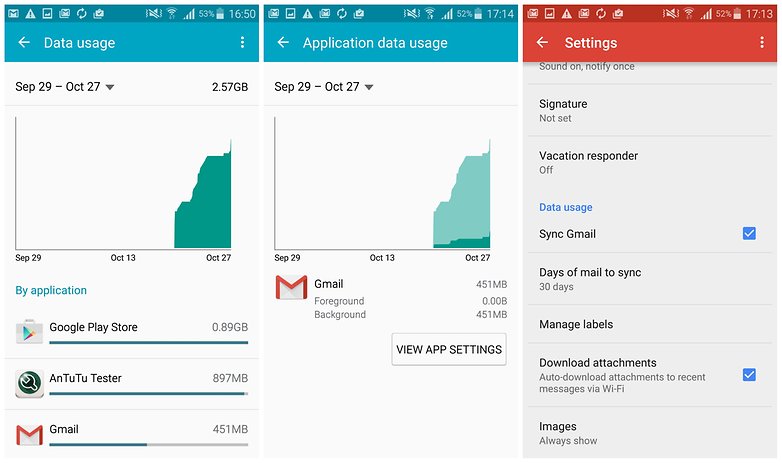 6. Ditch The Facebook app
It is quite well known among Android fans that the Facebook application is one of the largest consumers of data, not to mention its use of resources and high battery discharge. So why not replace it with something less demanding?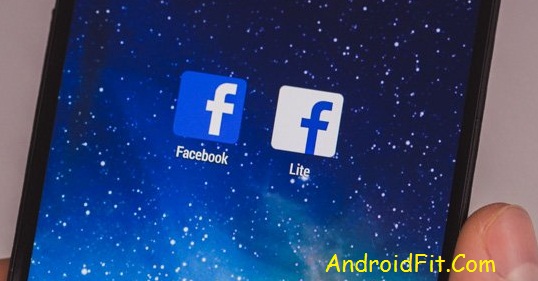 There are many alternate Facebook apps but many of those are just as hungry as the official version. Even Facebook Lite, which claims to reduce 50 % of data consumption, yet chews through hundreds of MB in a month.
So why not try Tinfoil for Facebook, which is simply a web application that displays the Facebook site (you can always get push notifications using IFTTT and Pushbullet). Or you can simply create a shortcut in Chrome web browser. Just open Facebook in Chrome, open the overflow menu and select Add to Home Screen.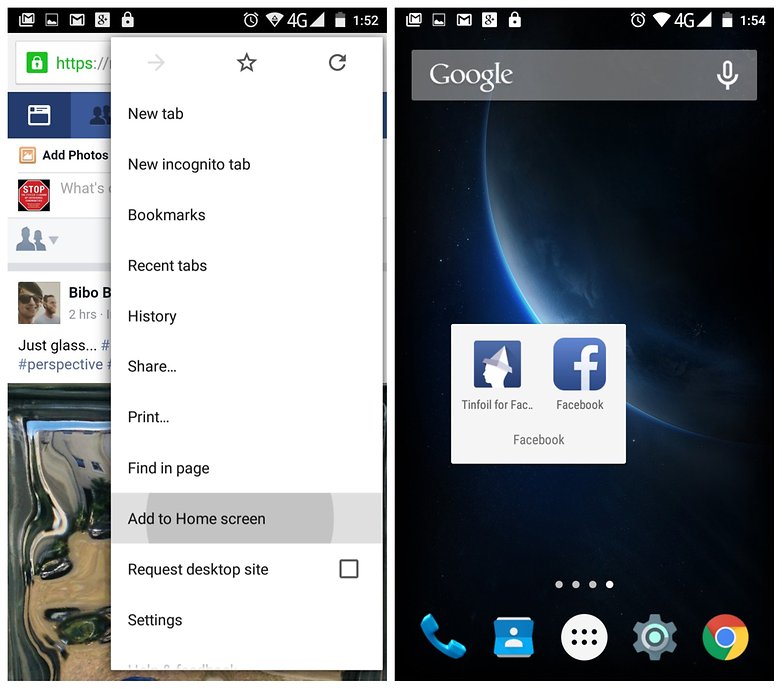 7. Navigate offline
Google Maps can use up some of your mobile data if you're not careful, but fortunately it is possible to use Google Maps offline. Follow our guide and see how much data you can save. Also, why not try one of our favorite Android games off line to use less data while you get your game on?
8. Avoid streaming content
As much as we hate, it's the awesome stuff that uses the most data. This includes streaming video and music, as well as looking through high quality images or GIF files. Try to avoid these at all costs if you really take care of your Internet use.
Now we know a smartphone is nothing without your media, but there are ways to have fun responsibly. Users can opt for storing music and videos locally. If you must listen, make sure you jump into settings and set the quality at lower rates. Similarly, you can reduce the resolution of YouTube and other video streaming applications.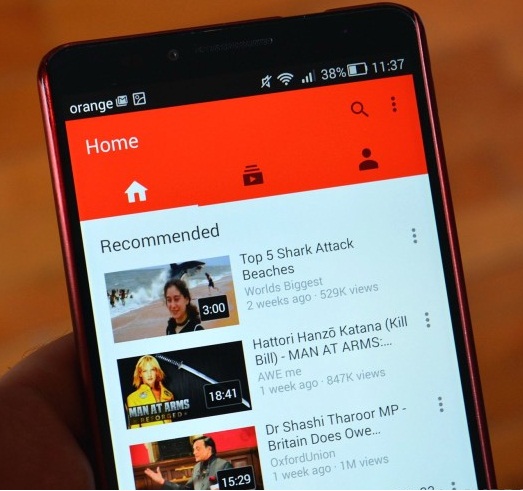 Wrapping up
So there you have it, guys! Here are some of my favorite tricks to reduce the consumption of data without sacrificing your experience too and also it's  save your battery life. I could give you many other tips, but they deem unnecessary your smartphone. I wanted to find a good balance. Using these techniques, you can enjoy your phone while spending responsibly data. Do you have other tips you want to share? Are you planning to adopt one of these? Have you been using already? Hit the comments and let us know!
How do you manage your mobile data usage? All other great tips to share?