We are in the digital era, we are use multi-accounts in different sites and many of these sites is quite sensitive. So you need a strong password and need a different password for Secure Your Online Credentials. For example, a weak password and easy to guess for your online bank account can be fatal and play havoc with your finances. As it same results for unchanged same password. And it can be helping to hack your online accounts, so we need to avoid it as soon as possible.
If you want a password manager that can be attached to any good browser (on Android, iOS, PC) then look at best password manager app. Here's we talking about Zoho Vault password manager app and it is a good password manager for those who want a web-based solution. Let us know more about the application in the following paragraphs.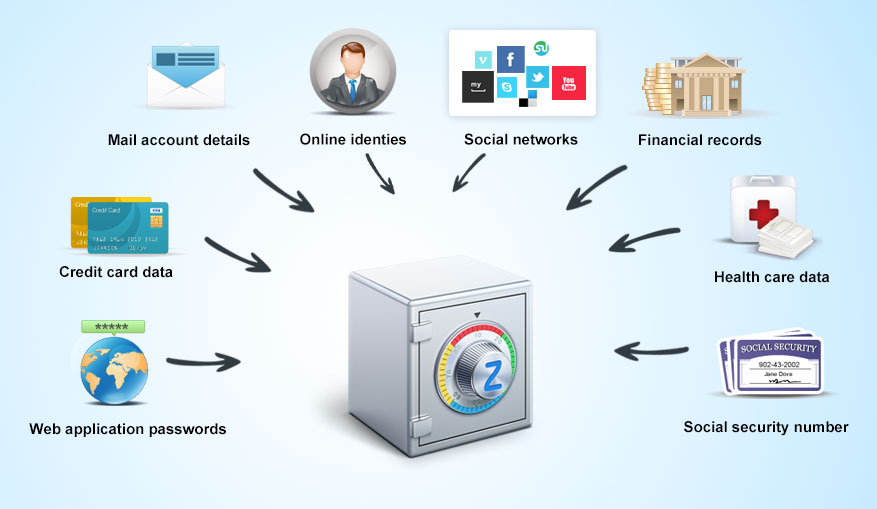 What is Zoho Vault?
Zoho Vault is a good password manager for those who want a solution based on the Web. Zoho Vault finally passed all requirements of a good password manager. Yes, there are some shortcomings – but more on that later. The solution focuses on businesses of all sizes. While you can use Vault for personal passwords, the service shines when it comes to the protection and sharing of passwords between user groups.
Zoha Vault has everything a business needs to centrally manage passwords for teams of employees. You can  also share your information between users and quickly remove access whenever needed. These features make Vault one of the best solutions we've seen to a corporate environment.
Must See: Dashlane – The best password manager App on Android
How does Zoho vault work?
Starting with the Zoho Vault is pretty easy. It works on different platforms with a single account. You will need nothing more than your email ID for registration.
Just sign up with your email ID and a password (well, that would be the only password you need to remember, so make sure you choose a secure). Once done, you need to confirm your email. The procedure is similar to most entries accounts let you do – you will receive an email in your registered email ID. You must click the link to activate – voila! Your account is created.
Create a passphrase for your Zoho vault account . Make sure you have selected a different password for your password. It is the phrase that you want to store your future password to the vault. Please note that the password will not be saved by Zoho Vault. It is like the master password used in many password managers.
As I said earlier, the application works as a browser extension to make things easier for you. Once the account is created and you have connected to your Vault, install browser extensions. The extensions will help you auto complete passwords.
Adding passwords to your Zoho Vault is pretty easy. You simply enter in your website as you normally would and Zoho will ask if you want to save in the safe. Or you can add the passwords through extending your browser.
Features of Zoho Vault
Zoho Vault allows you to share passwords between your team members. You have created different Vaults and give access to these Vaults to your team members. It separates your personal identifying information from those official. Zoho Vault Vaults that call these separate Chambers.
The service offers support for two Factor Authentication. It is accessible to any platform and any device. It supports almost all popular browsers.
When it comes to privacy, Zoho Vault performs the best. All data you have entered the Chambers remains to be completely private. Your passwords are protected by using the AE-256 encryption. In fact, no one can enter your room without knowing the passphrase which you are aware. Data on passphrase is never stored anywhere on Zoho. If you want more information on Zoho aspects of security, you can visit >> https://www.zoho.com/vault/application-security.html
Any issues?
Well, yes – as I said at the beginning, the service has some problems. Some of them might be disturbing to someone using a password manager for the first time.
captured passwords can not be directly added to the rooms as you would with your regular sites. You must add the password manually to the chamber in such cases.
Zoho seems to falter when it comes to sites that have non-standard login pages. He can not handle the eccentric sites or sites that have a two-page login process. In these cases, you must enter and save passwords in your Zoho Vault manually. Upon entering passwords on the Web site to connect, you must open your safe and copy and paste the credentials from the Web site.
Zoho has applications for Android and iOS, but the initial use said there are some initial hiccups. On Android, it has been found to take some time for the automatic filling upcoming pop-up. However, the question seems to be hitting some devices only and not a universal question. There were occasional delays with the pop-up appears. Rest characteristics are comfortable.
On the iOS app, the Touch ID is not enabled by default. Having to enter the password repeatedly gets pretty boring. Hopefully the developers will fix bugs in future updates.
Get Zoho Vault App
Well, as previously stated – Zoho Vault is an online password manager. The application promises better security with its encryption. The service is available in the form of Android App and iOS app. You can also use the services Zoho Vault as extensions on Chrome and Firefox.
In conclusion
Zoho Vault, as a browser based extension, works very effectively. It offers all the features you expect of a password manager. The best part is, it supports two-factor authentication as well.
For those who are concerned about the storage of their online passwords, we assure you that there is nothing to fear. Zoho encrypts your passwords and thus not an exception of one who has access to your password will be able to access your passwords. The Zoho Vault is the best password manager for you if you have not multi-user accounts.