Nexus 5x is the successor to the most successful Nexus, Nexus 5. This year, Google released two variants in its line of Nexus devices, the Nexus One is the premium 6P and other being the Nexus 5X . Manufactured by LG, the Nexus 5X has a Qualcomm Snapdragon processor 808 hex, 5.2″ 1080P display, 2GB of RAM and either 16GB or 32GB of internal storage. The rear camera uses a 12.3MP sensor, and a camera 5MP is at the front. the 5X Nexus is powered by a 2700mAh battery and use a USB type C.
The main feature of the Nexus devices is their software, they run Android stocks out of the box and are the first one to receive updates pushed by Google. Stock Android is the choice or rather many favorite Android device users, including me. But then comes the power of custom ROMs that allow you to add useful features to your android smartphone experience and remove some unwanted. Nexus devices always receive good support from dev and there are many custom ROM available for Nexus 5X.
Before you start with the list, we will brief you with the things that are necessary before installing a custom ROM on your Nexus 5X.
Also Read:
Prerequisites to Install a Custom ROM
All Roms listed below are supported by Lg Nexus 5X only.
Your device must have unlocked bootloader.
You should have a custom recovery like TWRP installed on your device (see related article below).
Be sure to make a backup of your current ROM.
WARNING: Any damage to your device, data loss or other problems when you customized your device ROM installation are your responsibility. The developer of the ROM or Droidviews should not be held responsible.
Best Custom ROMs for Nexus 5X
we have rounded up the some of the best custom ROMs that are available for the Nexus 5X below.
1. xTraFactory

XtraFactor is a custom ROM based on stock AOSP ROM. You will not find any customization option in this ROM other than those available from stock ROM. This ROM is for users who want the best battery life and performance on their devices without any customization option. Although there is support Layers theme through which you can change themes on your device, like CM themes. Other features of this ROM are:
Compatible with all Layers themes
100% Stock MMB29K 6.01 Factory.img debloated from optional's Gapps.
Disabled ADS on browser and apps
Fully Odex system/app, priv-app, and data/app
Disabled Force Encryption
Download: XtraFactor
2. Cataclysm
Cataclysm has been my go-to ROM for any device I am using currently. I use the ROM for over a year now on a lot of devices and I am extremely satisfied. The developer, atlantis, manages to keep rocksteady ROM, despite the addition of new features to it, and very rarely you come across any bugs in the ROM.
Cataclysm Settings
Smart Radio battery saver
Navigation bar customisation
Status bar customisation
Per-app immersive mode
Notification LED customisation
All ROM customization options are carefully hidden under the Settings application Cataclysm, which ensures that you do not have to go through a bunch of menu within the app settings to find the customization option you are looking for.
If there is a custom ROM from the list that you have to try on your Nexus 5X, it must be Cataclysm.
Download: Cataclysm
3. ResurrectionRemix

Resurrection Remix is one of the most popular custom ROMs out there. It is based on sources CyanogenMod unlike the previous two, which were based on AOSP. Based on CM, it comes with powerful customization options available on CM. With CM personalization, it has been compiled from other sources to make other features that enhance the performance, battery life and overall user experience of your device. Here are some useful features available in this ROM:
Custom Quick Settings
CM Theme engine support
Custom Animations
Navigation Bar customization
Advanced Power Menu
Lockscreen Customizations
… many more…!
The resurrection has a feature rich and ROM is loaded with customization options. You will never get bored of it. Do give it a try.
4. Chroma

Chroma is another popular ROM for Nexus 5X. It is a customized version of stock AOSP ROM. It aims to provide a good battery life, performance and stability. Chroma is based on AOSP ROM and loads of customization options. Some users have reported that Android Pay is well on this ROM, even after rooting their device. Well, it is recommended not to install a custom ROM if you are a regular Android Pay user, but you can try it once and could get Android Pay to work on a custom ROM. The following customization options are available on custom ROM for Nexus Chroma 5x:
Navigation bar
Status Bar
Lock screen
Volume rocker
Power menu
5. CleanCore N5X
Looking for a custom ROM that … well … is not a custom ROM? CleanCore N5X is for you then. The ROM does not pack new options function or customization, except for some bare essential. The main objective of the developer with this ROM is to cut down on the number of applications that Google now shipping its Nexus devices by default.
In total, the developer has removed more than 25 applications to keep its own ROM and light. All deleted applications can be downloaded from the Google Play Store, in case you need to use them.
Download: CleanCore N5X
6. Pure Nexus Project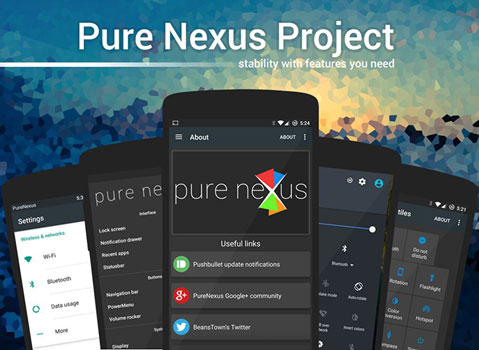 Pure Nexus project aims to bring stability and functionality to your Nexus device while keeping the vision of Google online and not straying too far from that. If you are looking for a stable ROM with features tested and minor bugs, then this is the place to be. It is based on stock AOSP ROM for Nexus 5X. It has been customized to provide stability with the features you need. The ROM includes many features, some of them are:
Navigation Bar customizations
Full Layers and Theme engine support
Status bar customization
Lock Screen Customizations
Advanced rotation settings
….many more…!
This is a perfect ROM for those who want to have all the customization options usually found on CM ROM base but want the stability of a stock ROM.
7. CyanogenMod nightlies vs OmniROM
You want to live life on the edge with your Nexus 5X? Do you want the latest features of the handset as soon as they are released? Then you'll love using nightly builds of CyanogenMod team and the Omni. Both ROMs are very different from each other: CyanogenMod packs in a plethora of features and options, while OmniROM offers a limited set of features, but some of them are really unique and really add to the overall user experience.
The stable version of CyanogenMod nightlies and two OmniROM are released after months of testing and many nightly builds. Since Marshmallow has released a stable version for both ROM is available yet. Nevertheless, you can flash any of the recent nightly builds of the ROM on your Nexus 5X device and if everything works, just stick to it. Otherwise, a new flash every night until you find a place you do not come across any major bug.
Download: CyanogenMod nightlies | OmniROM nightlies
See also: 10 Tips and Tricks to Get the Most Out of Your Nexus 5X.
You can see the installation process on the XDA thread or see this article. If you have trouble installing a ROM, leave a comment below, we'll fix things for you.
As said earlier, there is no custom ROM Best for a device, each user has a personal preference. Let us know who your favorite custom ROM for Nexus 5X in the comments section below.