The Nexus 5X is one of the first android smartphones to run the latest version of Google Android 6.0 Marshmallow. As Like predecessor, the Android phone is also made by LG and the overall design of the Nexus 5x is quite similar to its predecessor.
As the successor to the Nexus 5, Nexus 5X comes with a number of impressive features. Some of them are familiar from previous Nexus 5 and some come courtesy of the latest Android 6.0 Marshmallow. If you own a Nexus 5X, the following Nexus 5x tips and tricks will help you make the most of it.
Quick Launch the Camera
Nexus 5X provides a quick way to launch the camera. All you need to do is double-press of the power button, even when the phone is locked, and the application of the camera will be launched. You can also take a photo when applying the camera is open, typing low volume.
This feature is enabled by default, but you can disable it if you do not need this feature by heading Settings -> Display and toggle 'Quick Launch' off.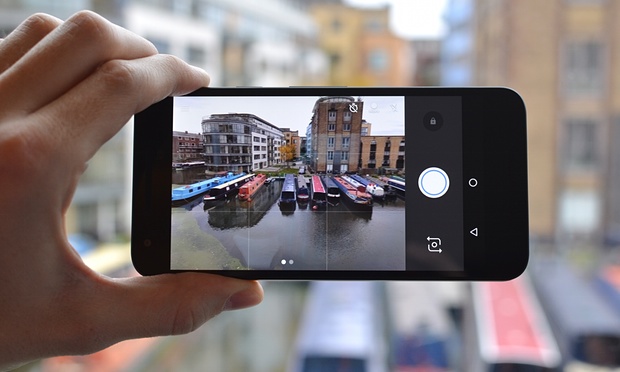 Set up Smart Lock
Smart Lock is a nice feature that allows you to define certain places as trusted sites. These locations are then used to unlock the device without entering a PIN or password. For example, you can configure a trusted location such as your home and when your Nexus 5X is in this area, it automatically unlocks.
To configure this, go to Settings -> Security and press on Smart lock -> Trusted places -> Add trusted place. Add your home or other place where you do not want your phone is locked and you must enter your PIN when you are there.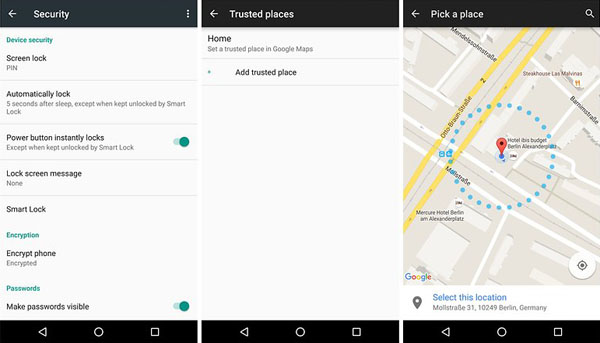 Activate LED Notification Light
Nexus 5X is equipped with an RGB LED notification light that flashes to notify you of any unread notification. This a very useful option to recall or alert you to notifications pending. To activate the LED light, go to Settings -> Sound & notification and swing beside Pulse notification light switch.
If you want to further customize, you can use a third called Light Flow app as Google makes no ability to customize the LED notification in stock Android.
Record 4K Videos
5x Nexus allows you to record 4K video, but it is not enabled by default. To activate it, go to the Settings menu on your camera application. Press "Resolution & Quality" and select 'Video Camera Back'. Now, tap '4K UHD' and you're ready to start shooting 4K videos.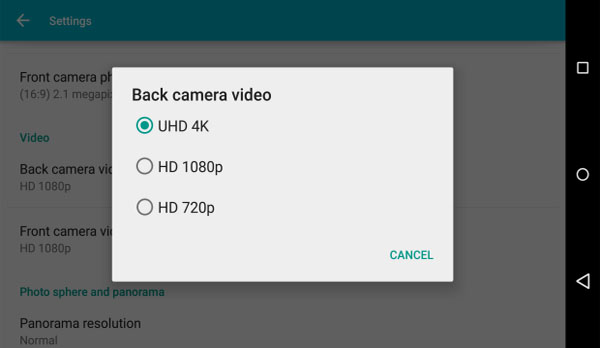 Manage App Permissions
With Android 6.0 Marshmallow, you can manage application licenses, which means that you have full control over what applications are allowed to do on your Nexus 5X. To access this feature, go to Settings -> Apps and press the  'Gear' icon in the upper right corner and press "App permissions". You will see a list of applications that have permissions, and you can enable and disable to grant or revoke the authorization.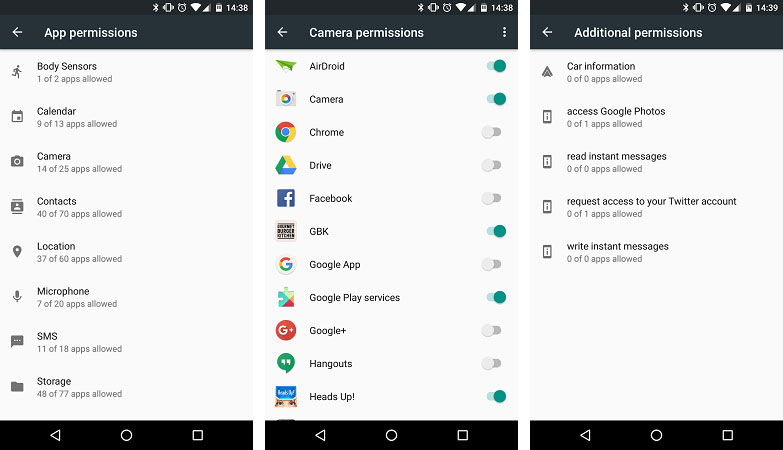 Enable Now on Tap
The new Android 6.0 OS Marshmallow brings some key features of the Nexus 5X, including now on Tap, which offer quick information based on what you do without having to leave the application you are. You just hold the Home button and Google looks at what is on the screen and offers related details, applications and possible actions.
To enable this option, go to Settings -> Google -> Search and now -> Now cards> Now on Tap. When it enabled, simply press and hold the Home button to launch it.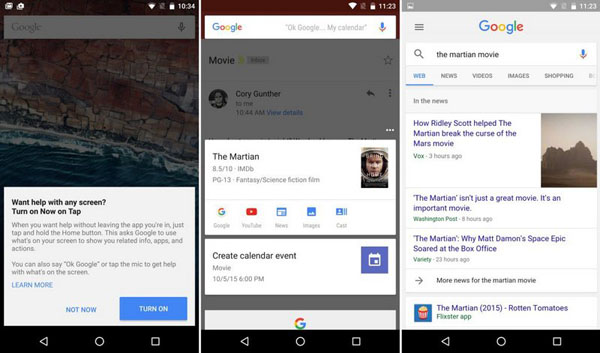 Add Fingerprint Sensor
Nexus supports 5x fingerprint scanner, which allow users to unlock the phone with a fingerprint instead of a PIN. You can also use the fingerprint reader to pay for items in Android balance. To configure this, go to Settings -> Security -> Nexus Imprint -> Add fingerprint and work through the process.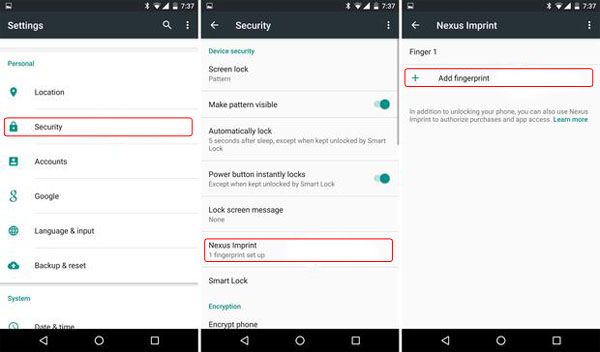 Tap and Pay
The presence fingerprint scanner on Nexus 5X is also good to use with "Tap and Pay" for a wireless payment action using Near Field Communication (NFC). First, you must have NFC, go to Settings -> Wireless and Network -> More -> NFC. Then register a fingerprint by going to Settings -> Security -> Nexus imprint.
Put a Message on Lock Screen
5X Nexus has another interesting feature called "lock screen message" that allow you to add your own message on the lock screen. The message will appear right under the date and time on your screen when the device is locked. You can see your marquee below date and time on the lock screen. To enable this feature, go to Settings -> Security -> Lock screen message.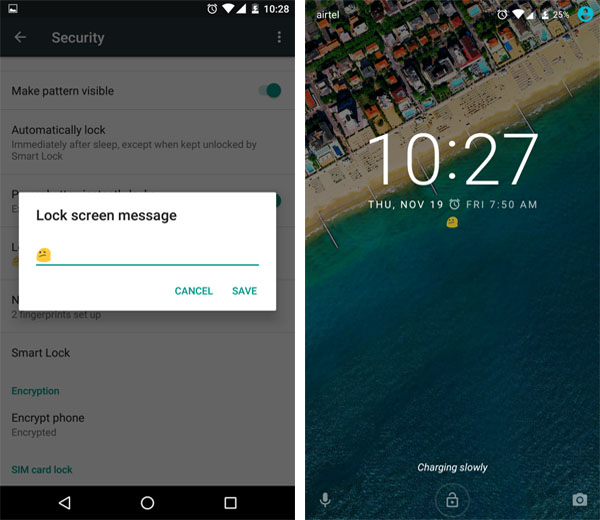 Take Photos while Recording
With Nexus 5x, you can take photos while recording a video. Just start recording video and press the screen every time you want to take a snapshot. The image will be automatically saved in the internal memory of your phone.
Therefore,  10 Tips and Tricks to Get the Most Out of Your Nexus 5X. If you want to more tips and trick about Nexus 5x, then hit the comment section. and if like our work , then share with your friends on social media.. 😛