How To Boost Wi-Fi Signal on Android Phone or Tablet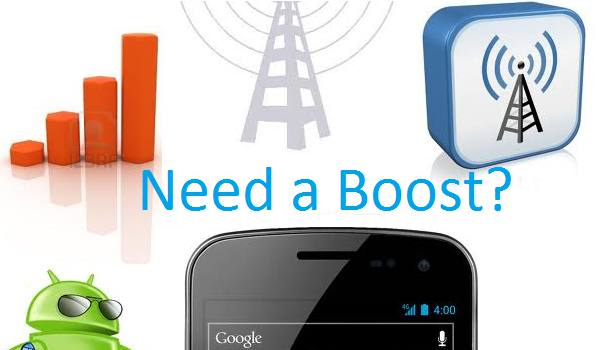 Boost Android Wifi Signal: Today, mobile data is replaced with Wi-Fi and most people prefer WiFi because of its fast Internet speed and cost efficiency. Not only the houses are equipped with Wi-Fi, but the college campuses, malls, cafes, offices, educational institutions provide Wi-Fi connectivity.
Wi-Fi signal is everywhere, it allows you to connect to the Internet quickly and efficiently. On Android devices, Wi-Fi is one of the best and advanced options for connecting to the Internet.
Have you noticed if your Wi-Fi consumes more battery he usually does or it seems that you are connected to Wi-Fi, but the Internet is not as quick as lightning? If this happens to you, then that means you have a bad Wi-Fi.
Wi-Fi coverage is about to be disruptions due to obstacles such as thick walls, mirrors, drawers, microwave ovens, cordless phones, Bluetooth devices are also considered as disturbing signal. If you have a weak signal, then it is time to boost Wi-Fi signals in your Android phone or tablet. Want to find out, take a look.
Notice: ApkFact or any of its members are not responsible if your device, router, or other equipment is damaged. We are here to share the knowledge and all the elements mentioned below has been confirmed and tested by us.
How to Boost Wi Fi Signals in Android Device
1. Avoid Poor WiFi Connection
The little things are what we leave on our vision, these are wireless basic settings present in all Android smartphones or tablet. Most of us think that the most useless features, but they affect your Wi-Fi network and service life of the associated battery.
Basic Settings
Use Avoid bad connections in Settings>Wi-Fi>Advanced and check the box Avoid poor connections. Now when your device is scanning for new Wi-Fi connections, it will prevent all connections with poor connectivity coming in the list, which will save your time and sweat.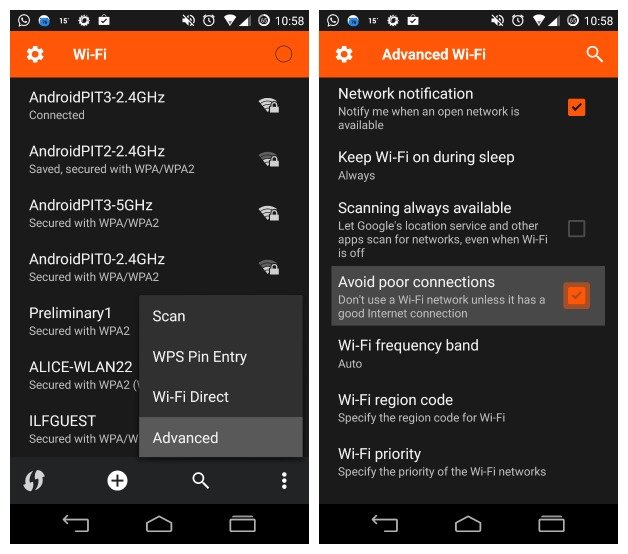 Another helpful tip is to forget the old connections. When you use Wi-Fi connections from various locations, the list gets oiled time. So now when you switch on Wi-Fi, the device can try to connect to hotspots unwanted present in that location. To save you from this hassle, you can forget the old connections. To do this, go to Settings>Wi-Fi>Saved networks. Tap the connection you want to delete and press FORGET (This is the procedure followed in Nexus and it is quite similar with your device).
2. Change your Wi-Fi frequency band
Most Android devices running on the frequency band 5 GHz and 2.4 GHz band as well. This means that higher frequencies are more free space on the spectrum. Given that the channels do not overlap and give you better Wi Fi signals from your Android phone or tablet, go to Settings -> WiFi -> Advanced – frequency> Wi-Fi and then tap Auto. This will ensure that your phone on the 5GHz band providing capture strong WiFi signals.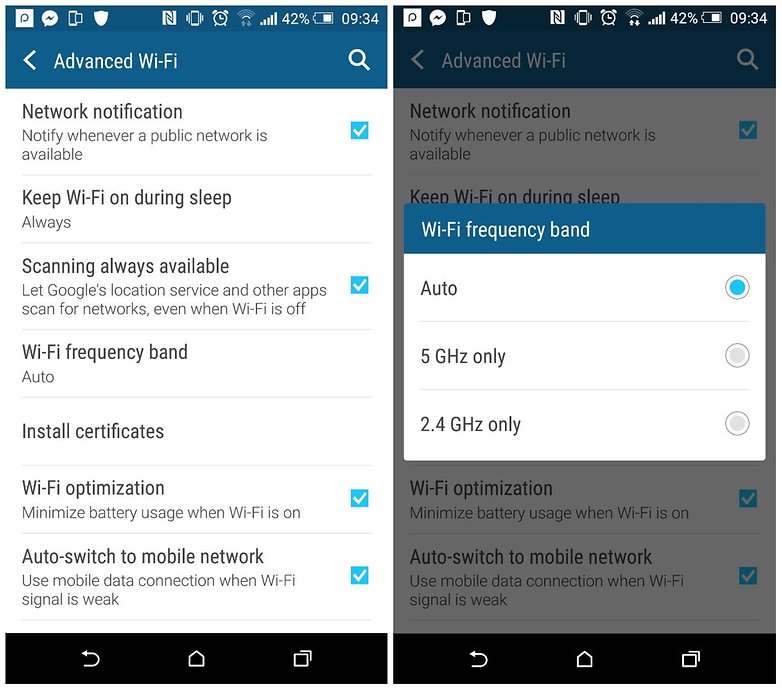 3. Update your handset or radio
Here I speak of your regular FM radio, but it is on connectivity firmware of your device. With each new update firmware changes to the user interface and internal improvements as well. Baseband or radio is the only means of wireless connection structure including a Wi-Fi signal and mobile data. Make sure and keep it updated. If you use custom ROM, you can manually update and if you then you need to go with the official updates. To check, go to Settings>About>Software Updates.
4. Check if your phone case is blocking signal
If your android device case is made with metal and also repeatedly your android phone cases make WiFi signal worse. To check if your phone case affects WiFi signals and try speed test with the case off and again with the case, but make sure the location is the same in both cases. If you see the difference in performance, then it is only your phone case which acts as a barrier.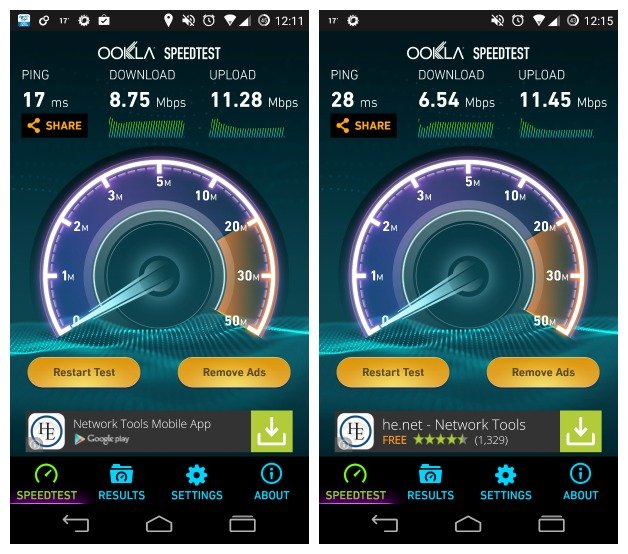 5. Use External Equipments on router
Extra facilities are provided by most router manufacturers. These could be of great help when it comes to enhance the power of Wi-Fi signal. As an extension or a Wi-Fi repeater, enough to feed the existing signal and create a second network for beach expand coverage. In case of large homes or offices, wireless repeaters could do wonders. Another practical equipment and relatively very cheap is an external antenna. The use of an external antenna could be of great use to extend your signal in a wider range. Rubber Duck Antenna is the most common type of equipment used with the Wi-Fi routers. Using these external devices could be very useful to boost Wi-Fi signal strength.
See also: How to speed up your 3G connection On Android
Boost your WiFi signals With Android Apps
The most user-friendly and easy method is to use an app, which can get the job done for you.
1. Wi-Fi Signal Strength
Wifi signal strength is a powerful application for Android that lets you optimize the wireless (Wi-Fi ) signals in your Android smartphone and tablet. With this app, you can increase WiFi to a certain limit so that you can have the maximum signal strength for better performance of the Internet. No matter where a Wi-Fi hotspot, your phone is connected to a Wi-Fi signal strength keeps you informed every second with a WiFi signal strength.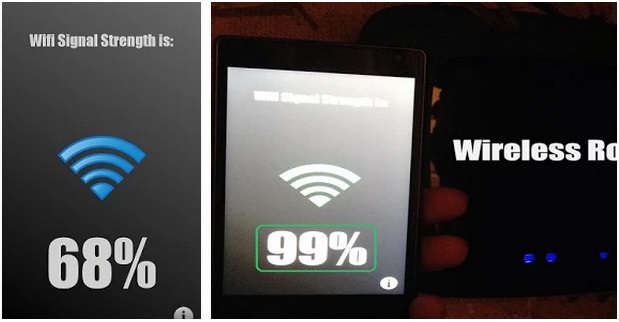 2. Wi-Fi Signal Booster
Android offers amazing applications to boost Wi-Fi signals and one of the best applications is that it includes Wi-Fi Signal Booster. This application basically improved wireless signals to a certain percentage for better Internet speed. This improves signal stability and increased Wi-Fi signal strength.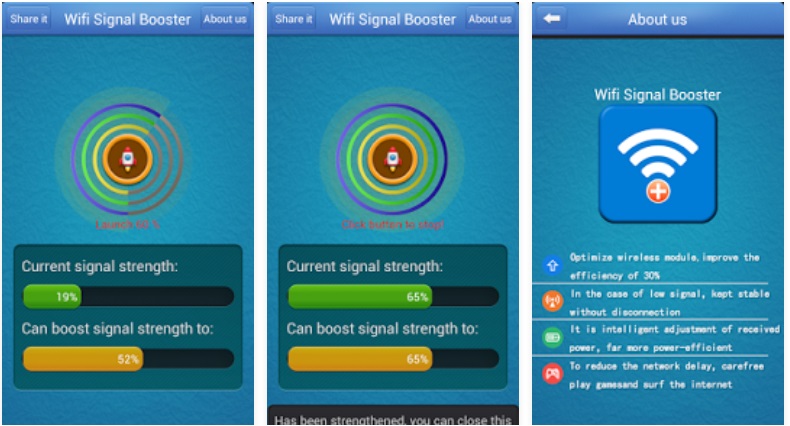 3. Internet Booster and Optimizer
The Internet Booster and Optimizer application is strong Wi-Fi booster app that will improves the Wi-Fi strength and maximizes network speed so that you can have faster browsing experience. It's powerful Internet speed accelerator that automates a series of commands and make the browser better speed as its priority.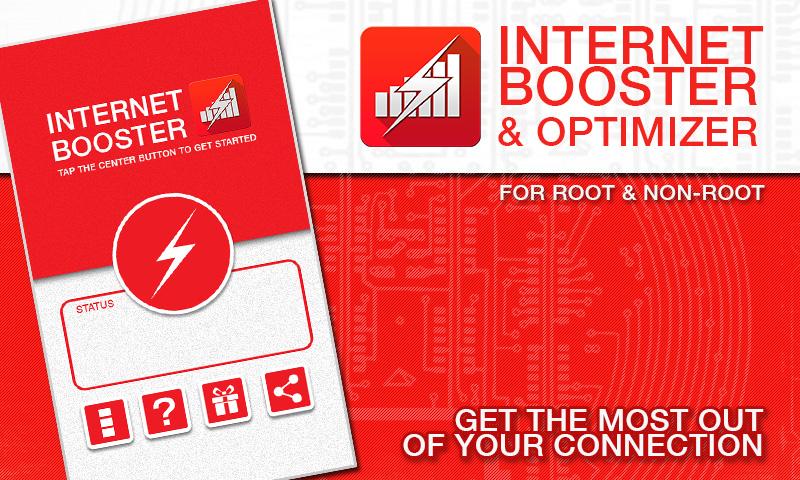 4. Wi-Fi Booster & Analyzer
There are dozens of applications available on the Google Play Store to tweak and boost the Wi-Fi signal, but the one on the top of the list is a Wi-Fi Booster & Analyzer. The application has proven itself worthy of an Android user seeking a desire to see increments its Wi-Fi signal. Since the time of its release, the app has changed and improved significantly, offering relevant functions help its user. It simply aims to analyze your Wi-Fi signal in detail, but also provide an option for booster.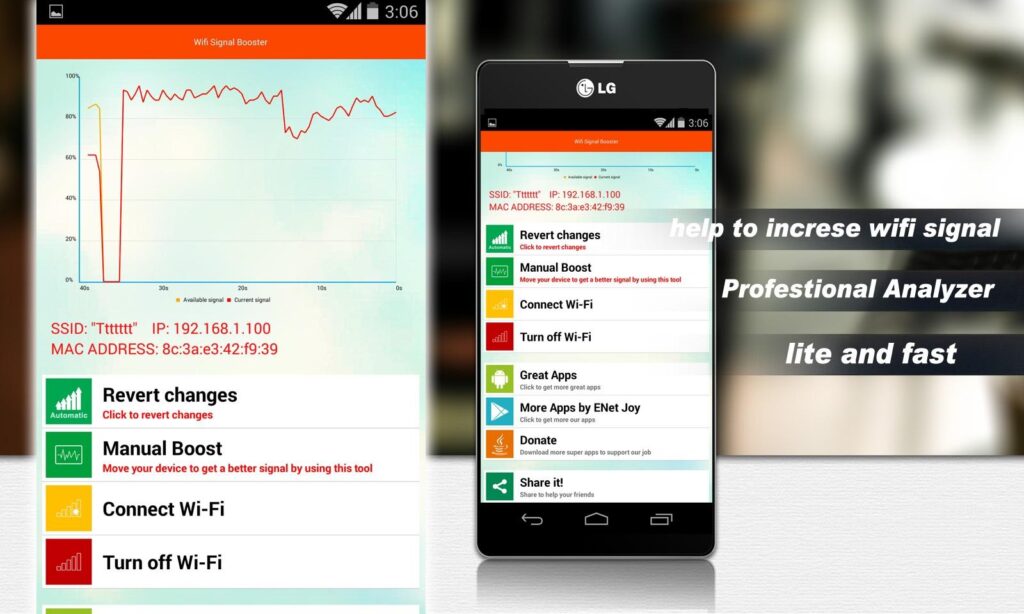 Now open the app, and when you do it for the first time, it will take some time to gather things. The first thing that appears on top is the graph between the signal strength and the time interval, which is your analysis wizard. By observing this chart indicate when and where you consume the most of your Wi-Fi with the best signal coverage. Below the graph, you can see basic information such as the current Wi-Fi SSID, IP address and MAC address of your device.
Now when you have finished analyzing your signal, you can give it a boost by the options provided by the application. Both options – Improved Automatic and Manual Boost. Auto Enhance option to insert the settings to your device and will Boost Manuel tends to be a simple trick to move the camera to a better place by using the analyzer to observe the current. Other options offered by the application are – Connect Wi-Fi and turn off Wi-Fi, which are a couple of handy features that you could use.
---
Here, we discussed what we have. If you used something that has been proven to successfully increase the Wi-Fi signal on your Android device, we consider using the comments. Provide us your valuable feedback, we will help build a better community.