Download PokeMesh Apk Latest Version PokeMesh 10.2 Apk for Android.
Now new fixes and improvements, PokéMesh 10.2 is out! The new version is available for download. PokeMesh Apk (PokeMesh 10.2 Apk) is an application that finds the hidden Pokemon and sends you to push notifications when the new Pokemon spawn around you and also helps you to catch them (As like FastPokeMap Pokemon Tracker For Pokemon GO). It allows you to scan any location on the map for hidden Pokémon with PokeMesh APK, and can send you to push notifications every time a new Pokémon spawn around you! This is the latest version of PokeMesh  apk and added some new features and fixes. leading fixed awaiting re-automatically scan when a scan has finished accounts are not connected. During playback, the button added near the running notification.
PokéMesh, all Pokémon located on the map to know where they are
PokéVision and other apps stopped working after the latest Pokémon GO updates, but developers have found a way to bring players a new mechanism so they can go in search of the Pokémon. In this case, we speak of PokéMesh, an application that I've tried and that, frankly, I think that right now is one of the best add-ons for this game.
PokéMesh functions as a map showing the exact position of the Pokemon's that we have around us and its settings can, for example, mark what we want to Pokémon not appear on the radar. In addition, we can also configure the application to receive notifications if something comes around us.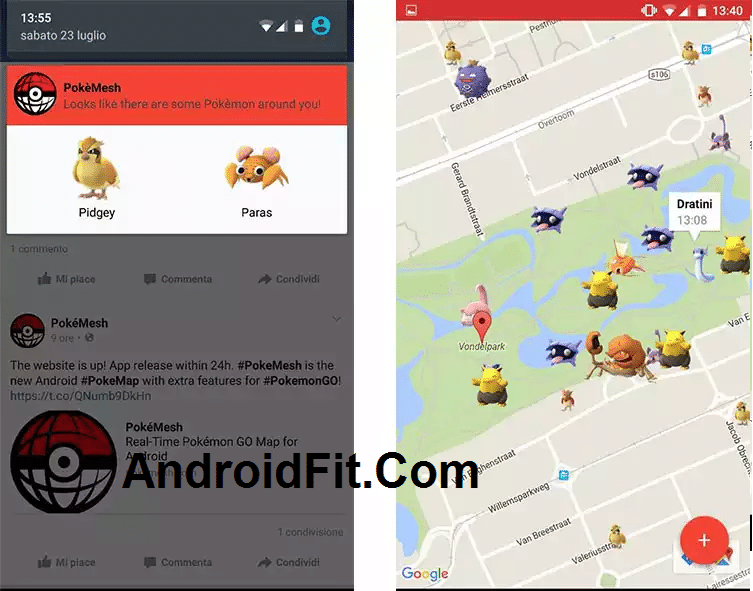 List of main functionalities:
Hold down to start a scan in any location on the map.
Address bar to move quickly across the map.
Map with real time Pokémon markers.
Respawn timer for each Pokémon on the map.
Optional mark gym and pokéstop on the map.
Custom push notifications of nearby Pokemon EVEN IF THE SCREEN IS LOCKED.
Custom icons selection.
Overlay map to use PokeMesh together with Pokémon GO.
QuickGO and custom scan area.
Pokedex page, that you can use to:
– Check the last seen time for each Pokémon,
– Find Pokémon cards through a search bar,
– Hide Pokémon you don't want to see on the map,
– Select Pokémon you want to get notified for if nearby.
See also: Download PokeAlert Apk – Pokemon Notifications for Pokemon GO
 PokéMesh apk 10.2 detailed changelog:
The new version is available for download on the website and App update. Here the detailed changelog:
Improved captcha detection and bug fixes
See also: Pokemon Go Location Hack for Android Lollipop/KitKat/Jellybean [No Root]
Latest PokeMesh apk file Information
File name: PokeMesh_10.2.apk
Minimum Android version: Android 4.1+ (Jelly Bean, API 16)
File size: 18 MB
Download Pokemesh Apk From Here | Android File Host
Old version PokéMesh apk
How to scan with PokeMesh apk. Features overview and information
Notifications with sound and vibration
Notifications, when active, are themselves updated every 10 seconds, displaying some new Pokémon was found during analysis. You can imagine that would be terrible to spam a vibration or sound every 10 seconds, so that, within your Pokédex, you can find a switch for each Pokémon called "applied notification". This new preference will leave your device triggers a vibration and sound every time that Pokémon was found and also will mark with a super and will be displayed above any other Pokémon in the notification.
Keep running forever scanning in the background
For all the people who use PokéMesh since version 0, we already had a setting called "relax" mode that was used to keep the active scanner in the background with our devices to sleep in our pockets or on the desktop. This parameter is now included in the notifications. Many of you have asked in the last days how to close the application without closing force from the application manager. Disabling notifications will let you close the application by dragging out the list of applications. However, if you have enabled notifications settings, the scanner will persist and execute in the background because the purpose of it, it is just to inform you even sleep with the device or placed somewhere.
Filter on all Pokémon to display only certain on the map
In fact, there is a switch in the Pokédex that will allow you to switch the Pokémon you do not want to see (well, there is a switch in the Pokémon single information window). This switch is all enabled by default and we are sure you do not want to run more than 150 Pokémon to switch on everything and leave only one enabled. A quick tip we would suggest is this: since version 8, you are now free to modify the rarity of each Pokémon. If you are hunting (in the example) Squirtle, what we suggest is to open in the Pokédex and mark rarely Epic / Legendary. Once done, you can go on the map and filter to the selected rarity.
Have multiple accounts does not always mean quickly scan linked
PokéMesh read about many people who are struggling with delays and overall performance of the entire application and when we did the basic questions such as "what camera do you use?" "What is your version of Android?" "How many account you use?" We came through with some people running over 100/150 accounts. Our suggestions are still in use 4/5/6 of them since you do not need more to scan near your area. We leave you free to add even 1000 accounts without restriction, however, you must keep in mind that for any connected account, there is a customer who takes system resources such as RAM and CPU. We believe that with 100+ accounts, you can probably scan your entire city (large) with a brand new device made with 4gb ram + but .. is this really what you need?
Read more:
If have any problem about latest PokeMesh 10.2 APK – Real time map 10.2 (Latest Pokemesh APK Download), then just leave a comment. 😀