How to Use Pokemon Go Joystick No Root for changing your position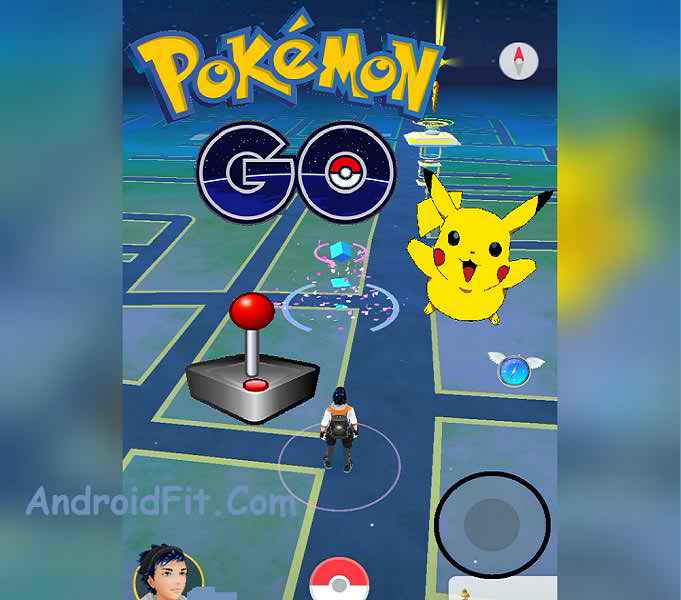 Hey AndroidFit.Com viewer! Here you will learn about How to use Pokemon Go Joystick in Pokemon go game with your No Rooted device ( Pokemon Go Joystick with Fake GPS) for changing your position & in the 2nd method Xposed Pokemon Go Joystick for rooted user. It helps you play Pokemon go without leaving your place.
As someone who likes to play games, I am excited about the new concept of Pokemon Go. It was a breath of fresh air. But all my excitement was in the sewer as the reality hit me. There are many obstacles (pfft..excuses) that prevent me from playing the game all day. So I decided to dig further and found a method that was missing before. So now it's time to play with Pokemon Go Joystick! See here pokemon go apk.
So what we need is an application called "Fly GPS", here's we shared How to play Pokemon GO without Moving with Pokemon go Fly GPS. Many users have complained that it does not work anymore but I still used the application in some past two days for hours and it still works for me. And finally, shout my experiences and answer questions that I had to face on this post(above linked). Again Note that you need Android Marshmallow version 6.+ on your android device to use the app. There is no need rooting required for this.
Note that It was easy before playing Pokemon go without moving, using Pokevision.com. But for many old Pokemon monitoring sources are down. as How to Detect Nearby Pokemon with PokeDetector, PokeVision, PokeMap, PokeRadar. See also: Game Hacker Apk.
How To Play Pokemon Go Joystick On Android ( No Rooting Required ) for changing position; (Method #1)
Enable Developer options in your device. here's how to..
Go back to Settings > Developer options. Locate "Select mock location app" & select Fly GPS (com.fly.gps)
Again go to Settings > Location & set GPS mode to High accuracy (Use GPS, WiFi, Bluetooth or mobile data).
Now launch Fly GPS app & locate any location you want to go. Click on the desired location & hit "Please select the menu".
Tap on "GPS Service Run" which will open up another menu. Tap on "Joystick location mode [Pokemon]".
That's it! Now launch Pokemon GO Game & you'll see a Joystick to move around.
Use Xposed Pokemon Go Joystick [by Xposed] (Method #2)
This xposed module allows you to play Pokemon Go without moving out! Use the joystick to navigate provided in all directions.
Requirements:
Rooted Android devices
Steps:
Install the Xposed Pokemon Go Joystick modulefrom here. http://androidapkapps.wapka.mobi/software/view/47821306
Enable it in Xposed..
In Settings -> Developer options -> Enable mock location (Android <6.0) and 'Select mock location app' for (6.0+)
Now restart your device to allow the module to use Xposed framework.
Start the app by launching it from list of installed apps.
Open Joystick
Navigate like a boss!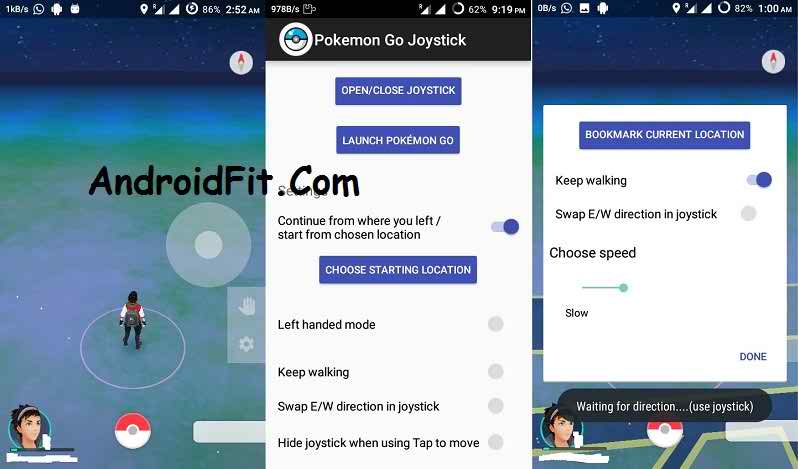 The joystick appears as an overlay. Go in any direction.
Activate this mode by pressing the palm button.
Tap anywhere on the screen for the player to move.
Turn off mode using the same button.
NOTE: Move When the faucet is on, you can not touch the objects in the game So, activate and deactivate this mode whenever necessary..
NOTE: Save time by using the Settings icon near the joystick. without having to jump between game and joystick.
Caution:
Keep the speed slower while using Joystick.
And keep updated with this post > How to Remove Soft Ban in Pokemon Go.
Using Pokemon GO Joystick you can do the following:
Release Pokemon go in the module.
Exploit on any point on location to proceed – Alternative to conceal joystick.
Hunt for Pokemon that are neighborhood.
Alter options & include bookmarks on the travel with options alternative near joystick.
Select beginning place in chart, with longitude and latitude.
Pick motion velocity on the fly! – More adaptive pace settings.
Shop fill them instantly and favored places as bookmarks!
Search in map for a place.
Carry On from in which you left.
Right left handed mode.
Wander always in a way.
You can toggle the joystick by pressing the notification in your notification bat
Change E/W/N/S direction in joystick
Set speed to slow/slower if you want to search for Pokemon. Running faster may not give adequate time for a Pokemon to spawn in that location.
Set location mode to 'Device only' in case you are troubled when fighting/capturing.
When moving from v1.x to 2.x, Clear data before launching the updated app. Make sure you 'Allow mock locations' or Select this app in 'Select mock location app' (Marshmallow) before launching the module.
Don't start at far off locations. You might get banned.
You can disable the notification settings or it will become really boring receive notifications even when you do not play the game. Now, it's time to go play Pokemon joystick. I hope this helps everyone to track all Pokemon surviving on earth. If you know of other great methods, you can leave it in a comment on AndroidFit.Com!