CM Security is an Android app used by millions of users to keep their phones secure. It allows users to lock their apps, chat logs, and keep private information just that, private. Security is a major issue with modern technology, so there is no surprise people search for the top security apps for their smartphones, and we think this one is up there with the best.
See also: Hexlock – Protect and Secure Your Android Apps
Security features
Although it features an antivirus scan feature, CM Security is not simply another antivirus scanner. It provides users with a vast range of features that will help keep your phone secure, including your apps, messages, preventing virus attacks, and much more.
Hide private chats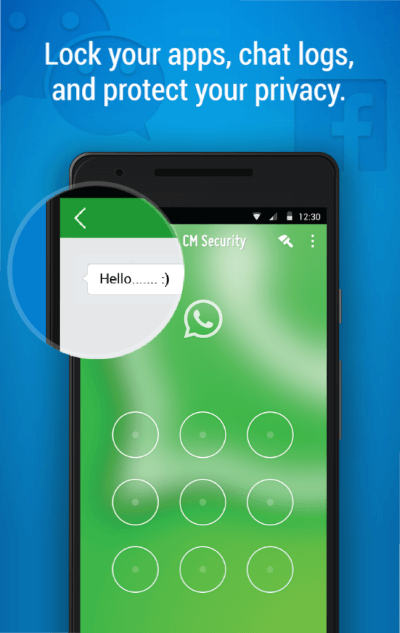 You will be able to hide chat apps, such as Facebook Messenger and WhatsApp to avoid people snooping around and finding your private conversations, just in case they are smart enough to get the password. When a private text notification comes in from WhatsApp, it will also be hidden. We think this can be a useful feature.
Private browsing
Are you tired of using the hidden browser feature or deleting your history? AppLock will assist in clearing your history each time you exit the browser, and it gives you the option to save private data with an integrated vault. Additionally, it will check the safety of websites you visit and warn you if they are unsafe.

Fingerprint
With AppLock, you are able to lock your apps using your fingerprint on certain devices, further preventing the chance of people opening your apps and doing things on your phone that you have not authorized them to do. The devices covered so far include HTC One A9, Nexus 5X and 6P, and several Samsung Galaxy models.
Secured Wi-Fi
One of the most used things on a smartphone, in some cases used more than calling, is Wi-Fi, and using public Wi-Fi can be a big security risk. AppLock allows you to test the Wi-Fi connection with a single tap, conducts network speed testing in real time, and warns you against malicious Wi-Fi hotspots. In addition, it will also allow you to connect to Wi-Fi for free in the top 100 airports, and it optimizes and boosts your connection speed.
See also: How To Boost Wi-Fi Signal on Android Phone or Tablet
Intruder selfie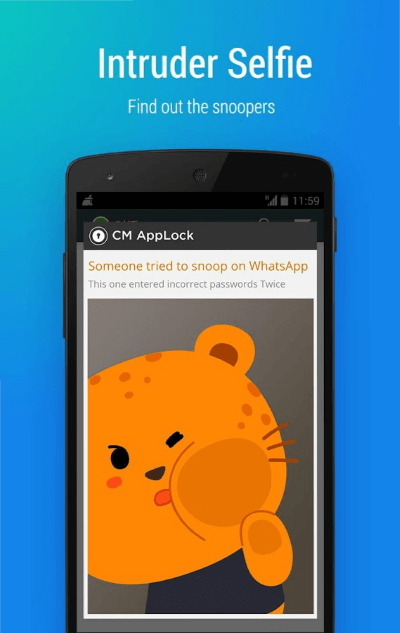 Oh no, someone is trying to get into your phone, but who? With this cool feature, once your password is incorrectly entered twice, it will take a picture of the person trying to get in your phone, and you will have proof of who attempted to snoop! You will also receive an email saying someone is trying to access your device.
Keeping things hidden
Use AppLock to keep Facebook, WhatsApp, twitter and your contacts hidden from people snooping through your phone. You can lock the browser and gallery as well. We love the fact that we don't have to stress over showing someone a picture and then "accidentally" opening a private message again.
Another cool lockable feature includes preventing changes to your system settings or the purchase of games. Never again will you worry about children getting ahold of your phone and buying an app, be it $0.99 or $10! Not to mention those who find it funny to change the settings when you're not looking.
Design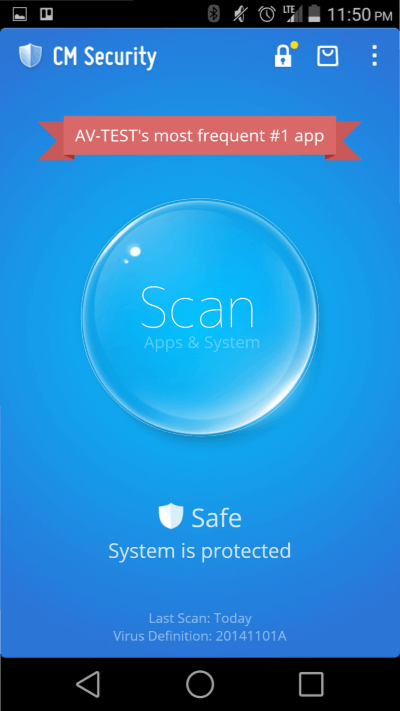 The design is simple, but it works well. You can easily use the features and its multilayered protection. It is also fast, taking a few seconds to scan for viruses at the tap of a button. The file size is much smaller than with most other security apps, which means more free space for other stuff, and the memory used is less too.
We find that compatibility with phones and tablets alike is also a major advantage.
Price
Although the features offered seem as though it would be a paid app, it is free to install and use. We were surprised that there was no fee for using the app, as there are paid security apps that don't even provide half of these features.
Pros:
+ Free to install
+ Uses less space and memory than others
+ Keeps things private and safe.
Cons:
– We weren't able to find any downsides.
[appbox googleplay com.cleanmaster.security]