Pokemon Go has become one of the most popular games out there on mobile devices. It became largest social networks in the world, and there are still many countries where the game has not even officially launched. If you have not yet played the game and start playing by following the advice of our beginner Hidden Tips And Tricks For Pokemon Go.
If you are already playing this exciting game on your mobile device, then you must know how it drains your mobile battery(See here: How to save battery life on your Android). Pokemon Go uses the GPS chip in your phone, camera, CPU / GPU (like other 3D games), and since the game is supposed to be played outside, mostly brightness is automatically set to full this also contributes to the severe drain the battery. However, battery juice short does not mean you have to end your ultimate adventure to find Pokemon because it never an option for a true Pokemon trainer. We will help you get the most out of your smartphone battery and keep hunting for exquisite Pokemon for as long as possible without running out of battery juice. Follow our tips below to save battery while playing Pokemon Go.
If you did not download Pokemon Go, see our guide on how to download and play Pokemon Go now.
1. Keep Your Phone's Brightness in Check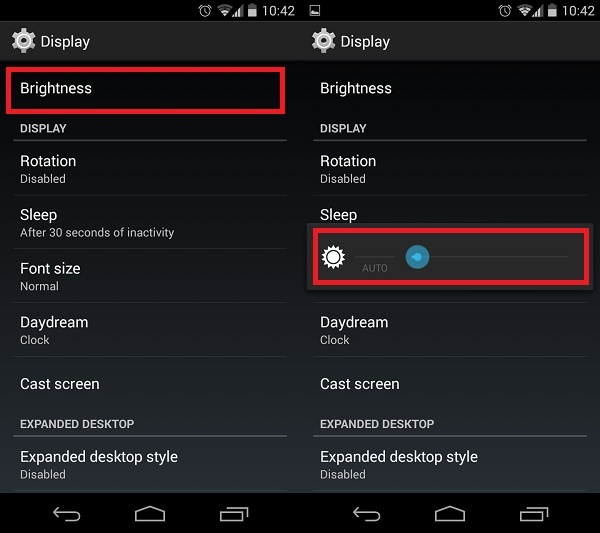 2. Enable Pokémon Go's battery saver mode(Use Battery Saver)
Pokemon Go provides integrated battery saver mode reduces battery drain while playing the game. If you just walk around while holding the phone to your side, then the battery saver dim the screen to the lowest so it does not consume as much battery as it would with the screen brightness at its highest. In the game, press the Pokeball down at half of the screen and select "Settings" in the upper right. Now activate "battery saver" by checking the box. This will ensure that your battery does not work when you are roaming around. You always have vibration notifications according to the new Pokémon that pop up around you.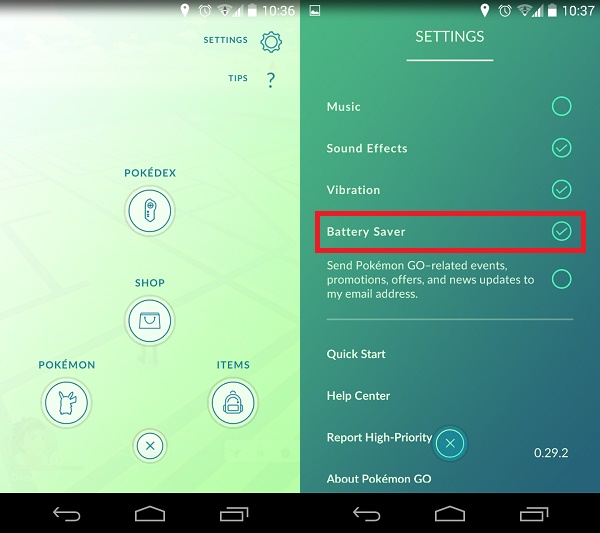 3. Use offline maps in Pokémon Go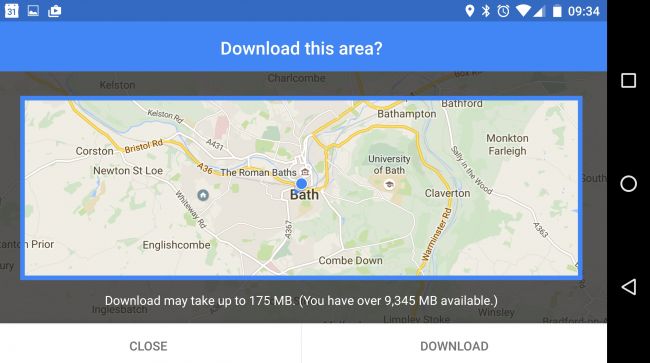 Pokémon Go uses Google Maps to pull data from the world on your smartphone, and while you're out and about this uses your data connection, which in turn drain your battery while playing Pokémon Go.
However, you can download Google Maps for offline use, which will improve the performance of Pokémon Go.
To do this, open the Google Maps application, select the Settings menu (indicated by an icon with three horizontal lines) and tap "offline areas."
Tap the "+" icon then use the card for a square drawn to the area you want to download, and press 'Download'.
4. Turn-Off Music on Pokemon go for reduce battery drain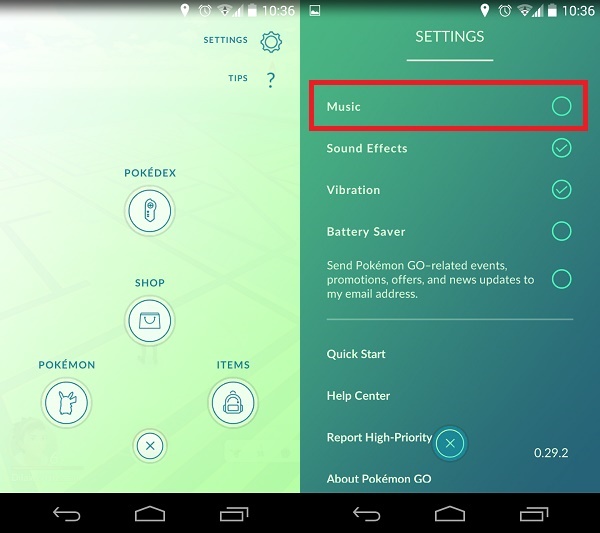 Pokemon Go offers a beautiful soundtrack that will remind people of the main games in the series. However, the music is repetitive over time and do not even serve a real purpose in gameplay. You do not need background music to play this game because all you need are the sound effects only. If you do not care much about the background music in Pokemon Go, then disable it in the "Settings" menu. This will also help reduce battery consumption while the game is open and you can enjoy the game for longer than before.
4. Turn Off Augmented Reality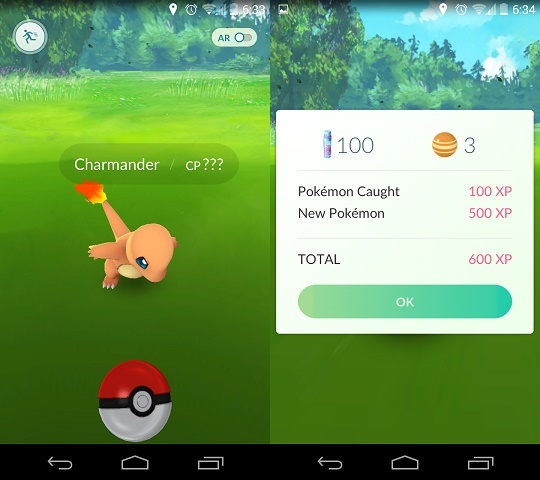 The reality of increased functionality in Pokemon Go is really cool because it allows you to see the Pokémon in your environment. You can even take amazing photos with your favorite Pokémon using the AR function. However, having your camera all the time drains your battery very quickly. If you really want to play the game for a long time, it is best to disable the function of AR completely. You will be able to see the Pokemon, but instead to find in the area, they will be available in the game's graphics, which also makes them easier to hit with Pokeballs. When you encounter a Pokemon, you will see a small button "AR" at the top right of the screen. Just turn it off and you'll be able to catch Pokémon in the virtual game world.
5. Get a battery pack
If all else fails, you can purchase a battery for your smartphone keep in mind while playing Pokémon Go.
portable power packs can be charged separately and then plugged into the USB port of your phone or wearing lightning to charge the battery when needed. This could be a real life saver if you are about to take a Pokémon Gym in Go!
All of these tips will help you get the best battery life of your smartphone and play the game for a little longer than before. If you still want to play all day without running out of battery juice, we recommend you invest in a decent power bank or a load case for your smartphone. Have a backup battery is not bad either if your smartphone has a removable battery option. Keep a food bank at hand would ensure that your smartphone will never lack of battery life during the game. You can just plug it leave load for a while before resuming your Pokemon adventure.
This will only work on a smartphone with a gyroscope, because it works with the positioning of your smartphone.
How to Avoid Pokemon GO Malware on Your Android Phone[Read Must]
What other ways do you use to minimize battery usage(save battery life) when playing Pokemon Go? Please share your tips in the comment section below… 🙂