How to unlock android pattern lock without data loss is the trend today. People are looking for new ways to bypass android pattern lock without losing data and without any internet connection. Do you know that, Android has become one of the most commonly used operating system that everyone uses. The Android operating system is provided by Google and recently there was an article that gave details on how to unlock pattern lock on android device without losing data. But there were a lot of limitations and lead to formatting the entire data of the user. Thus, the below given method is the best way to back up your data on the Android device.
It is a very easy and simple method to secure our mobile personal data with pattern lock. We just have to draw a pattern and that's it and you do not have hardly put numbers or characters for the password because we can easily forget the numbers and characters as compare to pattern lock. It is a very rare case, but you can forget your pattern lock. As usual, we use gmail account in the play store, it becomes easy to reset but if you do not have an email address to reset. So do not worry, those who have forgotten or maybe forget their android lock mode can easily unlock pattern lock without losing personal data. It's best way to reset Android device without using Gmail ID and Unlock/Reset Android Pattern lock without Gmail or Internet Connection.
It is common for most of us to lose data in Android devices. Losing valuable data can be one of the most difficult aspects that may find it difficult to cope and is something we love to avoid. There would have been many cases where you would not have been able to recover data without using the password recovery tool.
Check also: 12 best Android screen lock apps and widgets to reinvent your phone
Basically, these are some of the great things that most Android users use. Here, we found methods by which you can unlock pattern lock any of your Android smartphone.  This article gives a detailed description on how to unlock the password lock or pattern without compromising the data present in the Android device. We will explain the various methods to unlock Android smartphone model lock without losing data. So choose which you find easy to do.
1st trick :- Unlock Android Pattern Lock with PC
First Requirement is Download Android SDK and here I will show you How To download and install Android SDK Tools.
Download and install Android SDK Tools for run ADB commands. Now select platform according to you download and install it.
After installing open it, unchecked the other packages and check Android SDK Platform-tools and then click on install packages according to the image given below.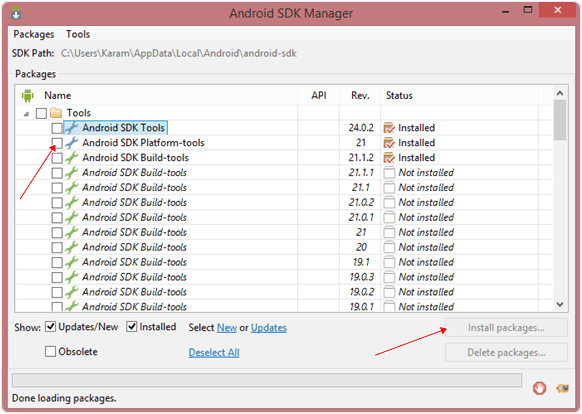 2. So the other requirement is USB Debugging should be enable before your android device locked.
3. The process will not be helpful if you doesn't have specific and compatible drivers for your phone. So you should be very careful While installing your device compatible drivers.
Steps To Unlock Android Pattern Lock
Step 1. Connect your locked android phone with PC/Laptop via USB.
Step 2. Open folder where you installed Android SDK Tools Users >> App Data >> Local >> Android >> Android-SDK >> Platform-Tools and then click on blank space hold shift and click right mouse button and select "open command window here".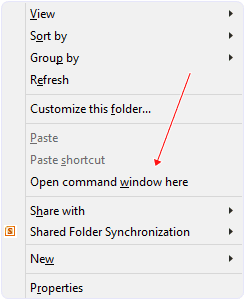 Step 3. It will open you command window now you have to put some commands in the command window.
First check whether your android mobile is connected or not. Insert adb devices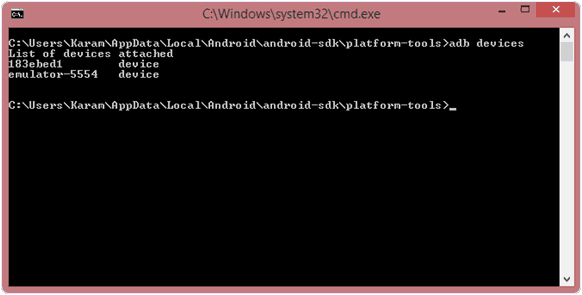 adb shell
cd /data/data/com.android.providers.settings/databases
sqlite3 settings.db
update system set value=0 where name='lock_pattern_autolock';
update system set value=0 where name='lockscreen.lockedoutpermanently';
.quit
If above command is not working then put:
adb shell rm /data/system/gesture.key
Step 4. Once this process is done, you need to reboot your android devices. That's it.
NOTE: USB Debugging must be enabled before the pattern lock. If it is not then this whole process will not work.
2st trick :- Bypass Pattern Lock On Android Without Losing Data ( Aroma File Manager)
If you are looking for how to bypass/unlock android pattern lock without computer or without usb debugging. It's best tutorials for you.
You android device either locked by pattern lock or password lock.
A memory card for android device.
Download Aroma File Manager.
Step 1. After Aroma File Manager download put your memory card (SD card). Insert the memory card in your locked Android device.
Step 2. Open the Stock recovery mode with restart your Android device and pressing Key Power and Volume up button simultaneously. Different phones may have different methods to open the stock rebuilding mode, so if you face a problem Google it or hit comment box.
Step 3. After entering recovery mode use volume buttons, VOLUME + to scroll up and down. To select the middle button use.
Step 4. From there, tap on  "Install Zip from SD Card" and give way to install "Aroma File Manager" from the SD card.
Step 5. After installation, it will be opened in recovery mode.
Step 6. In the File Manager Aroma navigate to Settings >> go down and tap on  "Automount all devices on start", then exit.
Step 7. Repeat 4 and 5 step again.
Step 8. After that, you will get "Aroma File Manager" to open again.
Step 9. Now go to, Data Folder -> System Folder and find >> "password.key" or "gesture.key" for the password lock or pattern lock respectively.
Step 10. Remove all file manager and the release of the aroma of a file, then restart your Android device. After restarting, you will notice that the password or lock pattern not deleted. But worry not pull any reason and you open your Android device but remember or note this model.
Check also: How black wallpaper can save your Android battery
Trick #3:-

 How to Unlock Android phone without Google Account
This procedure will show you how to unlock or reset the pattern lock of android device if you forget your  Google Account username & password (gmail account) and without internet connection:
Just turn off your android phone and wait a second.
Now hold all these buttons together at the same time "Volume Up + Home Button + Power Button" until the phone boots (if your camera does not have a button on the home just hold together the volume of keys and power).
Now a screen like DOS will come with different options Use the volume button to move up and down and scroll down to "Restore Defaults" or "delete all user data" in depending on what is on your device.
After clicking on the above Settings, now  look at bottom or scroll down to "Reboot system now" and wait for your phone to restart.
Trick #4:-

unlock pattern with the factory reset settings (Data Will Lost)
In the 1st tutorials, we used PC / laptop, we downloaded the software and we have some orders. But if you have not PC / laptop or device was not enabled USB Debugging or not unable to Aroma File Manager then you can follow this tutorial.
First turn off your Android device is locked.
Now start your Android device in "Recovery mode" using specific keys by holding the power button and volume keys at the same time.
 After opening the recovery mode
– Select "Data Factory Reset" option and give "Yes".
– Select "Wipe cache partition" to clear cached data.
 Once the above steps Reboot your device.
 All Done! Now your machine will start from scratch.
NOTE: – IN THIS METHOD OF YOUR DATA everything will be lost. SO IF YOU DO NOT LOSE YOUR DATA THEN DO NOT FOLLOW THIS PROCEDURE.
See also: Samsung Galaxy S7 Review : a return to old ways
I think that you have something to learn interesting facts about how to unlock pattern lock on android without any data lost or with data losing. But some may use it to hack it but we can in a good way to open someone android phone or even yours in the time of trouble. If you have any questions about how to unlock android phone pattern lock, then leave your comments below. 😉