Android is changing with each new update, and there is no doubt that it has become a very mature operating system and feature rich. However, the large number of features packed Android brings its own compromise. Android has always been known to be a resource not so friendly OS and with each new iteration, the operating system requires more RAM to function properly. In fact, the new flagship Android smartphones are powered by 4 GB of RAM and that says a lot about optimizing the Android memory.
So if you have an Android smartphone with a more modest amount of RAM and you feel it is not as good as used to be, you may need to optimize the RAM of the device. We are here to help you with just that. Here are some of the best ways to clear the RAM on Android:
1. Check memory usage and kill apps
First, It is highly important to know the thugs Apps that consume more memory on your Android device. Fortunately, Android natively allows to check memory usage. To check the memory, go to Android Settings-> Memory, where you will be shown using the average memory. You can then choose to verify the use of the average memory of the last hours or even a day.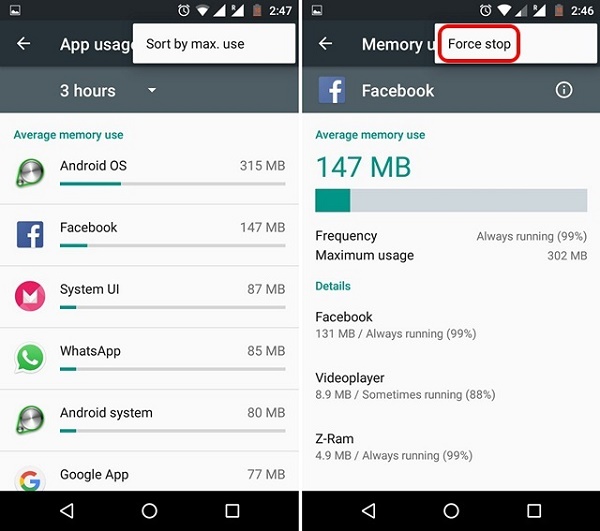 To check the memory used by applications, press "Memory used by apps" where you can view the use of memory on average by the Android system and various applications. You can press the button for three points at the top right and press "Sort by max. Use" to see applications that the larger amount of RAM. To see more details about the RAM usage of an application, just type the name of the application. To kill an application you may think using too much RAM, click the three dots button and press "work stoppage".
2. Disable Apps and Remove Bloatware
While killing Apps RAM free, it does not necessarily mean the fact long ago that applications tend to revive in the background. So if there are not installable system Apps eat up the RAM of your device, you can simply turn them off. Once you disable an application, they will not be running in the background unless you turn them back. In addition, these Apps will not even appear in the list of applications.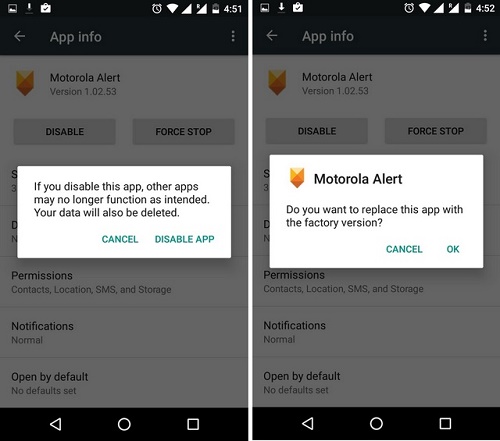 To disable a system application, go to Settings-> Apps and choose the application you want to disable. In the app info page, click the "Disable" and press the "Disable App" option button in the prompt. It is important to note that disabling certain applications of the system could result in inconsistent performance, so we suggest you refer to our detailed message on how to remove Android bloatware.
3. Disable Animations & Transitions
The different animations and transitions on Android certainly make the operating system look more modern and elegant, but it also puts a strain on the CPU and RAM of the device. The good news is, you can easily disable these animations and transitions.
You will first need to unlock "Developer options" to play with transition options.
Next, go to Settings-> Developer Options and scroll down to find options like "the scale of the animation window" , "scale length Animator" and "Transition animation scale". You can just press one of these options and set it to "Animation off".
4. Don't use Live Wallpapers or extensive widgets
There are some very cool Live Wallpaper apps available for Android, and while they look beautiful, they eat a lot of RAM, which also means greater battery consumption. So we certainly do not recommend have a live wallpaper if you are facing performance problems. With live wallpapers, widgets extensive use as much RAM, so if you are really serious about cleaning some RAM on your device, you should use simple widgets such as music player, calendar, etc.
5. Use Third Party Booster apps
I'm not really a fan of the performance booster applications because they tend to be inflated individually. However, there are apps that can be trusted to clean the RAM of your device for better performance. Applications like Clean Master  bring a ton of features to optimize the lens performance of your device if you are just looking to clean up the RAM of your device, it includes a "Memory Boost" nice feature that allows you to free up RAM from your home screen. In addition, it allows you to manage aussi autonomous startup applications, so you can disable the applications that memory from the start. Other than Clean Master, there is more RAM cleaning applications such as CCleaner, DU Speed Booster and more.
Free up your Android device's RAM with these simple ways
You'd agree when we say that these are some simple tips and ways to clean RAM on your Android device. So, if you have been facing performance issues on your Android device due to apps taking up all the memory, use these ways to clean up your device's RAM and get better performance out of it. If there are any more ways to clean up RAM on Android that we might have missed out on, let us know in the comments section below.