If you want to lose weight and stay in shape, your smartphone can help with Best Free Weight Loss Apps. It can help you keep track of your calorie intake to achieve your weight loss goals and maintain a healthy lifestyle.
Whether you need to lose weight in 2023 or in better shape, it is the Best Weight Loss Apps you need on your Android. Most of these Best Free Weight Loss Apps to lose weight are free to use.
Some offer high-end options for a price, but you can start without spending money to achieve your goal.
Many Android phones include powerful sensors that track your movements and activities without the need to purchase accessories or fitness bands.
The android camera can scan barcodes to help you open a food session and there is an option to connect the Android to an HDTV. For a workout without looking at the small smartphone screen during you are at home.
Weight Loss Apps: 10 Best Free Weight Loss Apps for Android in 2023
When it comes to weight loss apps for Android, there are many free options available. These applications can help you achieve your goals by telling you what and when to eat and track your daily calorie intake.
Here are 10 best free weight loss apps list for Android in 2023.
See also:
Lose it Weight Loss App
Lose It is a free weight loss application for Android that helps you achieve sustained healthy weight loss. This tool includes an application and a website so you can view your information on your computer as well. You can connect to people, your devices and information about foods that help you lose weight with intelligent decisions.
Lose It helps you to create a personalized weight loss plan with goals that include a target weight and total well-being and fitness. The application includes access to food database verified that you can track your calories with a simple search, or add custom foods and you can share recipes. You can also scan a UPC to add foods.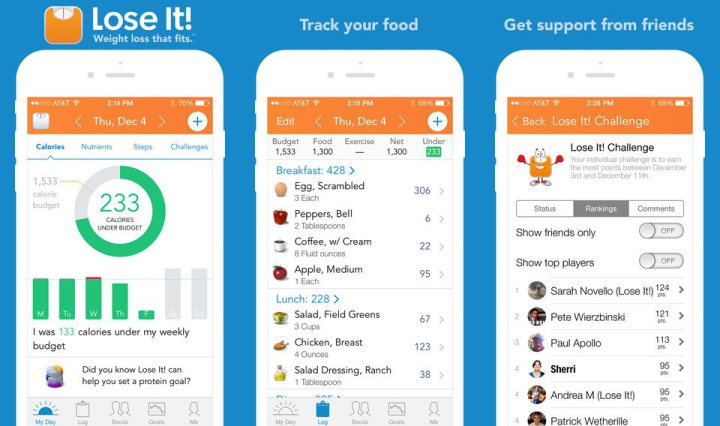 Lose It connects to other applications like RunKeeper, Nike + and a variety of devices and scale to help you track all your fitness data easily and intelligently. You can create goals with a group of friends, challenge your friends or yourself and get group support to stay on track.
Google Play Store Apk install link from here.
MyFitnessPal – Calorie Counter
MyFitnessPal is one of the most popular calorie counting app that helps you keep track of your daily intake of food and beverages, as well as your workout. It has over 6 million foods in a database that can easily add your feed manually searching or with barcode reader.
When you set, you will need to enter information about yourself, including your date of birth, height and weight and your goal weight and how much you want to lose each week.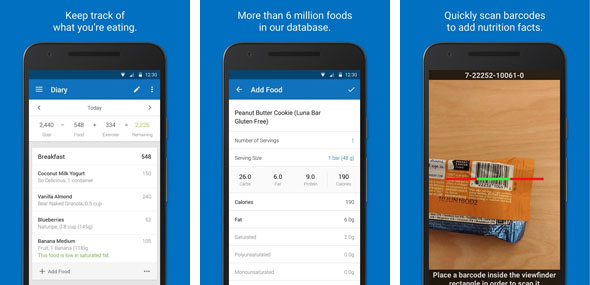 This weight loss app creates a customized plan for you, provide you a calorie goal to work towards, that appears on top of the newspaper page where you can add the food you eat, exercise and beverage consumption.
As you add, you will see food calories being derived calories and exercise added so it's easy to keep track.
=> Google Play Store link
Fooducate Weight Loss Coach
Fooducate is a free diet tracking application that works as a weight loss coach helping users to make healthier food choices. It allows you to scan the barcode on food items to get a quick health grade from A to D.
With this weight loss app, you can set your daily calorie intake and what are the processed foods have hidden unhealthy ingredients.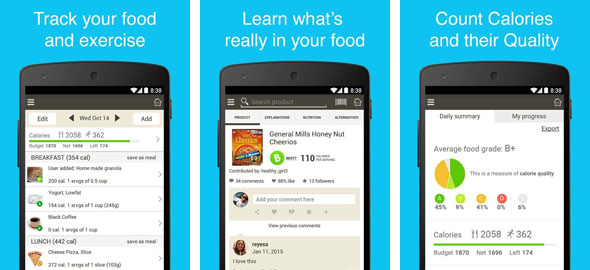 This application is beneficial for anyone trying to lose weight and live a healthy life because you can analyze nutritional information based on the ingredient list and nutrition facts products.
=>  Google Play Store link
Diet Point
Diet Point is a calorie counter app that lets you track your weight loss progress as well as get in touch with people trying to lose weight. The app provides over 130 different plans weight loss to choose according to your specific situation.
There are also dedicated shopping lists for each plan to make things as easy as possible when you decide to follow a specific program.
In addition, it also offers more than 500 tips to improve your weight loss plan. A BMI calculator is included so you can check the health of your weight relative to your height and has a weight tracker and monitor on board too.
This application provides various innovative features such as meal reminders, shopping lists, etc.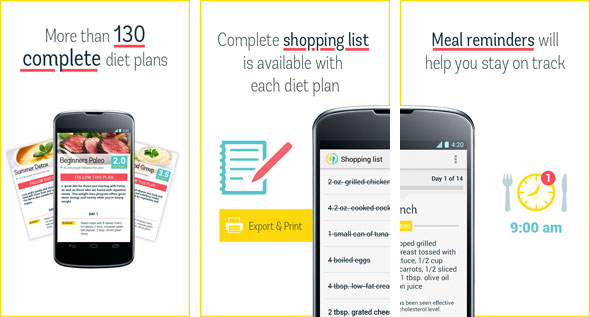 You can participate in communities and get in touch with those who are on the same track as you. These communities will really help keep you motivated in your weight loss journey.
=> Google Play Store link
Noom Coach: Weight Loss Plan
Noom Coach is an all-in-one that offers a wide range of tools to help you lose weight and live a healthy life. The application helps you lose weight by motivate you and teach you the health habits that must be followed to keep you in shape forever.
It starts a diet every day and you just need to follow this plan. You can log your meals and give him feedback on how it shows the impact on your daily plan.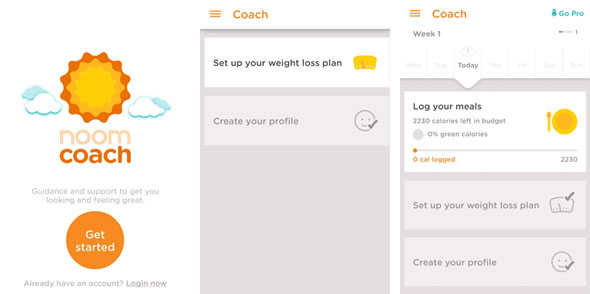 To motivate you, this app will give you high fives when you are successful in your diet plan and provide advice when you miss something. Coach Noom is a free application that offers the combined monitoring, coaching and community support.
=>  Google Play Store link
Fooducate
One of the hassle of trying to lose weight is to know what food is actually good for you to eat. With Fooducate, you can learn about healthy foods and instantly see if foods are good for you by scanning a barcode with your Android.
You can scan food using the camera of your smartphone and see a note for the food you are considering buying or eating.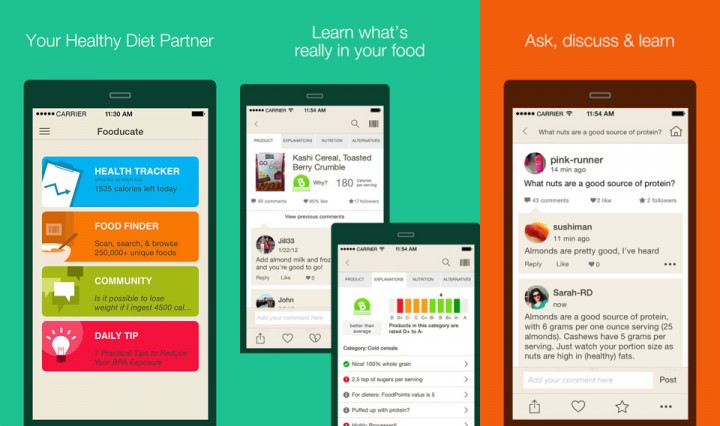 Forget trying to decipher the nutritional content based on a small area at the back of the box and see a note that will help you make intelligent decisions.
You can also ask questions to the Fooducate community to learn more about healthy foods.
=>  Google Play Store link
Nike+ Training Club
If you do not know where to start with a new workout that will help you lose weight, you can use the Nike Training Club app. This application helps you choose a workout or a four-week program that will help you get lean. There are over 100 workouts and application can help beginners, intermediate or advanced users. As it non-stop motivation, workout share, bring the studio home, programs traker, make own ntc, see the results..
You can even use the app on your tablet or your TV, so you can train the way it works for you. The TV part works with AirPlay, CHROMECAST or HDMI cable.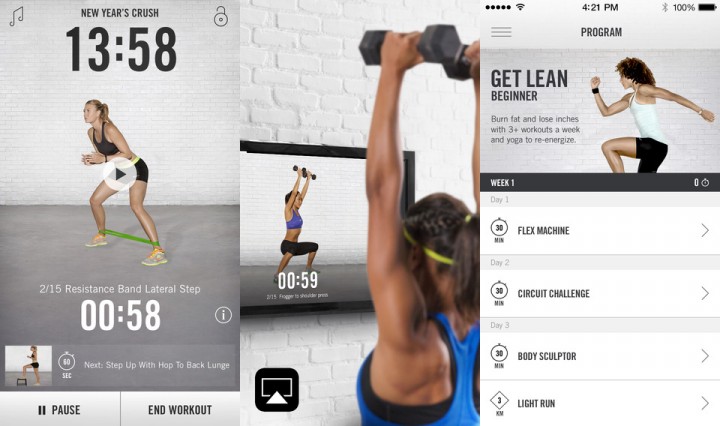 =>  Google Play Store link
7-Minute Workout App
You are a busy person with little time to work. You might not be able to go to the gym to work, which is where the NYT 7-Minute Workout app comes to play. The New York Times reported earlier this year. This is a scientific workout that maximizes your time spent exercising by providing Scientific 7-Minute Workout and Advanced 7-Minute Workout.
You will need to add this web application to your home screen.  Android On Tap Menu and then Add to Home Screen. This session of high intensity training can help keep your appetite in check, improve metabolic health and cardiovascular health.
> Download 7-Minute Workout App for Android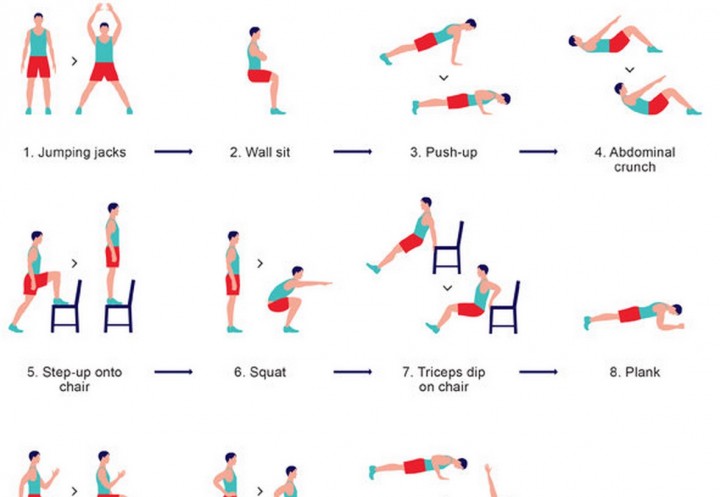 Pact: Earn cash for living healthy
Pact is a free application that allows you to stay on track for working, eating more vegetables or log your food by putting money on the line. You choose how much to put on each agreement you make. If you perform the tasks you promise to do, you will earn money with the app – $ 0.30 to $ 5 per week.
This can add up over time. Since joining in 2012 Zach Bingham earned about $ 500 and lost $ 40 by doing the same workouts he had done before he started on Pact.
But if you do not keep the pact, the application will debit your bank account for the money that you put on the pact. You can start with a small amount, or issues to keep your motivation to eat more vegetables, working on or log your food.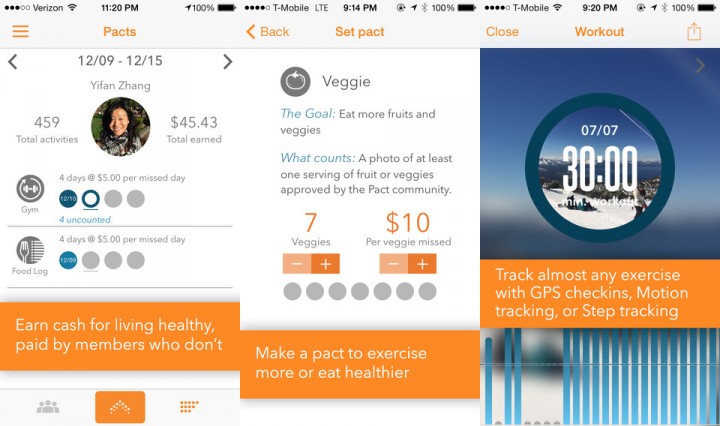 If you use the right application, it can pay for your gym membership or help you save for a new gadget or accessory of fitness.
=>  Google Play Store link
Google Fit
Google Fit is a weight loss and fitness free application from Google that allows you to track your activity by simply having your Android phone. This also works with devices like Android Wear smartwatches. You can also connect applications to extend the service monitoring and fitness.
This application can help you track your weight, your daily activity and especially the heart healthy daily activity. With a goal to spend 60 minutes each day and a pedometer goal, there are several ways to help you push to move more while you go about your day, even if you can not get to a gym.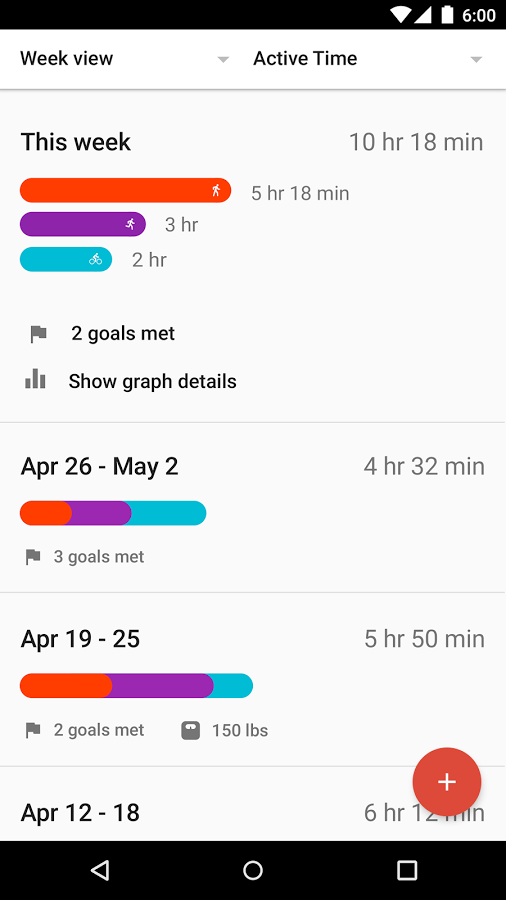 Google Fit for Android is free and works with most Android smartphones.
=>  Google Play Store link
These are the best weight loss apps for 2019. They allowed us to lose weight last year and keep it with a little effort and a clear goal in mind.