How to Change Fonts Style On Android (With or Without Root)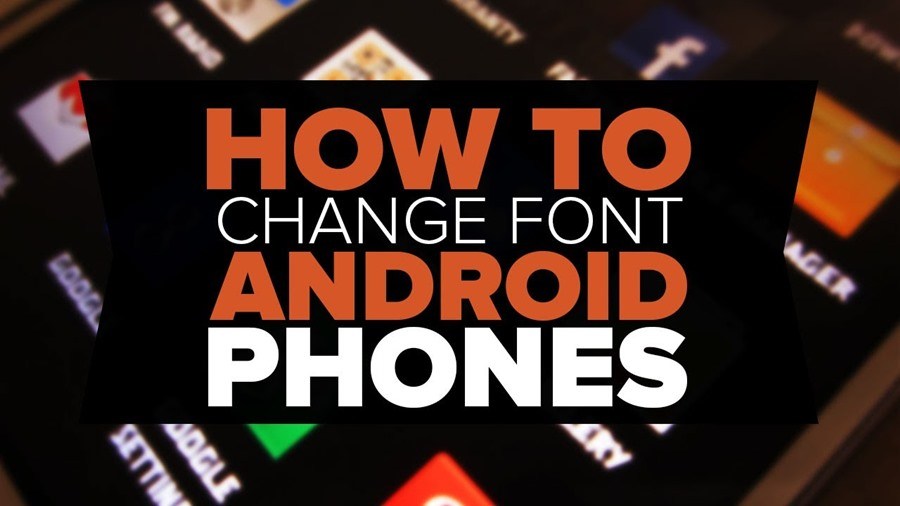 Change Fonts Style On Android: Android offers a great opportunity when it comes to customizing phones and tablets, it runs on. Unlike iOS, Android is a highly customizable OS to an extent that even allows its users to change fonts on their phones or tablets. In most cases, the default font on your Android phone/tablet is enough. However, The default font for Android is quite good and easier to read things, but if you really think you guys need to change then its time to change.
Now you can change the font style of your Android device at any time without your android root and also for rooted devices in 2020.
There is built-in option to change the font in all Android versions, but there is no other fonts are pre-installed, so you must download the fonts and then need to then install on your smartphone.
There are actually 2 ways to change fonts on your android device. The 1st is to use the system default option to change fonts, which, of course, does not require your device to be rooted. The 2nd way is to use a single root app that does the work for you. So, depending on the state of the root of your android device, choose one of the ways below accordingly.
How to Change Fonts Style On Android (With or Without Root)
Each section below is long because it covers step-by-step instructions for each method, so hit the links below to go directly to the section that applies most to you:
Change Fonts Style on Rooted Android phone / tablet.
How to Change Fonts Style on Android Without Root
How to Manually Change Font Style
Most phones now allow you to make some changes to the font settings and appearance without the need to install third-party applications, although the variety of what is on offer may not be as wide as a dedicated application . Exactly where and how you access those settings may also vary due to adjustments of the operator to the OS, but in general, you'll want to head to Settings> Display> Font to make changes.
When you come to change Font Style on your android phone. check on here: Settings > Display…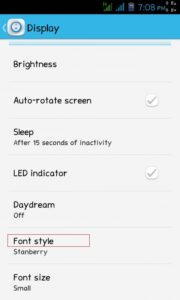 If found the Font Style changing option on your android phone. and you can change font style. If you want to change more fonts, then click on 'more fonts'. This button will redirect on google play store.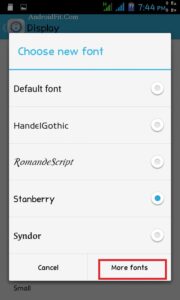 As other android devices. If your device Samsung phone, you can also go to Settings> Accessibility If you want to change the contrast or the font size (Change Fonts Style On). Samsung handsets to come with some other pre-installed options and ready to apply, but additional fonts can be downloaded via the Settings menu in the font section.
Press the "Download Fonts" button launches the Samsung app store and a range of more fonts that you can download. Some are free, others require payment.
also, you can download fonts package from Xda-forum. after download, you need to unzip your downloaded font package with an extractor apps, then click on the font to install as the normal apk file. After installed, fonts will be included in the font style option. and select the font name to active this font.
#Change font using GO Launcher Ex
Install GO Launcher EX Google Play Store or by clicking the button below.
You need to install GO Launcher Fonts on the Google Play Store or by clicking the button below. GO Launcher Fonts is an amazing app that provides different fonts.
Open the App Launcher and Go from the Home screen press the Menu button in the right corner.
Select Preferences from the menu and look for the font option.
Now you see the list of fonts, select the font of your choice.
You can manually put the files to the path /sd card/GOlauncher Ex/fonts…
After the changes, the changes take place immediately without rebooting the phone.
Other's Launcher to Change Fonts Style On Android
Exactly how wide your options are will depend on what you choose launcher. For example, Also Action launcher 3 gives you the opportunity to use the weight and style of the font Roboto (default) but not other options. Also, the free version of Nova Launcher and applications like Smart Switch and Arrow Launcher does not really allow for any modifications at all.
If you need more customization of font options that your pitcher can offer, you will be better to install a dedicated police application which allows you to do things like customizing the font by the application, if desired.
How to Change Fonts Style on your Rooted Android phone
#Change font using iFont on rooted and non-rooted device.
Based on what I have read on the app description page, it works for Huawei, Samsung ( as like Support Galaxy S3,S4,Note,Note II), Meizu and Xiaomi (MIUI) phones without the needed to rooting your devices and without need reboot.
To use iFont on your Android phone, follow these steps:
First of all, you need to root your android device.
download iFont app from Google Play store (free) or download direct com.kapp.ifont_v109_2bcb98.apk (7.07 MB) | com.kapp.ifont_v115_0ba24f.apk (7.45 MB) . You can also support the development by obtaining the donation version here.
after install, (Optional) > First you need install Xposed framework and enable it. Then enable the Fonter module on the Xposed modules screen and reboot your device.
Then open the iFont App, you will get a list of available fonts for your device, select and install any font on your android.
Now select Online> English or any one of them and tap on Set. (only 1st time) After clicking on set, iFont app grants Superuser permission, then click on Allow permission.
Now your reboot your device and after that font style successfully changed. Enjoy !!
Note: If have your own 'ttf' font file. copy it and paste on your SD card, then click on Custom > Select your own 'ttf' font file from your SD card.
Comment's for More Change Fonts Style On Android tutorial and it's will be added soon….