How often do you think of unloading your Android phone? Probably, quite often. You'd be blaming the number of apps, data and cache for occupying all the space on its memory. YES, they do hog space on your Android device, but for all the right reasons. Apps on your phone, helps it work appositely. Data on your phone, makes it worthy of use. And finally cache (which is blamed all the time) helps in easy access.
So, what should be blamed for low memory alters prompting on your phone? More often than not, it's the duplicate content which clogs the recoverable space. When I say duplicate, it is actually the exact match files on your phone. These are like those tiny worms which accumulates easily and eats up all the cream in the flask.
However, duplicate files aren't a big deal. They can be removed easily with the help of special apps designed for the task. Android app play store lists many duplicate cleaner apps, which can help you get rid of duplicate files. Yet not all are worth downloading!
See Also: Duplicate Photos Fixer: Duplicate Photo Remover app Review
Apparently, you must be looking for an easy-to-use and reliable app. The one which doesn't delete your important data stating it as the duplicate content. Considering these facets, I'd suggest you to look upon Duplicate Files Fixer. It's a duplicate media remover app that would delete duplicate files from your phone with utter care.
Delete duplicate files with Duplicate Files Fixer
Duplicate Files Fixer is an easy to understand and effective duplicate media remover. It appropriately scans for identical files and notifies the user. In order to simplify and present such files, the duplicate cleaner app categories it in groups. Each group contains all the copies of the original file along with its size and location on your phone. The further process, becomes even simpler with its marking options. You can mark suspected files via 4 alternatives available on the app. These are- 'Mark all expect First in each group', 'Mark all expect Last in each group', 'Shortest Path unselect', & 'Remain Unmark all'.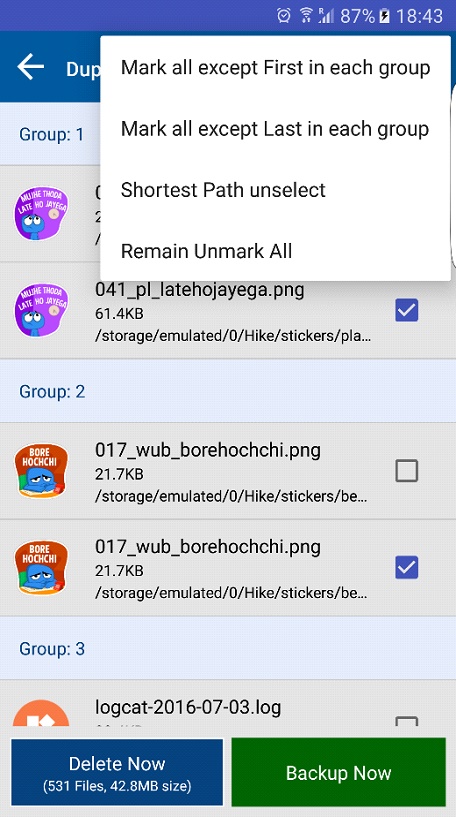 Once the duplicate file finder app has detected identical content and you have marked the files, you need to delete them with a tap on the delete icon. The app is quiet modest. With a few steps, it performs all of the work.
Exclusive Features of Duplicate Files Fixer
Scan Options: Upon its launch, Duplicate Files Fixer lists 5 scanning options, namely Scan Audio, Scan Video, Scan Pictures, Scan Documents & Full Scan. The former 4 particularly scans the area they are apposite with. However, the last one collectively scans all sort of files and results accordingly.
Backup Option: Intuitively the app has a backup option. By using this feature, you create a backup of all files before they are removed from your phone. This feature is accessible from the results tab, right on the corner of your mobile screen. Duplicate Files Fixer directs you to download Right Backup app from Play Store.
Right Backup is a handy app which helps you save your data on cloud storage. The app has easy access from anywhere, at any time. The app also automatically backup your data on cloud on the scheduled time and data.
Settings: This section lets you customize your preferences with scanning. You can include and exclude folders and files with same name, size, content, 0-byte files and hidden folders and files in scanning. This helps in concretely scanning the device for duplicate content.
Ignore List: Along with setting for customization, there is an Ignore List. You can add up to number of files and folders in Ignore List in order to precluded them from scanning. Perhaps, no results would be detected from those folders and files. Ignore List is particularly helpful for keeping any folder or file unharmed. You can also remove these files from Ignore List as and when wish to. After that, all those files will also get scanned with Duplicate Files Fixer's advanced scan engine.
Auto-mark: As I have mentioned above, Duplicate Files Fixer has several alternatives for marking the duplicates. The alternatives simplify deletion process. However, the app also marks the duplicates by default. The app bares the original files and marks only the duplicate copies of a file.
Final Verdict
The app is intuitive and helpful. It is available for free on the Google Play store with 4.1 stars. With a great and modest user interface, it could manage to impress me enough. It's a worth using duplicate media remover app. And hence I'd recommend everyone having abundant identical files on their phone, to use app. This will help you have an organized phone memory. The app is also compatible with Mac and Windows platforms.
You can download the app to recover chunks of memory space on your Android device and to manage the memory space well.[appbox googleplay com.duplicatefilefixer]