Getting locked out of your Xiaomi phone can be frustrating, especially when you see the dreaded "This Device is Locked" message. This issue can occur due to various reasons, such as forgotten passwords, pattern locks, or even after a factory reset. However, there's no need to panic. We will explore five effective methods to help you regain access to your locked Xiaomi phone. So, let's get started and get your phone back up and running!
How to Fix the "This Device is locked" Error on Xiaomi Phone
In this post, I will tell you 5 different methods that will help you fix this error on your device.
Forgot your Mi Account password
Request Xiaomi customer support
Unlock by Hard Reset
Using Mi Account Remove Tool
Contact the Mi service center
Method 1: By Forgot your Mi Account password
When you lock a lost Xiaomi phone, the message "This device is locked" appears on your device screen. For this, your first and most important step is to enter your Mi account password, But if you forgot this password then follow the below steps,
Visit the Xiaomi account website on your other phone or computer
Select the Forgot Password option at the bottom of the sign-in page
Here enter any one of the credentials (registered contact number/email id/me id) you remember.
Click on the Next button. If your ID is correct then a message named "Account Verified" will show on the screen
Select any verification method (phone number or email address) and tap Send
Here you will receive a "Verification Code" on the ID entered by you which you enter in the given box and press the submit button
Now, you enter your new password and click on "Submit"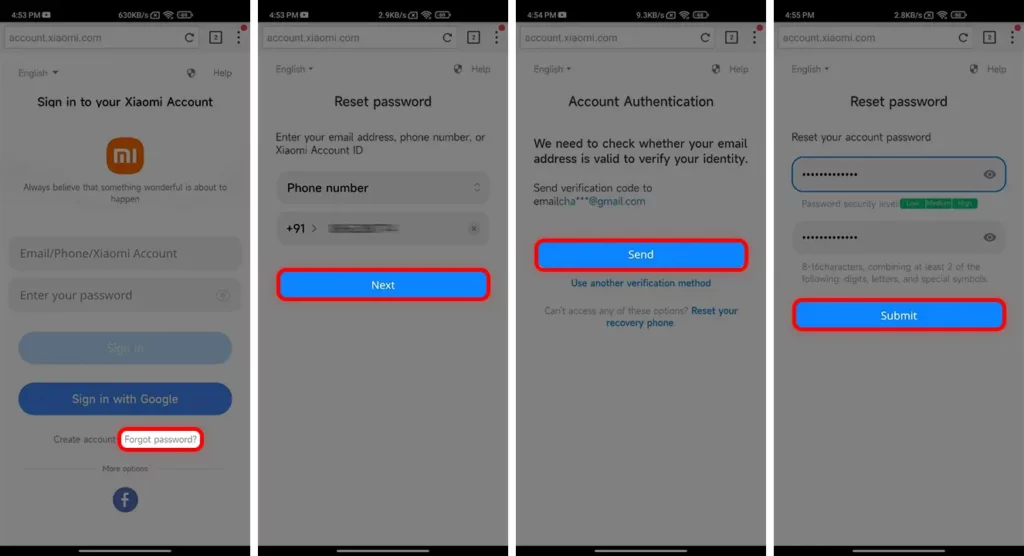 Method 2: Request Xiaomi Customer Support
If you don't know any of your credentials, first you follow the 2 steps of method 1 and then follow these steps below,
Now, on the Account authentication page click on send button if you have access to your email id, otherwise tap on Use another verification method
They give you different options for authentication if you have access to any ID in this pack then click on send else tap on Use other verification methods
Finally, you can see the Reset Recovery Information page Click Get Started and follow the on-screen instructions
Now, You can request the Xiaomi Customer Support team for Support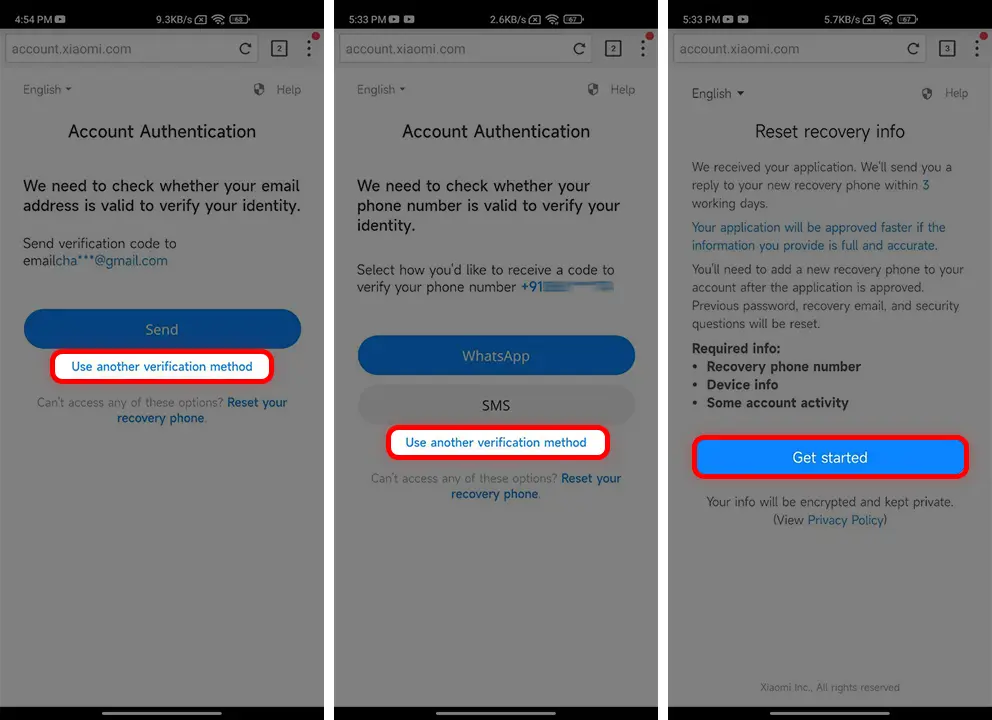 Method 3: Unlocked by Hard Reset
After following the above steps, if the "This device is locked" error is not resolved on your device, you can use this option.
First, switch off your device and press the volume down and power menu button simultaneously while turning it on
When you get into recovery mode, here you can see three menus (reboot, wipe data, and connect to Mi Assistant)
Navigate to the Wipe Data option by pressing the Volume Down button and pressing the Power button to enter this option
Now again press the power button to wipe all data. (Remember that all your data will be erased when you click this option, so backup all your data first)
Press the Volume Down button again to confirm wiping all data on your phone
Wait until all data is wiped here. (Note: Put your phone in charging before doing this process, if your phone turns off during this process it may brick your phone.)
now, restart your device
Method 4: Mi Account Remove Tools
Press the Volume Down and Power buttons simultaneously for 5 seconds while your device is on to open recovery mode
Now connect the phone to a PC or laptop via a USB cable (For which you need to enable USB dubbing on your Xiaomi phone)
After that download and install Mi Account Unlock Tool on your computer and then click on Information
If these tools show failed device interface detection, you need to download the ADB driver and fast boot driver in the device
Finally, your device will be shown in Mi Account Tools
Then click on Bypass Mi Account and Disable Mi Account buttons respectively
Now your device will reboot automatically and your setup will show your device
Method 5: Contact the Mi service center
To contact the Mi service center for assistance with your locked Xiaomi phone, follow these steps:
Visit the official Xiaomi website for your country or region. You can typically find this by searching for "Xiaomi [your country/region name]" in a search engine.
Look for the "Support" or "Service" section on the Xiaomi website.
Navigate to the "Service Centers" or "Contact Us" page.
You may be required to select your city or location to view the nearest service centers.
Once you have the list of service centers, choose the one closest to your location.
Note down the contact details, such as phone number or email address, of the selected service center.
Contact the service center using the provided information and explain your issue with the locked Xiaomi phone.
Follow any instructions provided by the service center representative to proceed with unlocking your device or to schedule an appointment for further assistance.
Conclusion:
Dealing with a locked Xiaomi phone can be frustrating, but with the methods outlined in this blog post, you have several options to regain access. Remember to try the Mi Account unlock page, Google's Find My Device feature, and a hard reset (as a last resort) to resolve the issue. If all else fails, seek professional assistance from an authorized service center or contact Xiaomi's customer support for further guidance. Stay patient and persistent, and you'll soon have your Xiaomi phone unlocked and back in your hands.