The Google Play Store is an essential hub for Android users, providing a seamless platform to discover, download, and update apps. However, like any technology, it's not immune to issues. One such common issue is encountering the dreaded "There was a problem communicating with Google Servers" error message. This error can be frustrating, preventing you from accessing the Play Store and hindering your app-related activities. In this blog post, we'll dive into the causes of this error and provide step-by-step solutions to help you resolve it.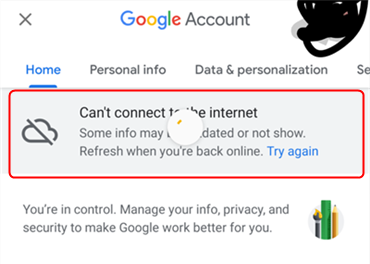 Why my Android Say Cannot Connect to Server?
The error message "There was a problem communicating with Google Servers" typically occurs when your Android device is unable to establish a stable connection with Google's servers. This error can manifest in various forms, such as when trying to download or update apps, access your account, or even during the initial setup of your device.
Possible Causes
The "Cannot Connect to Server" error on your Android device can stem from various underlying causes. Here are some of the most common factors that might lead to this error:
Network Connectivity Issues: Unstable or weak internet connections, whether through Wi-Fi or mobile data, can prevent your device from establishing a connection to remote servers. This might be due to network congestion, signal interference, or a problem with your service provider.
DNS Problems: Issues with the Domain Name System (DNS) can prevent your device from translating domain names into IP addresses. If your device can't resolve the address of the server you're trying to connect to, you'll encounter connectivity problems.
Firewall or Proxy Restrictions: Some networks, particularly in workplaces and public places, employ firewalls or proxies to control internet access and protect against certain types of content. These restrictions might block your device from connecting to specific servers or services.
Server Unavailability: The server you're trying to access could be temporarily down for maintenance or experiencing technical issues. In such cases, your device won't be able to establish a connection.
App-Specific Issues: If the error occurs only within a specific app, the problem might be with that app's server or the way the app is trying to communicate with it. App developers sometimes experience server-related issues that can lead to connection problems for users.
Incorrect Date and Time Settings: If your device's date and time settings are incorrect, it might lead to problems with SSL certificates. Secure connections to servers can fail if your device's time is significantly different from the server's.
VPN or Proxy Misconfiguration: While virtual private networks (VPNs) and proxies can enhance security and privacy, they might also introduce connectivity issues if not set up correctly. Incorrect configurations can prevent your device from reaching the intended server.
Software Bugs or Glitches: Android devices can encounter software bugs or glitches that disrupt normal connectivity. This could be due to issues within the operating system or specific apps.
Device-Specific Problems: Hardware issues, such as problems with the device's Wi-Fi antenna or cellular module, could lead to connectivity problems that result in the error.
Outdated Software: Running outdated versions of your device's operating system or apps might lead to compatibility issues that affect server connectivity.
Account Authentication Issues: Some apps or services require user authentication to connect to their servers. If there's a problem with your account credentials, you might face connection problems.
How to Fix There Was A Problem Communicating with Google Servers
You can follow the troubleshooting steps below and fix there was a problem communicating with the Google server:
1. Fix Internet Connection Problems on Android
First, please make sure you have a strong internet connection. If your Google account can't connect to the internet, It's best to fix a bad WiFi network, or Android WiFi is connected but no internet. And, signs of bad connections are: Downloads progress bar remain at 0%, Google Play is stuck on the loading screen, the web page can not be uploaded normally.
And, you can fix cannot connect to Google servers due to the bad internet connection below.
Restart your phone: Press and hold the Power button until the menu pops up > Hit the Power off or Restart option for your device to turn on again.
Turn on airplane mode then off: Go to Settings and choose Network & internet or Connections > Airplane Mode > Turn on airplane mode then off.
Switch WiFi on and off: Settings > Network & internet or Connections > Switch off WiFi and switch on mobile data.
Reboot WiFi router: Unplug the router > Wait for the seconds and plug the router again till all the lights are on.
2. Remove and Re-add Google Account
Step 1. Open your phone's Settings app and tap Accounts > Choose the Google account you want to remove then hit the Remove account option.
Step 2. Go back to Settings > Accounts > sign in to your Google account again. You may be asked to enter your phone's pattern, PIN, or password for security, just follow the pop-out message to re-add your account.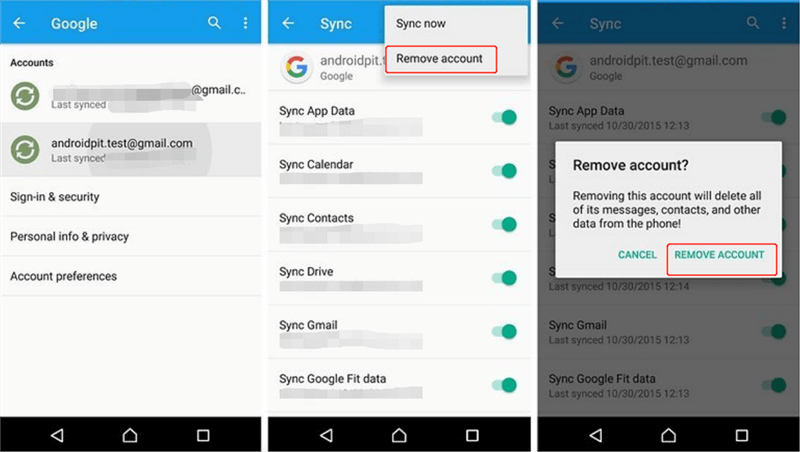 3. Turn Off Two-factor Authentication
Step 1. On your Android phone open your device's Settings App Tap Google and then Manage your Google Account.
Step 2. In Security find "Signing in to Google," and then tap 2-Step Verification.
Step 3. You might need to sign in. And just tap Turn off.
4. Clear Cache and Data from Google Services
Step1. Launch the Settings app on your phone > Tap Application > See all apps.
Step 2. Scroll down and tap Google Play Store or Google Play Services > Tap Storage > Choose Clear Cache or Clear Data.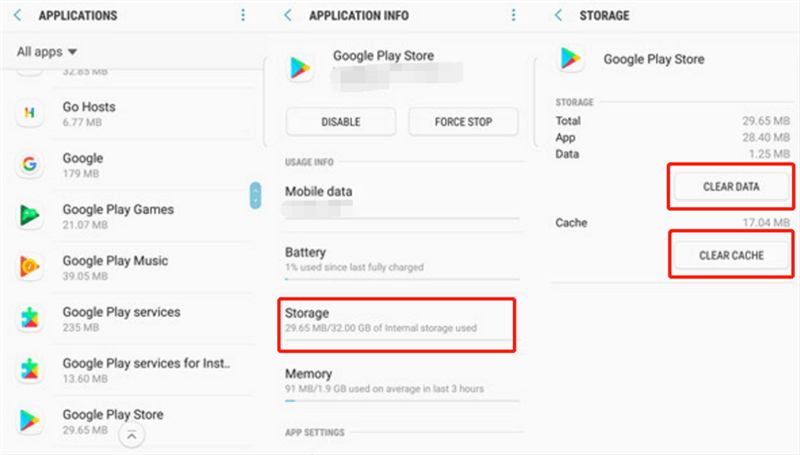 5. Correct Date & Time Android
You can make your device synced with the Google servers by correcting the date and time on your phone.
Step 1. Open Settings and click the System option.
Step 2. Find Date & Time.
Step 3. Tap Change date & time and Set time zone automatically.
Step 4. Choose Use location to set time zone.
6. Make Sure Google Services is Up to Date
The latest Google services should be updated and bugs fixed. To check if your Google services are up to date:
Open the Settings App then tap Apps & notifications to see all apps.
Scroll down and tap App Details.
Check if there is any app that needs an Update.
And, you can Reinstall Google Play Services by:
In Settings find Apps > Select Google Play Services. You may need to tap the drop-down menu on the top to see All Apps.
In Google Play Services tap Menu > Choose Disable > Tap OK.
Back to Setting and Apps > scroll to find google services then click on it.
Click on the Enable button and wait for the downloading process to complete.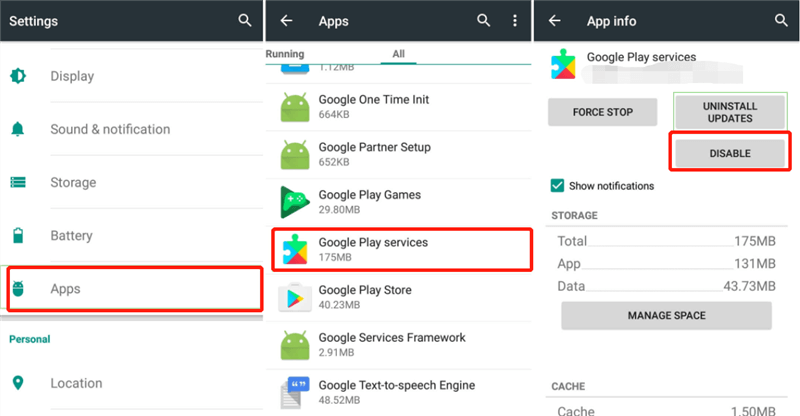 7. Factory Reset
Step 1. From Settings, search for Factory data reset. Tap on it, and review the information. When you're ready, tap Reset.
Step 2. If you have a security lockset on the phone, you will be asked to enter the credentials.
Step 3. To continue with the reset and delete all information stored on your phone, tap Delete all.
Step 4. Wait for your phone to reset. When it turns back on, it will start from the initial setup screen.
How Do I Connect to a Google Server?
When you are trying to use a Google product but can not connect to a Google server, you can try the method below:
Open the Settings app on your phone.
Tap the option for the app that you are trying to use.
Choose the app information.
Click the Menu option in the top right corner.
Tap on show system.
Find Google Services XXX and toggle it on.
Conclusion
Encountering the "There was a problem communicating with Google Servers" error in the Play Store can be frustrating, but with the right troubleshooting steps, you can usually resolve the issue and get back to enjoying a seamless app experience. Remember to start with the basics, such as checking your network connection and verifying your Google account, before moving on to more advanced solutions like clearing cache and data or updating the Play Store app. By following these steps, you'll likely be able to overcome the error and continue enjoying the vast world of Android apps hassle-free.