Best texting games and text-based games for Android! These text quests are so fun to kill free time and be the decider of what happens next in the game. Try it best text games for Android this will not leave you disappointed.
Not everyone is a fan of fast games which are high on the charts. Some may want to engage in much more fun text games to read and still enjoy the fascinating adventure to play a variety of games with a plot.
Magium – Text adventure RPG (CYOA)
Magium is one of the best text adventure games you can get your hands on. The center of the game is an ordinary guy named Barry who goes through a mage tournament. The game comes in the form of an interactive novel in which you have to make clever choices to make your way to victory.
The game is definitely not for you if you are in other genres of games that offer movement and action instead of a fascinating text adventure. The game allows you to choose your own adventure. Although there is a reasonable chance of not finding the very neat user interface, it will be a special item to notice if you are a fan of fantasy novels.
Download: Magium
Noble Man: Choices Game Text Adventure
The Forbidden Valley offers a fascinating story that can be associated with more than 11 musical tracks to
A full-length, choice-based spy novel (text adventure RPG) where YOU play the characters! Play an ex-CIA agent who has gone rogue to fight human trafficking. Make choices for a kidnap victim. Play a ruthless killer for hire.
Put yourself into the shoes of the characters and watch the story unfold, but be careful what choices you make. Death is always near.
49 chapters of gritty adventure and white-knuckled suspense. Over 100 achievements, from the silly to the challenging and of course TONS of interesting choices.
Download: Noble Man
Sorcery! 3
This is the third game in the Sorcery series but you certainly do not need to go through the first and second games to play this one. The game allows you to explore and create your own story with thousands of adventures to explore.
You can devote yourself to your mystical journey with new spells and new magic to master. However, you must have a RAM to cross this adventure. This is definitely a fascinating addition to the series and can lead you to play them in series.
Download: Sorcery! 3
Kai Chronicles
This is a great app that gives you access to twelve Project Aon gamebooks, all in one place. Just download the booklet you like and start having fun with this text game. You can save the game in any section of the book and even export or import your saved games to other devices.
Speaking of gaming experience, the twelve game books are compelling because you are the decision maker of your ultimate destiny. Unfortunately, there is no control point in the game, which means that you will have to start over from the beginning of the chapter if you die. There is no wrong answer to a question, just the consequences that have an impact on the final result of your game.
Download: Kai Chronicles
Choice of robots
If you are a fan of science fiction love, you will definitely like Choice of Robots. This game features a unique robot character that you shape with your thoughts and imagination. Your robot learns what you teach him, whether it is love or hate.
The scenario is quite engaging, the potential outcome being dependent on the choices you make in the game. Although the game seems to be hasty at first, you need to decide on your relationship with the character as soon as you get started. .
Overall, the game will certainly bring you to an emotion like in almost all chapters and you will not be able to stop yourself but you will feel affected by richly written emotions.
Download: Choice of robots
Medieval Fantasy RPG
Here is a distorted story just as easy to learn, the RPG of medieval fantasy. The game allows you to play the role of engine behind the main character and lead to many achievements to unlock under a gigantic scenario developed with years of work.
Although it takes you a chapter or more to fully enter the character, the story pushes you to continue the adventure. What's holding you back are the consequences and rewards of every decision made in the game. But you can not expect an ad-free experience of it as it's all about it. a free application.
Download: Medieval fantasy
DEAD CITY 🔥 Text Adventure & Cyoa
This one will expose you to a new level of fascination. The Dead City app comes with an instant messaging interface where the main character, Sam, is entirely dependent on you for his survival in the ghost town.
The game has a captivating story in which you have to make crucial choices to save Sam. However, at first you may feel that your choices have not influenced much of the story, but the game is really challenging. . At times, you may have to pay to continue the game, but watching an advertisement instead of losing a few dollars out of your pocket will give you total compensation.
Download: Dead city
Paladins: Text Adventure RPG
This one put you in the place of several characters in a medieval novel David Dalglish. There are a total of 103 chapters that expose you to the possibility of accomplishing 150 achievements. This game does not only require that your decisions make their way into the game, but it also requires luck to move on to the next chapter of the game.
If you do not have enough, you can still win by looking at ads. While it may seem ok to watch commercials to continue in the game, it can be frustrating in practice when you have to pause the game and watch a series of advertisements to improve your luck.
Download: paladins
Duels RPG – Text Adventure
Duels RPG is a game that will certainly remind you of a game book with RPG text game features. Play wisely and become the leader with powerful weapons and skills. As an RPG text game, the game still does not load you with a lot of text and also keeps the game interesting for non-readers.
You may experience minor vocabulary issues, to say the least. You can even play this game offline. If, unlike ads, you can turn off the Internet to remove the most important ads and turn it on when needed.
Download: RPG Duels
Sorcery! 2
This is the second game in the Sorcery series, where you certainly do not need to try the first one to play it with skill. The game offers excellent graphics and requires strategies and thinking skills. If you are a fan of paranormal fiction, you would like to play this game again and again.
We can be disappointed with the first chapter, which is relatively small but arouses more interest and fascination as you progress through the game. Overall, the game is really worth the price you pay for yourself.
Download: Sorcery! 2
Facebook Messenger
Facebook Messenger is a strange participant on this list, we know. However, it allows you to play text games with friends or by yourself. Games are rarely text games. However, these are games that you can play while sending SMS and we are fans of thinking differently. Some of the options include Tetris, Galaga, Space Invaders, Pac-Man and some other arcade games. Facebook Messenger is free, like all games. This is not an excellent platform, but many people use Facebook and also use it as an SMS application. Why not use it and play games while you send a message to people?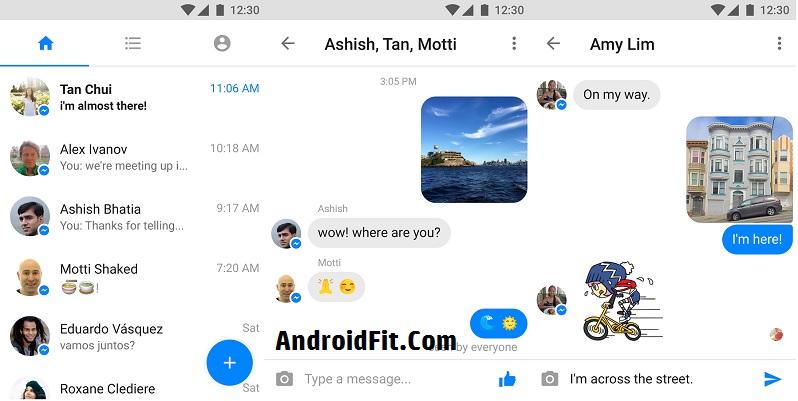 Download: Messenger
Go ahead and try these text games. And do not forget to share your favorite text set with us.