The Meaning of the Letter "N" on Android N Finally Announced
Speculation and guess is finally over. We all wondered what the tasty sweet name of official process Android and N would be Google officially announced the name. And, like it or not, Android N will be officially named Android Nougat. Nougat was one of the top options guessed by many, but it was not really the greatest following.
We have so much planned appointment of the newest Android operating system commonly labeled as "Android N". However, as we suggested names, and it came to our notice that the expected name "Nutella" was to be the actual name, but our suggestion is wrong.
At Google I / O, CEO Sundar Pichai announced that Google would take user names submitted to the next version of Android, and also said that the name would not Namey McNameface. The strongest contingent of fans hoped the name Android N would be Nutella, but it seems that Android KitKat could end up being the only version of Android brand. There was also speculation that Pichai opened the nomination to a vote in order to be able to name Android N  after a dessert of South India called 'Neyyappam' which had some English speakers worried about being able to specify the name. But now we should not worry about it.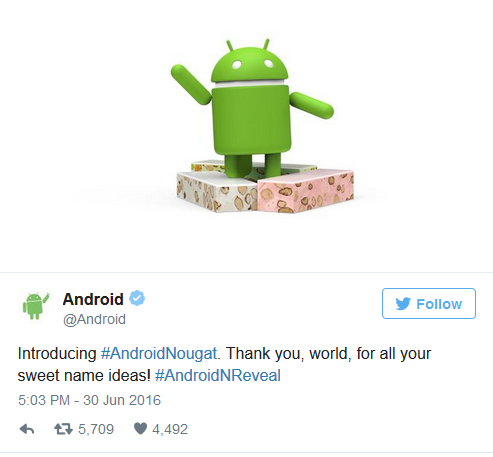 Google announced that the latest version of the Android operating system is Android Nougat that the name was chosen in the suggestion made by individuals. Remember Google said anyone could submit their suggestion to name the last month.
I have detailed the known features of Android Nougat and also installation tutorials on the  how to install Android 7.0 Nougat on the Nexus devices  and Get Android N Features with Android N-ify Xposed Module You can also activate features Android 7.0 Nougat on your Android devices.
So we know that Android N is officially Android Nougat. This means that the only real mystery left is what the version number will be assigned to the update. Given the important addition of split screen, it is expected to be Android 7.0, but there is still a small chance it will be Android 6.1. Fortunately, we have only a few more months to wait before finding
The above "read as" recommendations would you redirect to articles that you might be interested. Feel free to leave your opinion on the new name for this version of the Android operating system.