Samsung has always been at the forefront of technological advancements, and its smartphones are no exception. If you're a proud owner of a Samsung Galaxy phone and enjoy capturing stunning moments with your device's camera, you'll be delighted to know that Samsung offers a dedicated Camera Assistant app. This app is designed to enhance your photography experience and provide you with additional tools and features to capture breathtaking images. In this post, we'll guide you through the process of downloading the Samsung Camera Assistant app on your Galaxy phone.
What is the Samsung Camera Assistant App?
The Samsung Camera Assistant app is a dedicated application developed by Samsung to enhance the photography experience on Galaxy smartphones. It provides users with a range of additional tools, features, and settings to optimize their camera performance and capture stunning images.
The Camera Assistant app offers various functionalities that go beyond the standard camera app found on Samsung Galaxy phones. It aims to provide users with greater control over their photography and enable them to explore different shooting modes, filters, and editing tools.
Some of the key features commonly found in the Samsung Camera Assistant app include:
Advanced Shooting Modes: The app offers a selection of shooting modes beyond the basic auto mode, such as Pro mode, Night mode, Panorama mode, and more. These modes allow users to experiment with different settings and capture images in various lighting conditions.
Auto HDR: Auto HDR, also known as Automatic High Dynamic Range, is a feature found in many smartphone camera apps, including the Samsung Camera Assistant app. HDR technology is designed to capture a wider range of colors, tones, and details in a single photo by combining multiple exposures.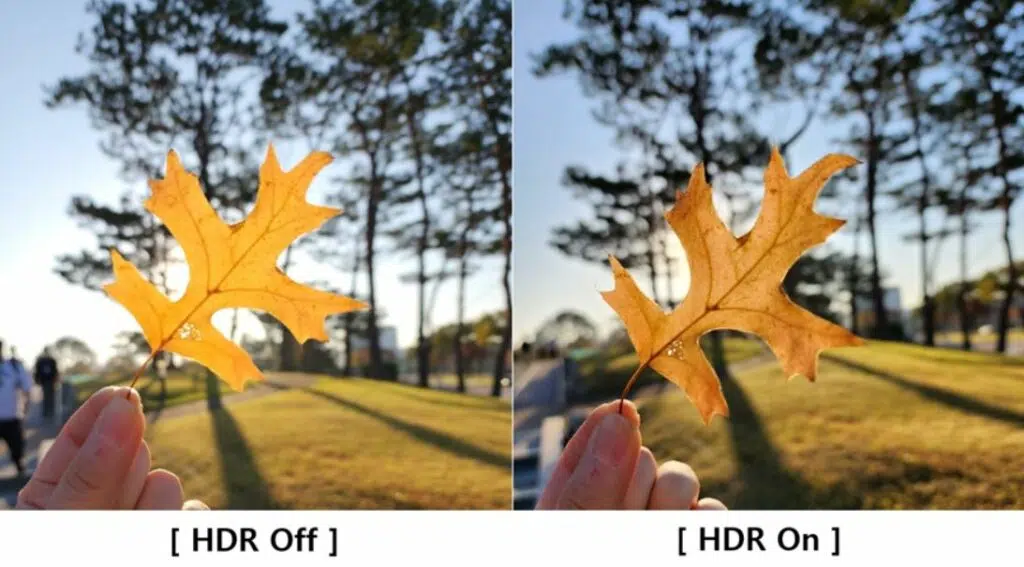 Manual Controls: The Camera Assistant app often includes manual controls for settings like ISO, shutter speed, focus, and white balance. This gives users more flexibility and control over their photography, allowing them to adjust the camera settings according to their preferences and shooting conditions.
Filters and Effects: The app provides a range of filters and effects that can be applied to photos in real time or during the editing process. These filters can add creative touches, enhance colors, or create specific moods to make your photos more visually appealing.
Editing Tools: The Camera Assistant app typically includes basic editing tools that allow users to make adjustments to their photos directly within the app. This may include cropping, rotating, applying presets, adjusting brightness, contrast, saturation, and more.
Soften Pictures: Softening pictures refers to a technique used to create a softer and more dreamy appearance in photographs. While the Samsung Camera Assistant app may offer various editing tools and filters to achieve this effect, it's important to note that the availability of specific softening features may vary based on the app version and device model.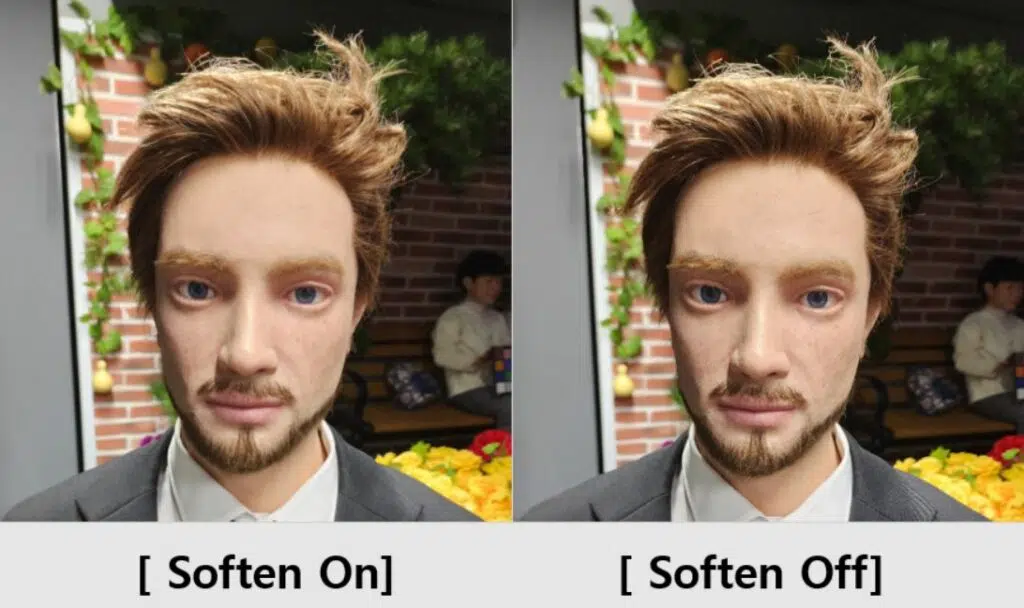 Additional Features: Depending on the specific model and version of the Camera Assistant app, there may be additional features available, such as face recognition, HDR (High Dynamic Range) mode, slow-motion video recording, and augmented reality (AR) effects.
The Samsung Camera Assistant app serves as a powerful companion to the built-in camera app on Galaxy phones, offering users the ability to unlock additional features and functionalities to enhance their photography skills and capture memorable moments with greater control and creativity.
It's important to note that the features and availability of the Camera Assistant app may vary depending on the specific Samsung Galaxy phone model, firmware version, and regional availability. It's recommended to check the Galaxy Store or Samsung's official website for the most up-to-date information on the Camera Assistant app and its features.
Also Read: iPad or Samsung Galaxy Tab – Choosing the Right Flagship Tablet
How to Download Samsung Camera Assistant App?
You need to first download the Good Lock app from Galaxy Store Here.
Install it on your device.
Download the Samsung's Camera Assistant App from the Galaxy Store.
Install it on your device.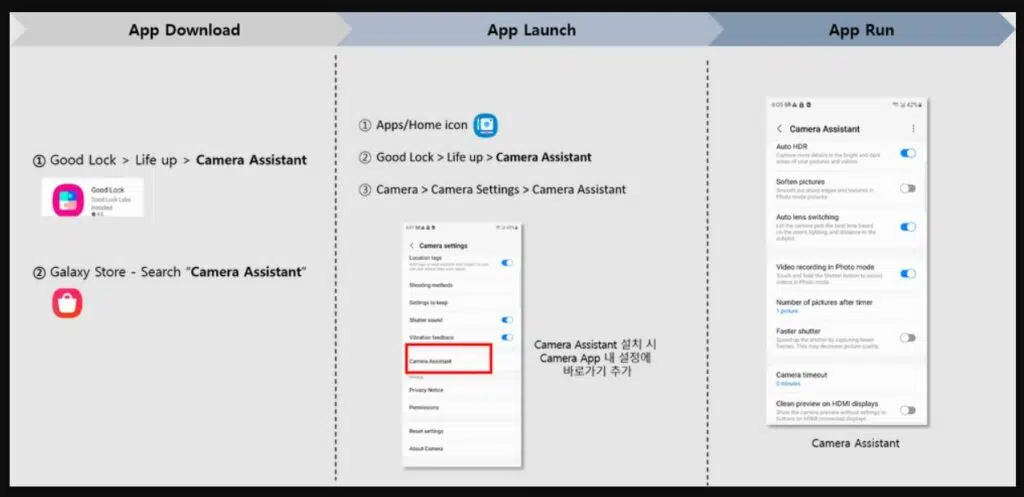 To start using the applications, make the following changes:
Open the default camera app on your device.
Give access to the Camera Assistant App by switching the toggle ON.
In the Camera Assistant App settings, turn the toggle ON/OFF to use the above features.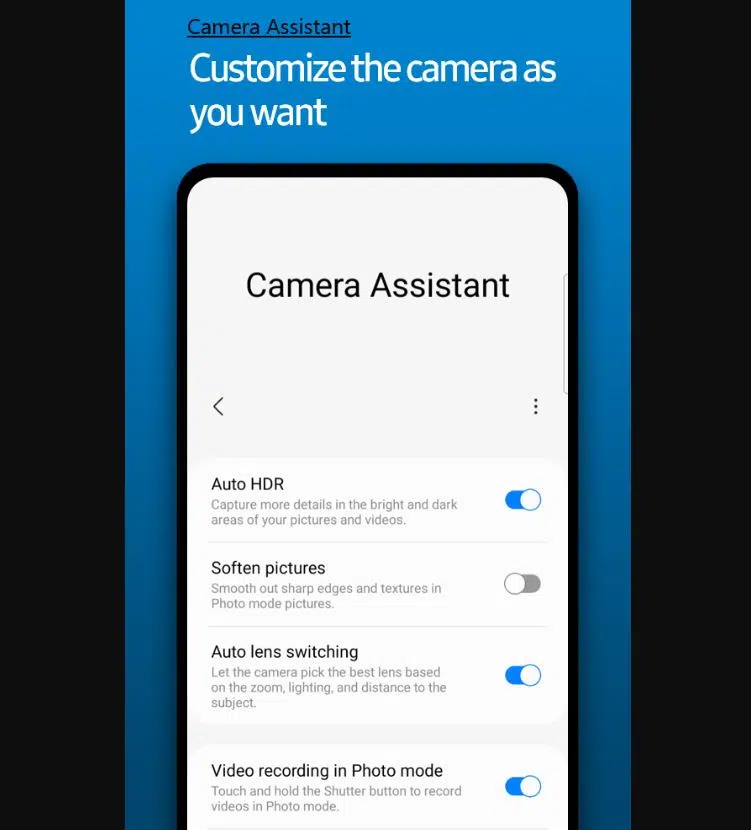 To use the Camera Assistant App on your device, you have to make sure about the following:
You should first have Samsung's Good Lock app on your device, or else the Camera Assistant App will not work. The procedure for downloading it has been discussed above.
Samsung's Camera Assistant App will only work if your device runs on One UI 5 or later based on Android 13.
This was all about Samsung's new Camera Assistant App, its features and options, how to use it, how to download it, and how it works. We hope the article provided you with the relevant information you were searching for.
Conclusion:
Downloading and installing the Samsung Camera Assistant app on your Galaxy phone is a simple and straightforward process. By following the steps outlined above, you can unlock a range of additional features and tools to improve your photography experience. Whether you're a photography enthusiast or simply enjoy capturing memorable moments, the Samsung Camera Assistant app is a valuable companion that can help you take your smartphone photography to new heights. So, go ahead, download the app, and unleash your creativity with your Samsung Galaxy phone!