With the advent of high-definition displays, 4K videos have become increasingly popular among content creators and viewers alike. YouTube, being one of the largest video-sharing platforms, offers a vast collection of 4K videos to enhance your viewing experience. In this post, we will walk you through the steps to watch 4K videos on YouTube using your Android or iOS device.
What is 4K Video?
4K video refers to a high-resolution video format that offers four times the pixel density and clarity of standard high-definition (HD) video. It is named "4K" because it generally has a horizontal resolution of around 4,000 pixels. The resolution of 4K video is commonly measured as 3840 pixels × 2160 lines (8.3 megapixels), which provides incredibly sharp and detailed visuals.
Compared to traditional HD video, which typically has a resolution of 1920 x 1080 pixels, 4K video offers a significantly higher level of detail, finer image quality, and enhanced clarity. The increased pixel count results in sharper images, smoother curves, and more vibrant colors, making it ideal for larger screens or when you want to capture and display intricate details.
4K video has gained popularity due to advancements in display technologies, such as 4K Ultra HD TVs, computer monitors, and mobile device screens. It allows viewers to enjoy content with a greater level of immersion and a more lifelike viewing experience.
Benefits of 4K videos
4K videos offer a range of benefits that enhance the viewing experience and provide a more immersive and visually appealing content consumption. Here are some of the key advantages of 4K videos:
Superior Image Quality: The most prominent benefit of 4K videos is their exceptional image quality. With four times the resolution of standard high-definition videos, 4K videos provide sharper and more detailed visuals. The increased pixel density ensures finer details, more vibrant colors, and improved overall clarity.
Enhanced Detail and Realism: Due to the higher resolution, 4K videos capture a higher level of detail, allowing viewers to see more intricate textures, finer lines, and subtle nuances in the image. This level of detail adds a sense of realism and makes the viewing experience more immersive, particularly for content like nature documentaries, sports, or visually stunning cinematic shots.
Larger Screen Viewing: As display sizes continue to grow, 4K videos become even more valuable. With their higher resolution, 4K videos maintain their quality and sharpness when viewed on larger screens. Whether you're watching on a big-screen TV or a projector, 4K content can fill the screen without losing visual fidelity, resulting in a more engaging and captivating experience.
Future-Proofing: Investing in 4K content ensures that your videos remain relevant as technology advances. As 4K displays become more prevalent and accessible, having content in this resolution ensures that your videos can be enjoyed by a wider audience in the present and future.
Downscaling Capability: Even if you don't have a 4K display, 4K videos can still benefit you. When downscaled to lower resolutions, such as 1080p (Full HD), 4K videos retain their superior image quality. The downscaling process involves compressing the higher resolution into a smaller one, resulting in enhanced details, reduced artifacts, and overall better image quality compared to videos originally recorded in lower resolutions.
Editing Flexibility: When working with 4K footage during video editing, you have more flexibility and control. The higher resolution allows you to crop, zoom, and reframe footage without sacrificing quality. It provides ample room for post-production adjustments, such as color grading and visual effects, while maintaining the integrity of the original image.
Future Content Creation: As technology evolves, more devices and cameras are capable of recording and producing 4K videos. By adopting 4K early on, content creators can stay ahead of the curve and produce videos that meet the expectations of an increasingly tech-savvy audience. It allows for future-proofing your content and ensures compatibility with emerging display technologies.
How to watch 4K videos on YouTube
To watch 4K videos on YouTube, you need to follow these steps:
Open the YouTube app and play the video
Click on Settings in the top-right corner
Tap on Quality in the pop-up that appears
Now, you can see the 2160p resolution and click on it to turn it on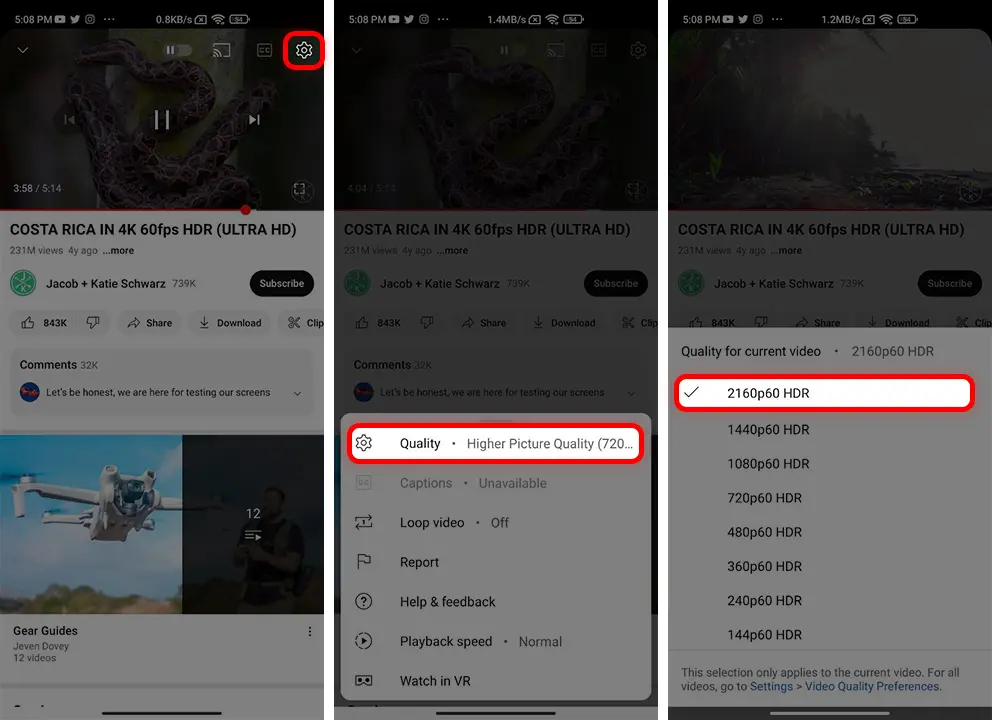 Conclusion:
Enjoying stunning 4K videos on YouTube has never been easier. By following the steps outlined above, you can unlock a world of high-definition content on your Android or iOS device. Remember to check device compatibility, update the YouTube app, enable 4K video playback, and explore the vast array of 4K videos available on the platform. Sit back, relax, and immerse yourself in a truly captivating visual experience with YouTube's 4K video content.