WhatsApp Web has become an indispensable tool for many of us, allowing seamless communication between our smartphones and computers. However, it's important to manage your account's security and privacy effectively. One common concern is ensuring you're logged out of all WhatsApp Web sessions to prevent unauthorized access to your messages and data. In this guide, we'll walk you through the steps to easily log out of all WhatsApp Web sessions and enhance your account's security.
Logout of All WhatsApp Web Sessions Easily (Step-by-Step Guide)
Follow these simple steps to log out of all WhatsApp Web sessions and ensure the privacy of your conversations:
Open WhatsApp on Your Smartphone: Ensure you have the latest version of WhatsApp installed on your smartphone. Open the app and make sure you're logged in.
Access WhatsApp Web Settings: Tap on the three dots (menu) in the top-right corner of the WhatsApp home screen. From the dropdown menu, select "WhatsApp Web." This will take you to a page displaying all active WhatsApp Web sessions.
View Active Sessions: On the WhatsApp Web page, you'll see a list of all the devices currently logged in to your WhatsApp account. This list includes information such as the device name, browser, and last active time.
Log Out of All Sessions: Below the list of active sessions, you'll find the option to "Log out from all devices." Tap on this option. A confirmation pop-up will appear, asking you to confirm your decision.
Confirm Logout: To ensure you're indeed the one initiating the logout from all devices, tap on the "Log Out" button in the confirmation pop-up.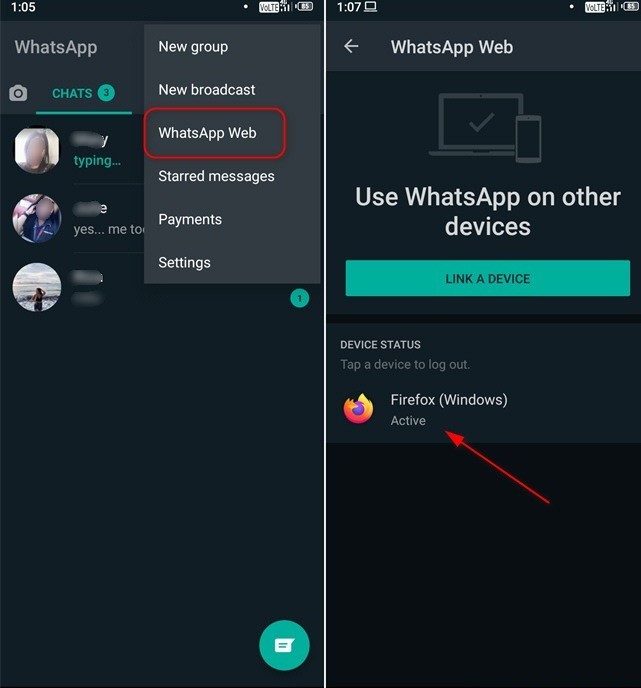 Success! Once you've confirmed, WhatsApp will immediately log out of your account from all active WhatsApp Web sessions. This step enhances your account's security by preventing unauthorized access to your conversations.
Reconnect When Needed: The next time you need to use WhatsApp Web on a new device, you'll need to scan the QR code on the WhatsApp Web page using your smartphone. This process establishes a secure connection between your phone and the browser.
Tips for Enhanced Security
Regularly Review Active Sessions: Make it a habit to check the list of active WhatsApp Web sessions periodically. If you notice any unfamiliar devices or sessions, promptly log them out.
Use Two-Step Verification: Enable two-step verification for an added layer of security. This requires you to enter a PIN when registering your phone number with WhatsApp again, adding an extra barrier against unauthorized access.
Logout from Shared Computers: If you've used WhatsApp Web on a public or shared computer, always remember to log out after you're done. This prevents others from accessing your account.
Keep Your Phone Secure: Your phone is the primary connection point for WhatsApp Web. Ensure your smartphone is protected with a strong PIN, pattern, or biometric lock.
Conclusion
In the era of seamless digital communication, maintaining the security and privacy of our accounts is of paramount importance. By logging out of all WhatsApp Web sessions when necessary, you take a proactive step in protecting your conversations and personal information. Follow the steps outlined in this guide, and remember to implement the additional security tips to ensure your WhatsApp experience remains safe and secure.