Are you tired of the slow download browser and search for a better way to download files to your Android device? Well, then the download manager is the best solution for you.
Download Manager is a program designed to facilitate the file download process. It accelerates downloads by splitting files into sections and downloading them simultaneously, and thus speed up the download process. Also, it can also resume broken downloads, so you do not have to start downloading from the beginning.
Although web browsers can be integrated download manager. But they are not speeding things the way download managers do.
There are many internet download manager (IDM) applications available on Google Play Store that you can use to make your download work. Here are some of the best free download manager applications for Android 2023.
See also: Top 10+ Best Alternatives To IDM (Internet Download Manager)
Free Best Internet Download Manager for Android
Advanced Download Manager is a powerful Internet download manager application made for the Android platform. This application allows you to upload files in three different parts and each part provides some game download speed.
You can easily choose the maximum download speed for each part. Also, if the data connection is lost during the download, the program will automatically resume when the connection is back.
ADM has a built-in Web browser. If the download link is not a direct link, this free application automatically opens its construction in the web browser to get the link costs. It supports browsers like Stock Browser, Chrome, Dolphin Browser, and Boat.
All files will be saved according to different file types. You can even select the download links and add them to the app for download later at any time.
Features of Advanced Download Manager:
Accelerate download speed by multithreading.
Download up to 3 files at a time.
Backup downloaded files on SD card.
Recognize links from the browser and clipboard.
Save files according to types in the different folder.
Sound and vibration of completion notification.
Site management.
Schedule files download in advance.
Support queuing, auto-retry, pause and resume.
It's runs the downloads in the background.
[appbox googleplay com.dv.adm]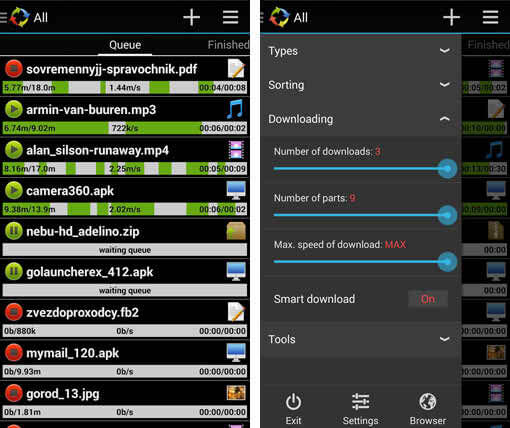 See also: Best Android Browsers App – 8 top ways to surf
2. Download Manager for Android
Download Manager is another best internet download manager for Android that allows you to manage all downloads from a single location. It has a clean and simple user interface with lots of features. This application provides no unnecessary options, preferably outside the room and records the basic download. And the application has 10 million downloads of this application. Download Manager for Android lets you download files in parallel parts reusing the connection to increase the download speed.
You can download almost all types of files with this download manager. He also resumes building and supports large file downloads up to 2 GB. Downloads can also be launched from the browser or entering the download URL into the application directly.
Features of download manager for Android:
Download HTML 5 web pages and videos.
Three times faster download speed.
Web page bookmark management.
Simple and easy-to-use interface.
Download web page history suggestion.
Voice and speech quick search.
Support Google, Yahoo, YouTube, Twitter search.
Download with active progress bar.
Resume, Cancel and pause any download progress.
Social sharing of the download files.
[appbox googleplay com.tt.android.dm.view]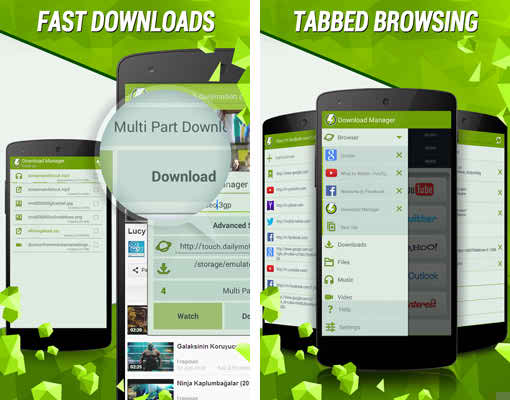 See also: 10 Best Zip, Rar File Extractor Apps For Android
3. Loader Droid Download Manager
Loader Droid is another great download manager developed for Android. It supports all types of downloads, such as applications, pictures, music, videos, etc. As ADM, this app also downloads divided into 3 different parts accelerating the overall speed of download.
Also, all downloads are resumable. You can easily resume the interrupted or paused download. The good thing about it is that it will pause automatically when the lost connection and automatically starts downloading when the connection returns.
Feature of Loader Droid:
Auto pause of internet connection failure.
Resume when internet connection recovered.
Download with WiFi, 2G or 3G.
Recognize links in the browser automatically.
It provides an option for setting the default connection profile for all your download as well as individual ones.
Increase download speed by parting the download files.
Schedule downloads like ADM.
Dark and Light theme for your preference.
[appbox googleplay org.zloy.android.downloader]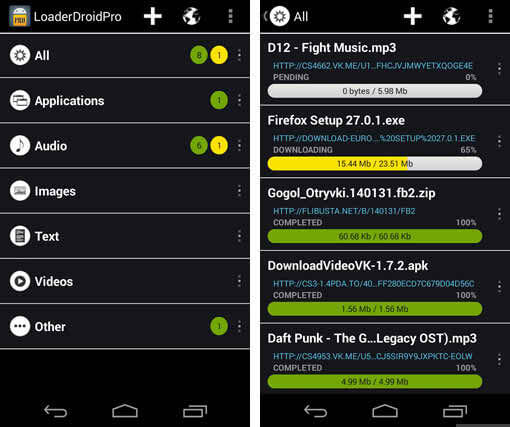 see also: Hack Android Games Using Root Browser / Explorer / File Manager
4. Turbo Download Manager
Turbo Download Manager is an Android fast download manager that can increase your download speed up to 5 times. The application uses several HTTP connections to accelerate download speed. To increase the download speed, you can increase the maximum connections per download. Also, you can change the buffer size in the menu of the application settings to optimize the download speed. Like other download manager applications, Turbo Download Manager also provides the ability to resume interrupted downloads.
To use this application, you must press and hold the link in the browser and select Share link -> download Turbo Manager to start downloading files.
Features of Turbo Download Manager:
Almost all popular web browsers supported like Dolphin and Firefox.
Unlimited file size supported.
10 download progresses at the same time.
Cancel, queue, resume or pause any download progress.
Sound notifications of download completion.
Background progress.
Rename the files.
Configure download directory settings.
Download history.
[appbox googleplay com.okythoos.android.tdmpro]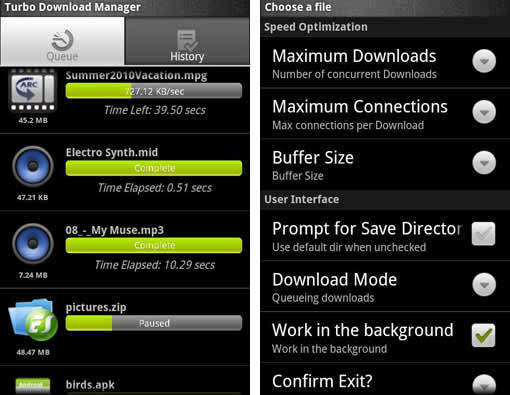 See also: How to get Android Marshmallow features on your phone
5. Download Accelerator Plus
Download Accelerator Plus for Android (apk: ADA + or DAP) is not only a reminder of the powerful download speed but also advanced download manager. It is a tool for your Android phone/tablet must-have if you want to quickly download files from the Internet and tiny size (about 1.3 MB file size) but rich of capability.
Now you can say goodbye to a long wait. It's Support all file types archive files (RAR, ZIP, …), music files (MP3, OGG, WAV, …), video files (WMV, MP4, FLV, AVI…), documents ( DOC, PPT, XLS…), programs (APK …).
Features of Download Accelerator Plus:
It's totally FREE, with unlimited access to all features, unlimited download, unlimited file size.
It's Support all file types archive files
Support multiple web browsers, including default web browser of Android, Chrome, Firefox …
Auto-catch download links whenever you copy to clipboard or open a downloadable link.
Pause and Resume feature with supported links.
Smart error handling feature which helps prevent download threads interruption.
Options and Advanced Settings as like Speed of downloads, Boost downloading speed.
Download file from QR code scanning.
Powerful Built-in Browser.
Extended Notifications.
User-friendly design.
…. and much more !!
[appbox googleplay com.rubycell.apps.internet.download.manager]
Bonus:  UC Browser – fast & smooth Web browsing and downloading
So these are the top 5 free Internet download manager Apps (IDM) for Android that you can download to speed up your download speed. If you use other internet download manager applications, so please feel free to share with us in the comments below.