Xiaomi took his time with the development of the second generation of its own series of Phablet. But the long wait will end October 25, 2016. The Xiaomi Mi Note 2: price, release, and specs will be officially presented at Beijing. In this article, we gathered all the details on the Xiaomi Mi Note 2 release. Xiaomi Mi Note 2 price, and specifications of the Mi note  2.
Xiaomi Mi Note 2: Release October 25, 2016, including Livestream
For a long time, we were to guess the release date of the Xiaomi Mi Note 2 yesterday but our guess was most needed. On the Chinese microblogging platform, Weibo, and Xiaomi on the site itself, a preview image of the next phablet of a date was published. For the presentation, Xiaomi had worked with a well-known Chinese actor Tony Leung Chiu Wai. Many of you have no idea who he is unless you're a fan of films made in China. Among his most successful films is "internal affairs", which Martin Scorsese "Departed" with Jack Nicholson, Leonardo DiCaprio, and Matt Damon was based on.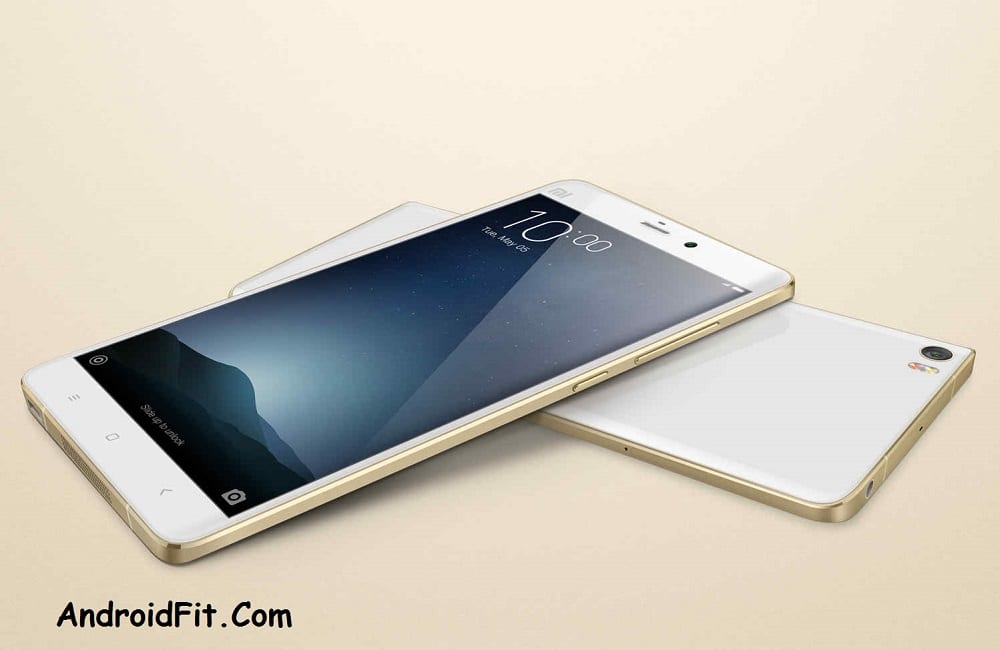 To enable Xiaomi fans who are not invited to the event in Beijing October 25, 2016, to attend the launch of the new phablet, Xiaomi has an event website online by Livestream. We will also be able to follow the Livestream in all countries or is uncertain because there may be regional restrictions.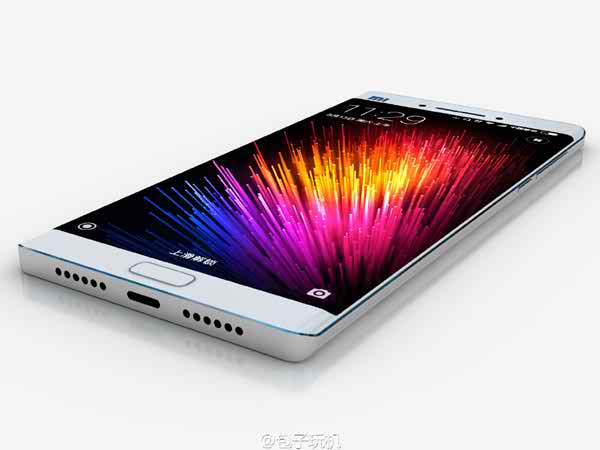 Xiaomi Mi Note 2: the most expensive Xiaomi smartphone to date
So far, Xiaomi was considered a bit of a price cutter with its products, smartphones and tablets, and more recently with its drones. With the next Mi note 2 However, Xiaomi rises in price ranges that it has not reached before. According to an announcement on Weibo, the Mi Note 2 should be available from a price of 5699 Yuan, which converts to over $ 840.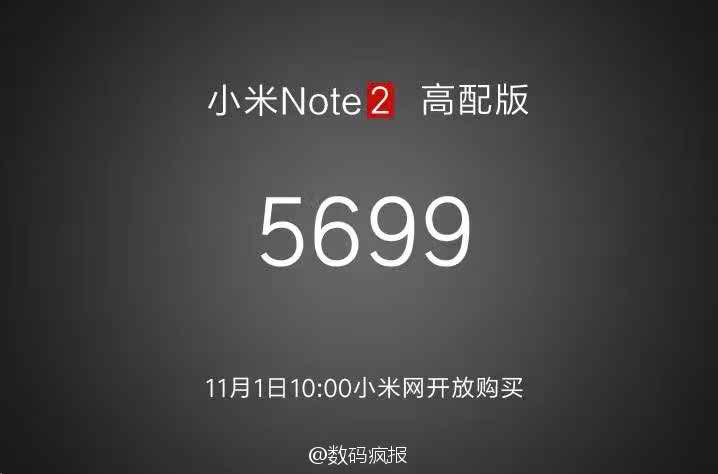 But as new update, Xiaomi Mi Note 2 to be priced around $590 (new rumor suggests).
First, CNY 4000 (590 $) is not a bad price for a double-curved 5.7-inch 821 Snapdragon-packing smartphone flagship, not to mention it is much less than the CNY initially rumored 5700 ($ 845 ). Again, the last information we had indicated prices from CNY 2,800 ($ 415) for the base 4GB/64GB versions.  – Source
Xiaomi Mi Note 2: Technical specifications:
With his heavy tag price of $840, it is fair to assume that the Xiaomi Mi Note 2 will be built with the top hardware corresponding range. The current rumors are that the Mi 2 notes have the following characteristics:
RAM: depending on the model, the Mi Note 2 should be 4 or 6 GB This latest version will certainly be priced at over $ 850…
Processor: after Google and Pixel Pixel XL, the Mi Note 2 will be the third smartphone to use the fastest processor currently Qualcomm. The Snapdragon 821 is a must for the Xiaomi Mi 2 note.
Memory: as is the case for the size of the RAM, there will be variations in the size of the memory. According to GizmoChina, the most expensive version will be equipped with 6 GB of RAM and 128 GB of internal memory. A version with 256 GB is also possible. It is not yet known if the memory can be expanded via MicroSD.
Fingerprint sensor: Mi Note 2 comes with ultrasonic fingerprint sensor under glass just as recently launched Xiaomi Mi 5s and Mi 5s Plus. According to the latest information, the Mi Note 2 will not come with the classic biometric sensor. There will also not be visible a sensor on the front or rear. Instead, the note Mi 2, as was the case with Mi and Mi 5s 5s Plus, should come with the Qualcomm SenseID Incorporated. With this technology, the fingers are analyzed using ultrasound and the corresponding sensor can thus be placed invisibly behind the glass.
Camera: Xiaomi has announced repeatedly that the Chinese Apple. Regarding the cameras, Xiaomi can actually copy iPhone 7 and 7 More Apple. While the cheaper version may have to get with a single camera, the most expensive variant should have a dual camera. It could be that the manufacturer will adjust the camera unit Mi5s Plus for Mi Note 2. In this case, it would come with a 13 megapixel sensor with autofocus phase and f / 2.0 aperture. But hope that Xiaomi will improve the cameras with optical image stabilizer, the Mi5s is missing … More
Display: in terms of the display, there are currently two opposing ideas rumored. It is claimed that the note Mi 2 will have a flat, high-resolution 2K Super AMOLED. While other sources claim it will feature a 5.7-inch 2K dual LG's advanced display. It could be that both will occur and Xiaomi presents two display versions for models priced differently … October 25, 2016
Battery: It is supported by a 4100 mAh battery capacity with 685 Wh/L as well as support for fast charging Qualcomm 3.0. USB port type C is used instead of the micro USB port.
It also comes with support for Xiaomi Pay, NFC and an IRIS scanner is also included with the device. At present, we have more information on the details of the iris scanner.
Here is the full specifications of Xiaomi Mi Note 2 in tabular form. Have a look.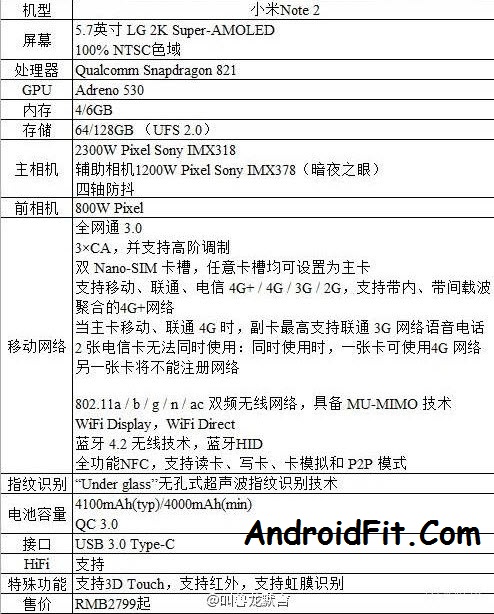 Hidden Secret
The Mi Note 2 will feature a screen 5.7 "AMOLED double curve, 3D touch support along with 4 GB  & 6 GB of RAM. provided by LG. And a Snapdragon 821 chip, two rear cameras and a fingerprint scanner ultrasound as that present in the Xiaomi Mi 5s.   It comes with ultrasonic fingerprint sensor along with the dual camera and a ceramic body.
This article was completed revised due to new information. It is possible that the following comments refer to outdated information.