Malware threat is real and causing serious damage to user's data & wealth globally. Here, cybercriminals are coming with more sophisticated and malicious codes to cause some severe damage. Today, you can see various types of malware threats including viruses, Trojans, spyware, ransomware, adware, Worms and lot more.
In fact, in 2020 alone there were some serious cyber-attacks on users with advanced virus threats that have duped millions of dollars in ransom along with data loss. When the threat is real, it becomes necessary to follow some precautionary measures to reduce or nullify the negative effects of these virus attacks. Now when we know cybercriminals are attacking every single device and platform to harm users, here we offer you best anti-malware solution to keep your Android phone safe.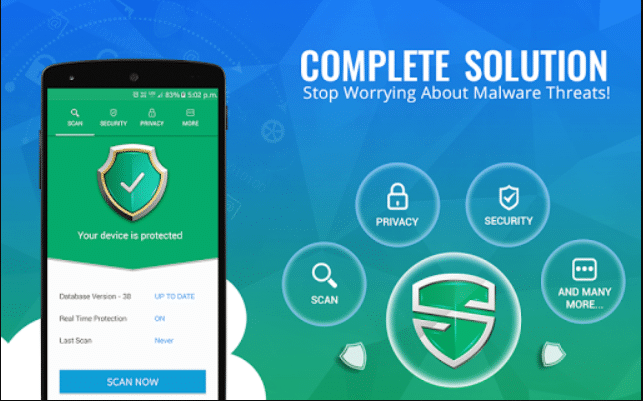 Use Systweak Anti-Malware
Systweak Anti-Malware is meticulously designed with industry grade security features to provide complete security to your Android device. This powerful tool is bundled with some amazing security features to keep all virus threats away from your device. Further, it offers improved privacy features in addition to security features to keep your device safe.
Features of the App
Intuitive & User-friendly App: Systweak Anti-Malware works in an intuitive & user-friendly manner to help you get the best results. While displaying results it mentions all necessary details in a compiled manner for instant understanding. Here, it keeps your device background green with message "Your device is Protected" when it finds your device free from malicious content. Else it turns your device background color red when your device is infected and app has found malicious content. Here, it will display message "Malware Detected" as a warning message and a red background.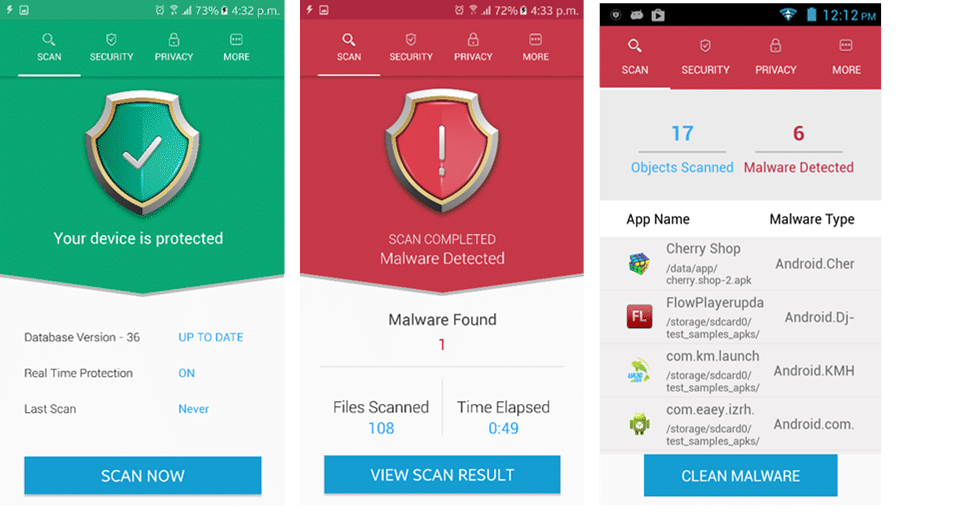 This is an intuitive way to display results which makes it easy to understand for users. Further, by clicking on "View Scan result" button you can see the scan results instantly. Under results, you will find all apps that are found malicious on your Android phone in a list preview. It further displays malware type as well next to each malicious app. By clicking "Clean Malware" button, you can get rid of all apps that are found malicious quickly.
Security Options: App offers you various security features along with allowing you to manage non-secure settings on your Android smartphone. Here, you can manage non-secure settings like Android Beam, Near-field communication (NFC), installing from unknown sources and developer options. You can disable these features on your device from the app to avoid unnecessary trouble.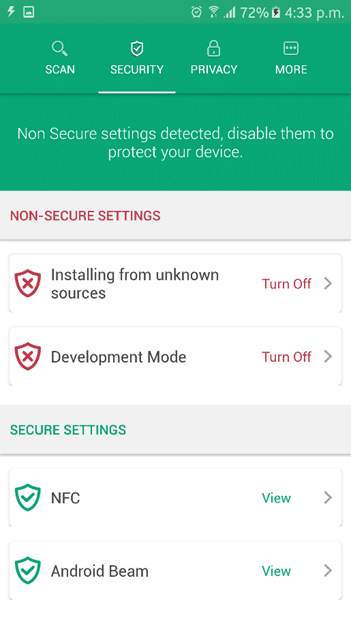 Privacy Options: In addition to security features, here, you can also find privacy features to keep your data privacy intact. Under this feature, app allows you to manage or disable all those apps on your device that are obtaining unnecessary permissions. For example, travel app is asking for permission to your photo gallery.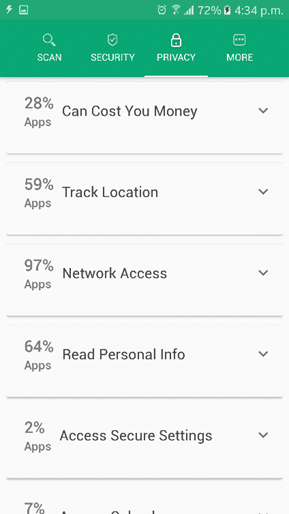 Scan Options: Scan Options includes Quick and Deep scan mode. It is useful to refine your search for instant results. Here, when you select Quick scan mode, app will scan & remove malware threats from all installed apps on your smartphone. While in Deep scan mode, it will scan all APK files on your phone no matter they are installed or not. Deep scan mode is suggested for better security of your device.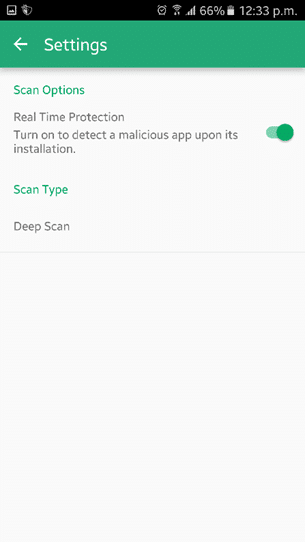 Real-time Protection: App offers real-time protection to avoid download of malicious apps. Here, the app will block download when you try to download some malicious app. It is useful to avoid malware threat at the initial level.
Whitelist: You can use this feature to Whitelist your personal or other apps that you don't want to include in the scanning process. It is useful feature to keep your personal data untouched.
Scan History: Here, you can find the history of last scans performed on your device. You can view history to know better about the malicious apps for better results.
You can download the app here-

The Verdict of the App
Systweak Anti-Malware offers your device a security layer to protect it from all malicious threats. Here, it offers various useful security & privacy features to keep your device completely safe. In additional features, it offers real-time protection, whitelist feature, multiple scan options and lot more. We suggest you this nifty tool for instant and effective security of your Android device.