Are you facing the frustrating issue of your Settings app mysteriously disappearing from your Android phone? You're not alone! This baffling glitch can leave you feeling stuck and powerless when you need to make adjustments to your device. However, fear not, as we've got you covered with a comprehensive guide on how to fix the "Settings app gone missing" problem on your Android phone.
How To Fix Settings App gone missing on Android Phones
You can follow the troubleshooting steps below and fix the Settings App gone missing on Android Phones:
#1. Unhide the Settings Application if it's Hidden
The process to unhide the Settings application, which might be hidden due to various reasons, can vary depending on the device and operating system you are using. I'll provide general instructions for some common platforms:
Step 1: Let's get to the app drawer first. For that, click on the app drawer icon from the home screen of your Android device. Alternatively, you can simply swipe up from the bottom of your screen. Most devices support this swipe action to open the app drawer.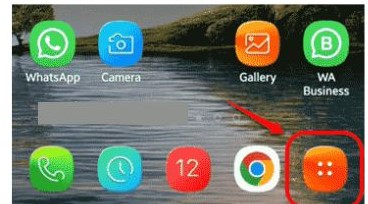 Step 2: At the top part of the app drawer, hit the search bar and search for the Settings application. You will now be able to see the Settings application in the search results. Long press on it.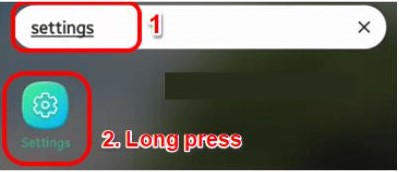 Step 3: As next, hit the Locate app option to locate the Settings application on your device.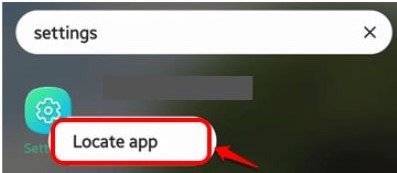 Step 4: You will now be able to see the Settings application listed under the Hidden Apps section. Click on the Minus icon associated with it to unhide it and hit the Done button at the bottom once you are all set.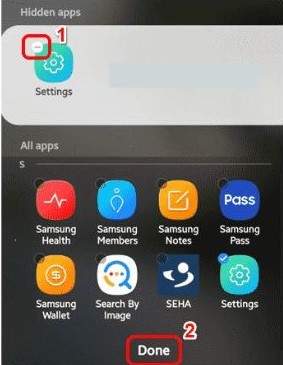 #2. Launch the Settings Application from the Quick Settings Menu
If for some reason the above method did not do the trick for you, you can pull down your notifications panel and click on the Gear icon to launch the Settings application instantly. This method is a workaround, however, this method is quite useful if you are unable to unhide the application by following the above solution.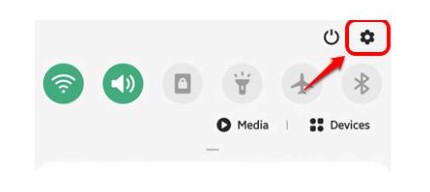 #3. Restart Your Device
Before diving into more complex solutions, always start with the basics. A simple restart can work wonders and may bring back the missing Settings app. Hold down the power button until the "Power off" option appears, then tap it. Wait a few seconds, and then turn your phone back on.
#4. Check App Drawer and Search
It might sound obvious, but sometimes the Settings app could be misplaced in your app drawer. Swipe up from the home screen to access the app drawer, then scroll through your apps or use the search bar to locate the Settings app. Sometimes it might have been inadvertently moved to a different location on your screen.
#5. Reset the Home Screen Layout
If you have customized your home screen layout, it's possible that the Settings app was accidentally removed or hidden. To reset the home screen layout to its default settings, follow these steps:
Long-press on an empty area of your home screen.
Look for the "Home settings" or "Home screen settings" option.
Choose "Restore default layout" or a similar option.
#6. Use the Settings Shortcut Widget
Another workaround is to add a Settings shortcut widget to your home screen. Here's how:
Long-press on an empty area of your home screen.
Select "Widgets" from the options that appear.
Find the "Settings" widget and drag it to your home screen.
#7. Safe Mode Troubleshooting
Booting your phone into Safe Mode can help determine if a third-party app is causing the issue. If the Settings app appears in Safe Mode, it's likely that an app you installed is causing the problem. Restart your device normally to exit Safe Mode and then uninstall recently added apps one by one until the issue is resolved.
#8. Clear Cache and Data for Launcher App
Your phone's launcher app controls the home screen and app drawer. Clearing its cache and data might help restore the missing Settings app:
Go to "Settings" > "Apps" > "App info" (or "Application Manager").
Locate and tap on your launcher app (e.g., "Pixel Launcher," "One UI Home").
Tap on "Storage" and then select "Clear cache" and "Clear data."
9. Factory Reset (Last Resort)
If none of the above solutions work, you might consider performing a factory reset. Keep in mind that this should be your last resort, as it will erase all data on your phone. Make sure to back up your important data before proceeding.
Conclusion
The disappearance of the Settings app on your Android phone can be a frustrating experience, but thankfully, there are several methods you can try to resolve the issue. Always start with the simplest solutions and work your way up to more advanced troubleshooting steps. With a bit of patience and persistence, you'll likely find the solution that brings back your missing Settings app and restores your device's functionality.