We've all been there – you're in the middle of important research, shopping online, or simply have a ton of tabs open in Google Chrome when suddenly, the browser crashes! Panic sets in as you realize you've lost all your open tabs. But fear not, because in this blog post, we'll guide you through six of the best methods to restore Chrome tabs after a crash, ensuring you can quickly pick up where you left off.
Method 1: Use Chrome's Built-in Tab to Restore the Feature
Google Chrome comes equipped with a feature that can automatically restore your previous session after a crash. Here's how to use it:
Reopen Google Chrome after the crash.
If Chrome detects that it didn't shut down correctly, you'll see a message at the top of the browser. Click on the "Restore" button to reopen all your previous tabs.
This method is the simplest and most effective way to recover your tabs if Chrome offers the "Restore" option.
Method 2: Access Recently Closed Tabs
If you don't see the "Restore" message or if it doesn't work for some reason, you can manually access recently closed tabs:
Click on the three vertical dots (the menu icon) in the top-right corner of your Chrome window.
Hover your mouse over "History" in the dropdown menu.
In the submenu that appears, you'll see a list of recently closed tabs. Click on the one you want to reopen.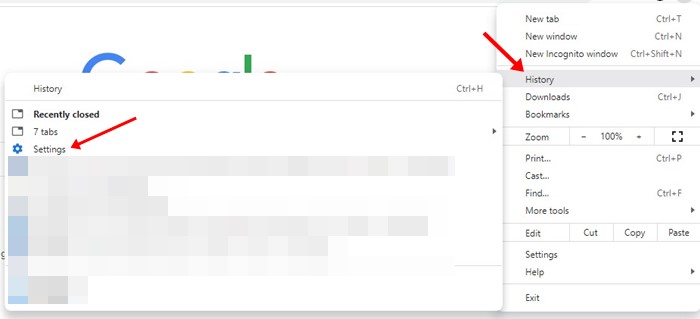 This method allows you to select and reopen specific tabs that you had opened before the crash.
Method 3: Use Keyboard Shortcuts
Chrome offers keyboard shortcuts for managing tabs, which can be especially useful if your mouse isn't responsive after a crash. Here are some essential shortcuts:
Ctrl+Shift+T (or Cmd+Shift+T on Mac): Reopens the last closed tab. Repeatedly pressing this shortcut will reopen tabs in the order they were closed.
Ctrl+Shift+N (or Cmd+Shift+N on Mac): Opens a new incognito window. While this doesn't directly restore your previous tabs, it allows you to browse privately without impacting your regular session.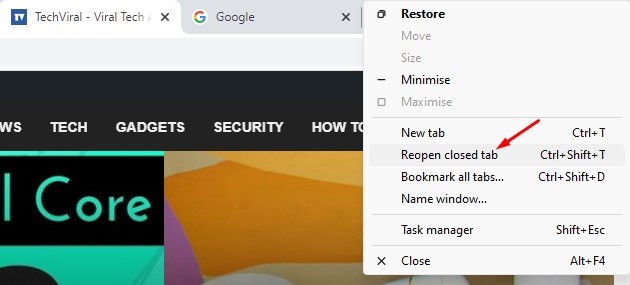 Method 4: Check the History
Google Chrome keeps a record of your browsing history, which can help you restore lost tabs:
Click on the three vertical dots (menu icon) in the top-right corner of your Chrome window.
Hover your mouse over "History" in the dropdown menu.
Click on "History" in the submenu to open the full history page.
You can search for and reopen specific tabs from your browsing history.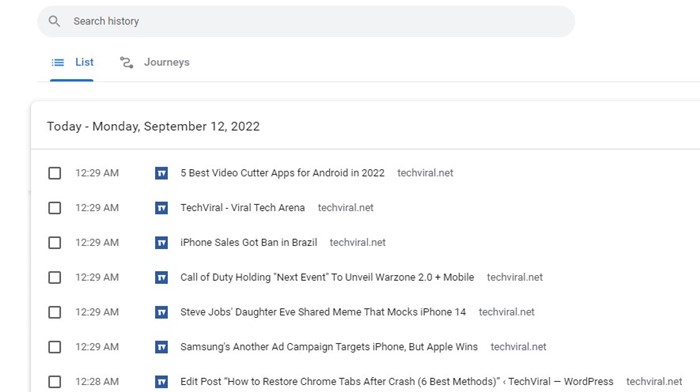 While this method may take a bit more time, it's a reliable way to recover your tabs if other options fail.
Method 5: Use a Chrome Extension
There are several Chrome extensions available that can help you recover tabs after a crash. One popular choice is the "Session Buddy" extension:
Go to the Chrome Web Store and search for "Session Buddy."
Click on "Add to Chrome" and follow the installation instructions.
After installation, you can use Session Buddy to save and restore your browsing sessions, including tabs.
Extensions like Session Buddy can be particularly handy if you frequently work with many tabs and need a robust solution for managing and recovering them.
Method 6: Enable Tab Groups
Google Chrome introduced a feature called "Tab Groups" that can help you organize and recover tabs more efficiently:
Right-click on a tab and select "Add to new group."
Give your group a name.
Drag and drop related tabs into the group.
When a crash occurs, you can easily restore the entire group by right-clicking on it and selecting "Open all."
Tab Groups not only assist in recovering tabs but also in keeping your browsing organized.
Conclusion
Experiencing a Chrome tab crash can be frustrating, but with these six methods at your disposal, you can quickly and effectively restore your tabs. Whether you prefer using built-in features, keyboard shortcuts, or extensions, there's a solution for everyone. So, the next time Chrome crashes, you'll be armed with the knowledge to get your tabs back in no time. Happy browsing!