Default quick settings not enough? And you need Custom Quick Settings Out for your Android Marshmallow. Add  web links, custom toggles and apps links to your quick settings without root using Custom Quick Settings.
Note: If your device Android 5.0 lollipop, then you must need to root your device.
Custom Quick Settings Out for Marshmallow.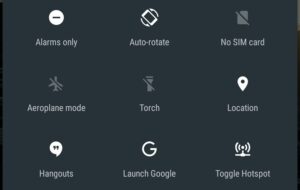 A nice addition but poorly documented Marshmallow for Android is the ability to add a "Tile broadcast" in the Custom Quick Settings menu bar With some programming knowledge and a bit of free time, you can use them to add custom tiles your Quick Settings menu, but there is a fair bit of effort. Reddit User Quinny898 built an app, aptly named Quick Settings customized, allowing you to add new options yourself, and all without the need for root permissions.
Features:
Add as many quick settings .
Action in both short and long clicks you want quick adjustments to your shares (no overlays or stupid hacks).
Custom icons, selected from over 1,200 icons (custom tile only, you can not change the defaults).
Custom Titles (custom tile only, you can not change the defaults).
No persistent notification and no battery drain – runs at startup and updates when you change it.
Actions include:
– Launch URL.
– Launch Applications.
– Custom settings switch (WiFi, Bluetooth, data connection, flashlight, Hotspot, Volume panel & Sync).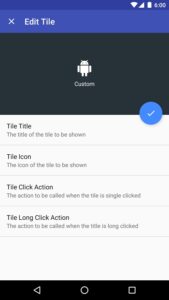 The application fast Custom Settings allows you to create your own buttons for marshmallow in a user friendly package much. Although users must add the tiles to their settings themselves. The options are limited to launch an application, open a URL or switches for creating custom options already in the operating system, such as WiFi, Bluetooth, system volume, etc. But it is much useful for quickly jumping to your favorite web sites or applications.
This app provides a couple of simple fields to create your new tile. A title, a choice of over 1200 pre-installed icons and options for what happens if you short or long press on the icon. Application development is still ongoing. In the future, the ability to add shortcuts that deep action and some switches, such as rebooting, are also planned.
Whether you like to try it for yourself, you can download the Quick Custom Settings extent Play Store for free .
DOWNLOAD CUSTOM QUICK SETTINGS
WHAT'S NEW
2.0.6:
– Added Spanish (Español) translation – Thanks Luis Zurro!
– Added a 2 second pause & close of quick settings before screenshot
– Fixed website action doing nothing
– Fixed icons being wrong colour