5G technology promised lightning-fast internet speeds and seamless connectivity, but many users still find themselves facing frustratingly slow 5G connections. While 5G networks are continually expanding and improving, there can be various reasons behind sluggish performance on your phone. In this post, we'll explore some possible solutions to help you get the most out of your 5G connection.
Here are Some Possible Solutions for Slow 5G on Your Phone
1. Not Enough 5G Network Coverage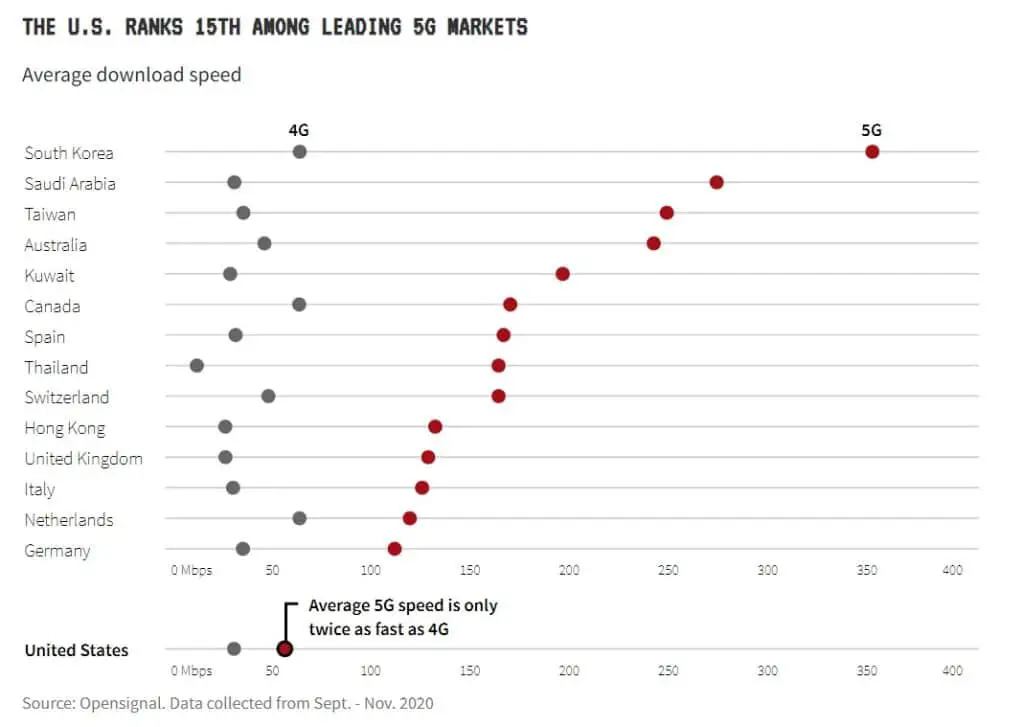 5G technology has been hailed as the future of mobile connectivity, promising ultra-fast speeds and low latency for an array of applications, from streaming high-definition video to powering the Internet of Things. However, one common challenge many users face is the lack of adequate 5G network coverage in their area. We will explore the issue of insufficient 5G coverage and provide some practical solutions to help you make the most of your 5G experience.
Check Your Location and Carrier
The availability of 5G coverage can vary greatly depending on your location and mobile carrier. Some carriers have extensive 5G networks in major cities but limited coverage in rural areas. Begin by checking your carrier's 5G coverage map to see if your location is within a 5G service area. If not, it might be worth considering other carriers with better coverage in your region.
Upgrade Your Phone
If you're using an older smartphone, it may not be 5G compatible. Upgrading to a 5G-capable device can make a significant difference in your connectivity experience when 5G is available in your area. Check with your carrier and device manufacturer for options and promotions for 5G-compatible phones.
Use Wi-Fi Whenever Possible
In areas with limited 5G coverage, relying on Wi-Fi can be a game-changer. Whenever you're at home, work, or a public place with Wi-Fi access, connect your phone to Wi-Fi networks. This not only conserves your mobile data but also ensures faster and more reliable internet speeds.
Consider a Signal Booster
If you're in an area with weak or intermittent 5G coverage, investing in a signal booster can help improve your signal strength. Signal boosters capture existing signals and amplify them, providing you with a more reliable connection. Be sure to choose a booster compatible with your carrier's network.
Stay Informed About Network Expansion
5G network coverage is expanding rapidly, so staying informed about your carrier's plans for network expansion can be beneficial. They may have announced upcoming 5G deployments in your area. Additionally, government initiatives and private investments are continually expanding 5G infrastructure, so keep an eye on local news and announcements.
Consider Network Aggregation
Some carriers offer network aggregation, which combines 4G LTE and 5G connections to boost your internet speed. If your carrier provides this service, consider enabling it on your phone to take advantage of faster speeds even in areas with limited 5G coverage.
Explore Alternative Internet Options
In extreme cases where 5G coverage is almost non-existent, you may want to explore alternative internet options, such as satellite or fixed wireless internet. These technologies can provide high-speed connectivity even in rural or remote areas where traditional cellular networks struggle to reach.
According to Ookla, there are currently less than 150.000 commercially available deployments worldwide. (Source: https://www.speedtest.net/ookla-5g-map)
With a combined total of more than 650 cities that have 5G service, China and the United States are well ahead of other countries in their deployment.
However, in the US the internet speed is only two times faster than the much older 4G LTE which shows that more deployments are needed before the network reaches its peak performance. (Source: https://devsjournal.com/slow-5g-on-iphone-13.html)
While the availability of 5G network coverage can be frustratingly limited in some areas, there are steps you can take to mitigate the issue and enhance your connectivity experience. From checking your location and upgrading your device to using Wi-Fi and considering signal boosters, these solutions can help bridge the gap until 5G coverage becomes more widespread. Stay informed about network expansion efforts, and remember that 5G technology is continually evolving, promising better coverage and performance in the future.
2. Cellular Provider Problems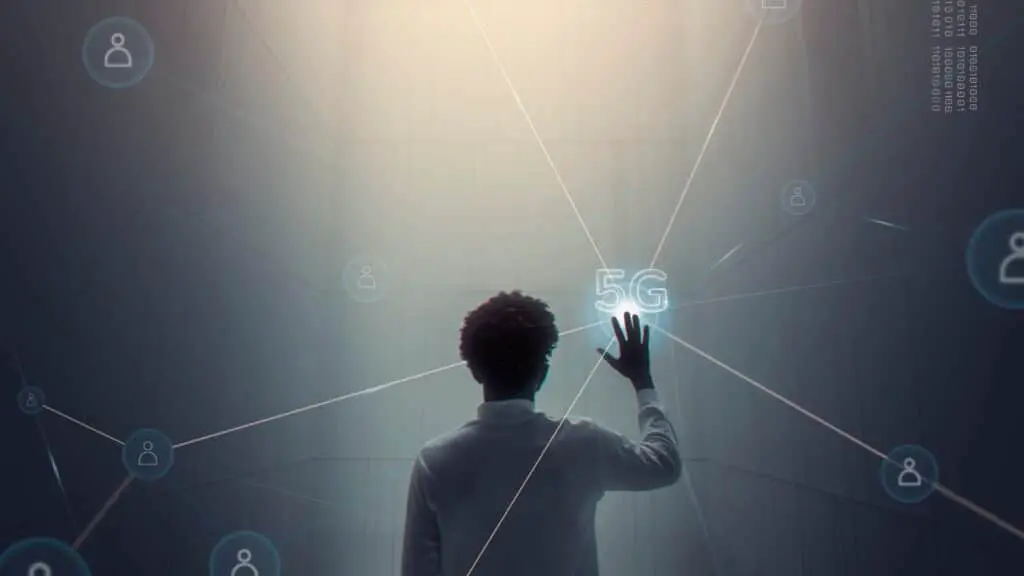 When your cellular provider encounters issues, it can disrupt your daily routine and cause frustration. We will explore common cellular provider problems and provide solutions to help you navigate these challenges effectively.
1. Poor Signal Strength and Dropped Calls
One of the most frustrating issues with cellular providers is experiencing poor signal strength and dropped calls. Here's what you can do:
Check Your Location: Signal strength can vary greatly depending on your location. If you're indoors, try moving closer to a window or going outside to see if signal strength improves.
Use Wi-Fi Calling: Most modern smartphones support Wi-Fi calling. Enabling this feature can help you make calls and send texts over a Wi-Fi network, bypassing poor cellular signal issues.
Signal Boosters: Consider investing in a signal booster for your home or workplace. These devices can significantly improve signal strength in areas with weak coverage.
2. Slow Data Speeds
Slow data speeds can be a common complaint, especially during peak usage times. Here's how to address this issue:
Check Data Usage: If you've exceeded your data limit, your provider may throttle your speeds. Monitor your data usage and consider upgrading to a plan with more data if needed.
Network Congestion: During busy hours, networks can become congested. Try using data-intensive applications during off-peak times to enjoy faster speeds.
Reset Network Settings: Sometimes, resetting your phone's network settings can improve data speeds. This will reset all network-related settings to their default values.
3. Billing and Payment Problems
Billing and payment issues can be frustrating, but they are typically solvable:
Review Your Bill: Carefully review your monthly bill to ensure it matches the plan you signed up for. If you spot discrepancies, contact your provider to resolve them.
Auto-Pay and Alerts: Set up auto-pay to avoid missing payments. Additionally, enable alerts or notifications to receive reminders about upcoming bills.
Contact Customer Support: If you encounter issues with billing, reach out to your provider's customer support. They can assist with payment problems and answer any billing-related questions.
4. Poor Customer Service
Dealing with unhelpful or unresponsive customer service can be a frustrating experience. Here's how to navigate this problem:
Document Your Issues: When contacting customer service, keep detailed records of your interactions, including dates, names of representatives, and what was discussed. This can be helpful if you need to escalate your issue.
Escalate the Issue: If you're not getting the help you need, ask to speak with a supervisor or escalate your concern to a higher level of support.
Explore Online Resources: Some providers offer online chat support, which can be more efficient than phone calls. Check your provider's website for available options.
5. Contract and Plan Issues
If you're dissatisfied with your current plan or contract terms, there are steps you can take:
Review Your Contract: Carefully review your contract to understand its terms and conditions, including early termination fees.
Negotiate or Upgrade: Contact your provider to discuss your concerns. They may offer you a better plan or options to upgrade your services.
Consider Alternatives: If you're unhappy with your provider's offerings, consider switching to a different provider or exploring prepaid plans.
Dealing with cellular provider problems can be frustrating, but with patience and persistence, most issues can be resolved. By following the tips outlined in this guide, you can navigate common problems like poor signal strength, slow data speeds, billing issues, and more effectively. Remember that communication is key, so don't hesitate to reach out to your provider's customer support for assistance.
3. Low Data Mode is Enabled
Many mobile operating systems, including iOS, have introduced a feature known as "Low Data Mode." In this blog post, we'll explore what Low Data Mode is, how it works, and how you can make the most of it to optimize your data usage and save money on your mobile plan.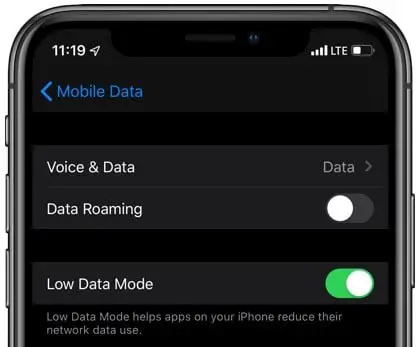 What is Low Data Mode?
Low Data Mode is a feature available on iOS devices, such as iPhones and iPads, that allows users to reduce their data usage by optimizing various background processes and app behaviors. When enabled, this mode limits the background fetching of emails and updates, automatic app downloads, and other non-essential data-consuming activities.
How to Enable Low Data Mode
To enable Low Data Mode on your iOS device:
Open the "Settings" app.
Scroll down and tap "Cellular" (or "Mobile Data" depending on your region).
Tap "Cellular Data Options."
Toggle on "Low Data Mode."
You can also enable Low Data Mode for Wi-Fi networks by going to "Wi-Fi" in the "Settings" app, selecting your Wi-Fi network, and enabling "Low Data Mode" under the network options.
Benefits of Low Data Mode
Reduced Data Usage: The primary benefit of Low Data Mode is, of course, reduced data consumption. By restricting background processes and data-hungry app behaviors, you can avoid unnecessary data usage, which can help you stay within your data plan limits.
Faster Loading Times: Since Low Data Mode limits background activity, it can result in faster loading times for web pages and apps. This can be particularly useful when you have a weak or slow internet connection.
Extended Battery Life: Reduced background activity also leads to improved battery life. When you're on the go and trying to conserve both data and battery, Low Data Mode can be a valuable tool.
When to Use Low Data Mode
While Low Data Mode can be helpful in various situations, here are some scenarios where it's particularly useful:
Limited Data Plans: If you have a limited data plan and want to avoid overage charges or throttling, enabling Low Data Mode is a smart choice.
Traveling: When you're traveling and using mobile data in unfamiliar areas, Low Data Mode can help you make the most of your data allowance.
Weak Network Coverage: In areas with weak cellular or Wi-Fi signals, Low Data Mode can ensure that your data is used efficiently and that you're not wasting precious bandwidth on background tasks.
Avoiding Distractions: If you want to minimize distractions and notifications from apps while conserving data, Low Data Mode can help you achieve a more focused mobile experience.
Low Data Mode is a valuable feature that empowers users to take control of their data usage and optimize their mobile experience. By enabling this mode when appropriate, you can reduce data consumption, save money on your mobile plan, and enjoy faster loading times and extended battery life. Whether you're on a limited data plan, traveling, or simply want to make the most of your mobile data, Low Data Mode is a useful tool in your smartphone's toolkit.
4. Restart your Device
If you're experiencing issues with your device and want to restart it, here are the general steps you can follow:
For iPhones and iPads (iOS):
Press and hold the "Sleep/Wake" button (located on the top or side of your device) and either the "Volume Up" or "Volume Down" button simultaneously.
Continue holding both buttons until you see the slider to power off your device.
Drag the slider to turn off your device.
After your device is completely powered off, press and hold the "Sleep/Wake" button again until you see the Apple logo, indicating that your device is restarting.
For Android Devices:
Press and hold the power button (often located on the side or top of your device) until a menu appears.
Depending on your device and Android version, you may see options like "Power Off," "Restart," or "Reboot."
Select the option to restart your device.
Your device will power off and then turn back on automatically.
Restarting your device can often help resolve minor issues, clear temporary glitches, and improve overall performance. If you're experiencing specific problems with your device, such as app crashes or connectivity issues, restarting it is a good troubleshooting step to try.
5. Update iOS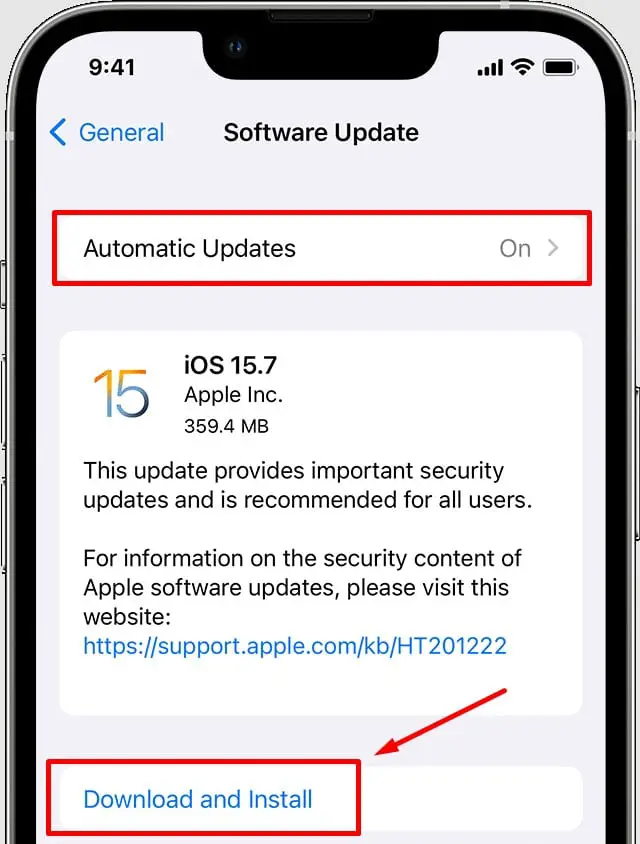 Another typical solution that could fix the slow speed of 5G would be updating the iOS if it's out of date. If you are one of those people who don't run software updates very often and may have disabled the automatic ones, here's how to manually do it:
Launch Settings on your iPhone.
Go to General.
Select Software Update.
Download the update if there is one available.
6. Reset the Network Settings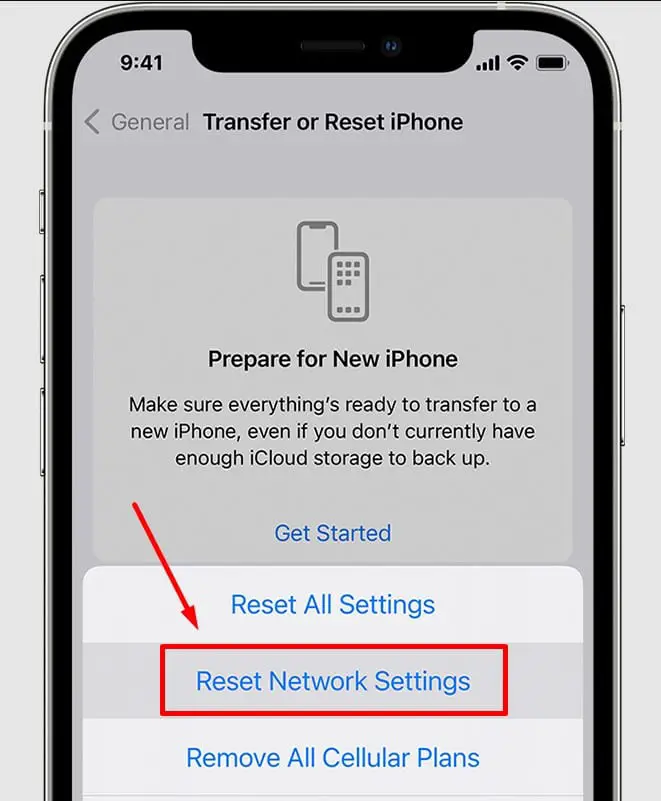 It's important to mention that by resetting the network settings, you clear all previously used VPN and APN settings, Wi-Fi networks and passwords, cellular settings, and Wi-Fi networks. To do that, follow the steps below:
Go to Settings and then General.
Scroll down and choose Transfer or Reset iPhone.
Select Reset.
Tap on Reset Network Settings.
Enter your iPhone's password/passcode when prompted to perform the reset.
6. Switch from 5G Auto to 5G On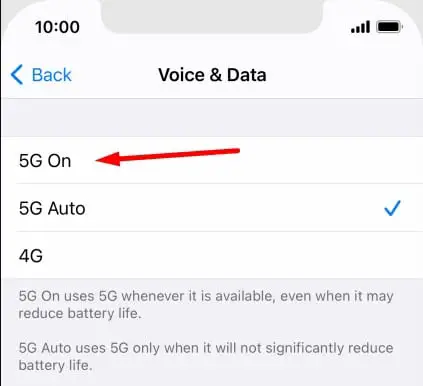 When 5G negatively impacts your phone's battery life, the Auto mode changes your cellular network to LTE. In order to save battery life, you effectively only utilize 5G when the network speed is poor.
Follow the steps below to use 5G On:
Go to Settings and then Cellular
Proceed to the Cellular Data Options
Tap on Voice And Data
7. Update Cellular Provider Settings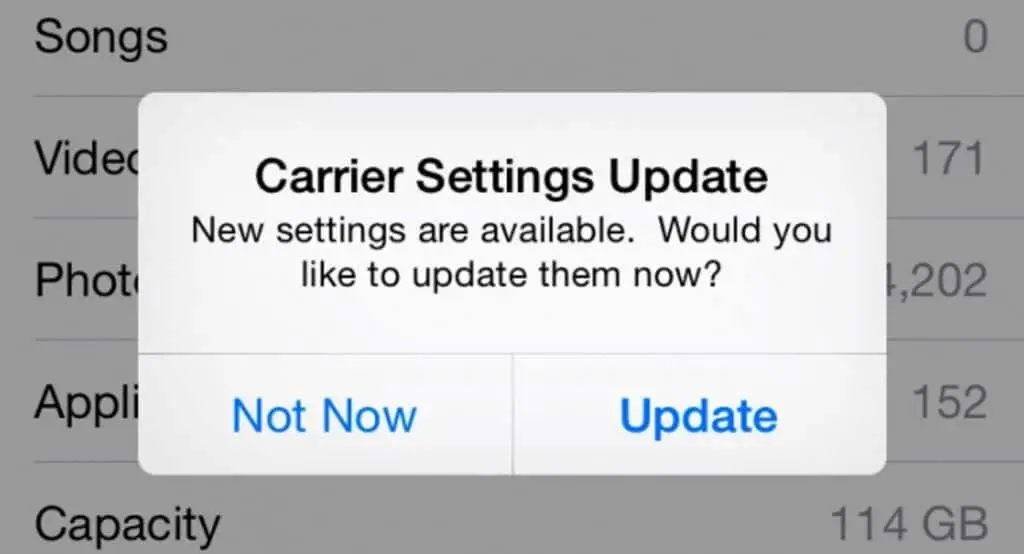 Just like the iPhone software updates, there are also cellular provider updates. Though it's very rare that this will affect the 5G speed because they are automatically updated, it's still possible that you may have an update that wasn't installed.
In order to manually download these updates:
Go to Settings
Tap on General
Scroll down and go to About
If a carrier settings update is available, there will be a notification. Tap on it and perform the update.
If there is no notification, it means that your settings are up to date so there is no need to press any button.
8. Factory Reset your iPhone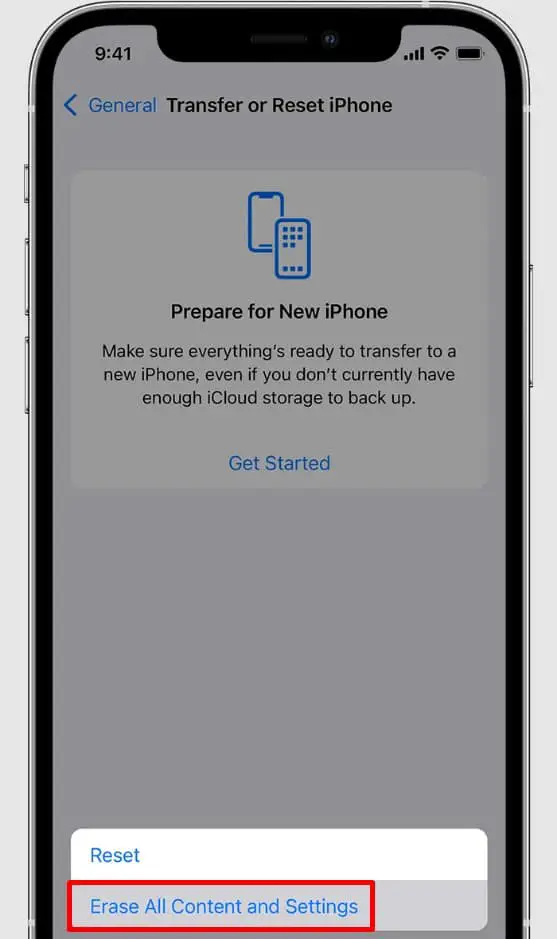 Performing a factory reset on your iPhone will erase all the data and settings on the device, essentially returning it to its original, out-of-the-box state. Make sure to back up any important data before proceeding. Here's how to factory reset your iPhone:
Note: After a factory reset, all your data will be deleted, including apps, photos, contacts, and settings. Make sure you have a backup of your data if you want to restore it later.
For iOS 15 and Later:
Open "Settings" on your iPhone.
Scroll down and tap "General."
Scroll to the bottom and tap "Reset."
Tap "Erase All Content and Settings."
Enter your device passcode, if prompted.
Confirm your choice by tapping "Erase iPhone."
Your iPhone will begin the reset process, which may take a few minutes. Once completed, your device will restart, and you will see the initial setup screen, just like when you first got your iPhone.
For iOS 14 and Earlier:
Open "Settings" on your iPhone.
Scroll down and tap "General."
Scroll to the bottom and tap "Reset."
Tap "Erase All Content and Settings."
Enter your device passcode, if prompted.
Confirm your choice by tapping "Erase iPhone."
Your iPhone will begin the reset process, which may take a few minutes. Once completed, your device will restart, and you will see the initial setup screen, just like when you first got your iPhone.
After the factory reset is complete, you can set up your iPhone as a new device or restore it from a backup if you have one. Remember to sign in with your Apple ID to access your iCloud data and apps from the App Store.
Conclusion
Slow 5G on your phone can be frustrating, but there are various steps you can take to address the issue. From checking your signal strength to upgrading your device and optimizing your settings, these solutions can help you make the most out of your 5G connection. Remember that 5G technology is continually evolving, so staying informed about updates and improvements from both your phone manufacturer and your network provider can also be beneficial in the long run. With the right approach, you can enjoy the lightning-fast speeds that 5G promises.