Instagram Stories have become an integral part of our social media experience, allowing us to share moments and connect with our followers. However, there are times when we may want to enjoy Stories without sound or mute them altogether. Whether you're in a public place, looking to save data, or simply prefer a silent browsing experience, this blog post will guide you through the steps to turn off sound on Instagram Stories. Let's dive in!
Benefits of Turn off Sound on Instagram Stories
Turning off the sound on Instagram Stories can offer several benefits. Here are some of the advantages:
Privacy: By muting the sound on Instagram Stories, you can maintain your privacy and discretion. Sometimes, you may not want others around you to hear the audio accompanying the Stories you are viewing, especially in public places or in situations where you prefer to keep your social media activity private.
Distraction-free browsing: Sound can be distracting, especially when you're browsing through multiple Stories. By disabling the sound, you can focus solely on the visual content without any audio interruptions. This can enhance your browsing experience and allow you to fully immerse yourself in the visuals and messages conveyed by the Stories.
Save data: Instagram Stories often contain videos with accompanying audio, and these can consume a significant amount of mobile data. By turning off the sound, you can reduce data usage while still enjoying the visual content. This can be particularly beneficial if you have a limited data plan or when you're in an area with slow or expensive internet connections.
Customized experience: Instagram provides users with the option to personalize their social media experience. By muting Stories, you can create a more customized environment that suits your preferences. Whether you prefer a quieter browsing experience or you simply find audio distracting, turning off the sound allows you to tailor Instagram to your liking.
Respect for others: When you're in a shared space, muting Instagram Stories demonstrates consideration for those around you. By keeping your Stories silent, you avoid disturbing others who may be nearby, such as in libraries, cafes, or public transportation.
Increased focus on captions: Many Instagram Stories feature text captions or subtitles that convey important information or messages. By turning off the sound, you can pay more attention to the text and better comprehend the content being shared. This is particularly useful for individuals with hearing impairments or for those who prefer reading over listening.
Turning off the sound on Instagram Stories provides various benefits, including increased privacy, a distraction-free browsing experience, data savings, customization, respect for others, and improved focus on captions. Whether you choose to mute specific Stories or disable sound for all Stories, this feature allows you to enjoy Instagram on your own terms.
How to turn off sound on Instagram stories
Go to the "Reels" tab on your Instagram app.
Select any Instagram reel you want to watch.
Once the reel starts playing, look for the "Silent" option in the bottom right corner of the reel.
Click on the "Silent" option to turn off the sound on the Instagram Reel.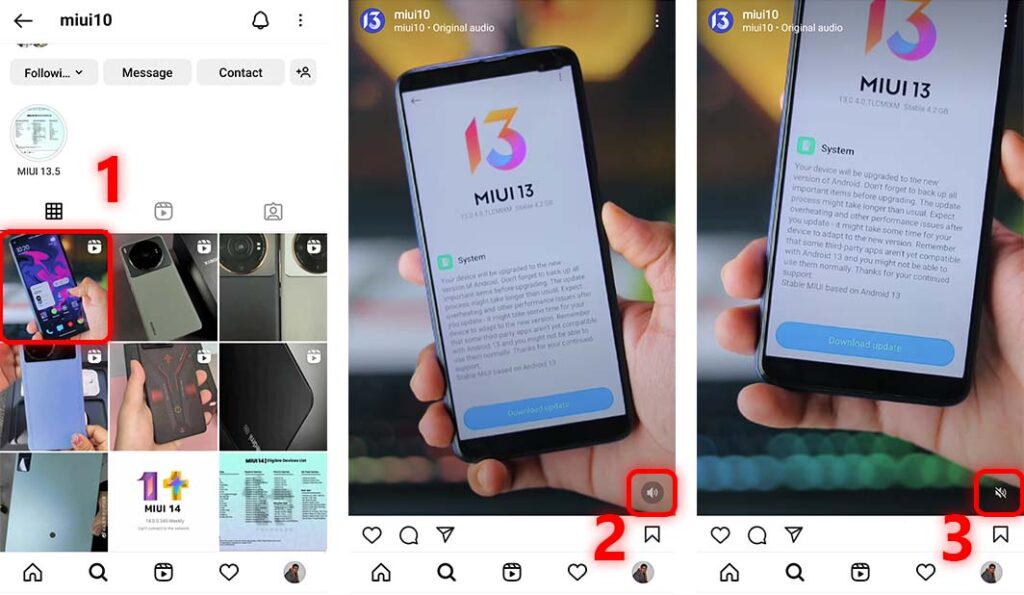 Conclusion:
By following these simple steps, you can easily turn off sound on Instagram Stories. Whether you prefer a silent browsing experience, need to keep your Instagram activity discreet, or want to save data, muting Stories is a convenient option. Remember that you can mute individual Stories by tapping the screen while they play or disable sound for all Stories by adjusting the app's sound settings.