Are you tired of the standard wallpapers on your Android phone? Do you want to add a personal touch to your device and showcase your unique personality? Look no further than custom emoji wallpapers! Creating your own emoji-themed wallpapers is not only fun but also a fantastic way to express yourself and stand out from the crowd. In this post, we will guide you through the process of designing and setting up custom emoji wallpapers for your Android phone.
What is Emoji Wallpaper?
Emoji wallpaper refers to a type of wallpaper or background for electronic devices, such as smartphones, tablets, and computers, that prominently features emojis as the primary design element. Emojis are small digital icons or symbols used to express emotions, ideas, and various concepts in electronic communication. They have become widely popular in modern messaging and social media platforms, allowing users to convey feelings and reactions visually.
Emoji wallpapers often use a combination of different emojis arranged in a pattern or scattered across the background to create a visually appealing and fun design. The wallpapers can be customized with various colors, sizes, and effects to match the user's preferences and style.
The popularity of emoji wallpapers can be attributed to their ability to add a personalized touch to electronic devices, making them stand out and reflect the user's personality or current mood. These wallpapers are particularly popular among younger audiences who enjoy the expressive and playful nature of emojis.
Creating custom emoji wallpapers has become a trend, with users designing their unique backgrounds by selecting their favorite emojis and arranging them in creative ways. Many image editing apps and online tools offer features specifically designed for creating emoji wallpapers, making the process accessible to everyone.
How to Create and Set a Custom Emoji Wallpaper on Your Android Phone
To create a custom emoji wallpaper and use it on your device, follow these steps:
On your device's home screen, tap and hold anywhere. A customization pop-up will appear. From the pop-up, select Wallpaper & Style. Alternatively, go to Settings > Wallpaper & Style.
Tap Change wallpaper.
On the wallpaper source page, select Emoji Workshop. This will take you to a customization page where you can make a custom emoji wallpaper.
If you're okay with anything, tap Randomize to create a random emoji wallpaper.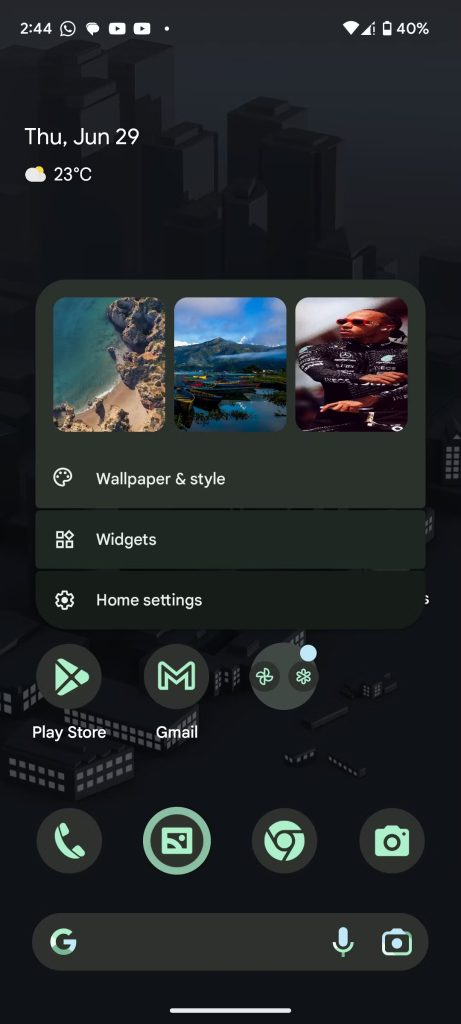 Otherwise, select Edit Emoji and pick the emojis you want in the wallpaper. To start from scratch, tap Clear All, then pick your emojis. Once done, tap the checkmark to confirm.
Next, tap Patterns to change how the selected emojis are arranged in the wallpaper. There are five patterns to choose from. If you prefer the included emojis to be larger or smaller, use the zoom slider to change the size.
After that, tap Colors if you'd like to change the background color and the color of the emojis in the wallpaper. Unfortunately, you can't use your own custom color; you can only pick from the available options.
Tap the checkmark in the top right once you're done. This will save your emoji wallpaper, and you can view how it will be displayed on your home or lock screen.
Tap Set Wallpaper to set it as your current wallpaper for your home and lock screen.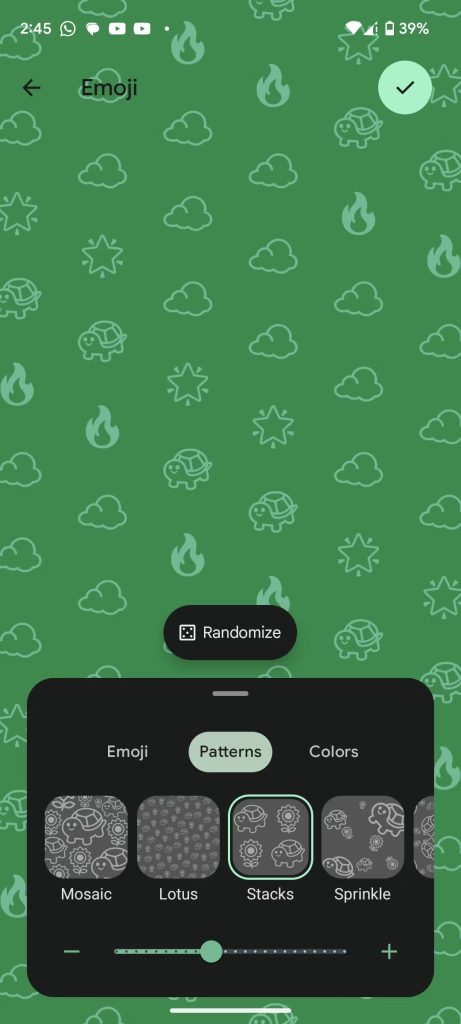 Once you've created an emoji wallpaper, you can find it by going to Settings > Wallpaper & Style> Change wallpaper > Emoji Workshop. All the emoji wallpapers that you create in the future will also be accessible on this page.
To create a new emoji wallpaper, select the Plus (+) button, follow the steps above for customization, and set it as your wallpaper.
Conclusion
Custom emoji wallpapers are a fantastic way to add a personal touch to your Android phone and showcase your creativity. With the abundance of emojis and user-friendly image editing apps available, anyone can become a wallpaper designer. So go ahead, gather your favorite emojis, choose a background, and let your imagination run wild. Get ready to smile every time you unlock your phone to see your unique and fun custom emoji wallpaper! Happy designing!