Animal Crossing: New Horizons is a beloved video game that allows players to create and manage their own virtual island paradise. One of the most exciting features of the game is the ability to collect various items, including artwork, to enhance the beauty of your island. However, acquiring genuine art can be challenging, as forgeries are also present. In this guide, we will help you navigate the art world of Animal Crossing: New Horizons and provide tips to distinguish real art from fake.
How To Buy Art From Redd
In the charming world of Animal Crossing: New Horizons, art can add a touch of sophistication and culture to your island paradise. Redd, the charismatic fox, occasionally visits with his Treasure Trawler, offering a selection of art pieces for sale. However, not all of his offerings are genuine, and it's crucial to navigate Redd's selection wisely.
Spotting Redd's Treasure Trawler:
Redd's Treasure Trawler can be found docked on the secret beach of your island. Keep an eye out for his arrival as he tends to visit randomly. The secret beach is accessible by swimming or using a ladder to reach the cliff edge. Once you spot Redd's boat, head over to begin your art-hunting adventure.
Inspecting Redd's Art Collection:
Upon arriving at Redd's Treasure Trawler, you'll notice a variety of art pieces displayed for sale. Take the time to browse through his collection, paying close attention to the details of each piece. Keep in mind that some of the artworks may be genuine, while others are forgeries.
Identifying Genuine Art:
Distinguishing between genuine and fake art can be challenging but exciting. Here are a few key factors to consider when inspecting Redd's art:
a. Compare with Real-Life Counterparts: Use a separate device or computer to research the real-life versions of the artwork Redd is selling. Pay attention to the details, colors, and composition. This will help you spot any discrepancies between the genuine and fake pieces.
b. Observe Signature and Title: Authentic artwork will have the artist's signature and a correct title. Examine the signature closely for consistency and accuracy. Additionally, verify that the title of the artwork matches the real version you researched.
c. Analyze Art Details: Scrutinize the painting's details, brushstrokes, and overall quality. Look for any anomalies, such as missing elements or alterations, which may indicate a forgery.
Making a Purchase:
After carefully examining Redd's collection and identifying a genuine art piece, it's time to make your purchase. Speak to Redd, select the artwork you wish to buy, and confirm the transaction. Redd will provide you with a certificate of authenticity once the purchase is complete.
Displaying the Art in Your Museum:
To share your newfound masterpiece with your island community, head to the museum and speak with Blathers, the knowledgeable owl. Blathers will evaluate the authenticity of the artwork and, if genuine, accept it for display in the museum's art gallery.
How To Spot Fake Art
Spotting fake art can be a challenging task, as forgeries can be quite convincing. However, there are several techniques and considerations that can help you identify potential fakes. Here are some tips to help you spot fake art:
Provenance: Investigate the artwork's history and provenance. Look for documentation that traces the artwork's ownership and exhibition history back to the artist or a reputable gallery. If there are gaps or inconsistencies in the provenance, it could be a red flag.
Research the artist: Familiarize yourself with the artist's style, techniques, and signatures. Study their authentic works through books, online resources, or by visiting reputable galleries and museums. This will help you develop an eye for their unique characteristics and spot any inconsistencies in a potentially fake piece.
Signature verification: Pay attention to the artist's signature. Look for consistency in the way the artist signed their name across various works. If the signature on the piece you're examining differs significantly from the artist's known signatures, it may be a sign of forgery.
Materials and techniques: Learn about the materials and techniques used by the artist during the period when the artwork was created. For example, if a painting supposedly created in the 18th century includes a pigment that was only developed in the 19th century, it raises suspicions. Similarly, understanding the artist's preferred mediums, brushstrokes, or sculpting methods can help you assess the authenticity of the work.
Style and composition: Examine the overall style and composition of the artwork. Artists often develop a unique style and approach that remains consistent throughout their careers. Look for elements like brushwork, color palette, subject matter, and composition that are characteristic of the artist. Inconsistencies or variations that don't align with the artist's body of work might indicate a fake.
Artistic anomalies: Pay attention to details that could reveal inconsistencies or anachronisms. Look for anachronistic elements or subject matter that doesn't match the artist's known interests or historical context. Also, check for signs of modern materials or techniques that would not have been available during the artist's lifetime.
Consult experts: If you have doubts about the authenticity of a piece, seek professional opinions from art experts, appraisers, or authenticators. These individuals have specialized knowledge and experience in authenticating artworks and can provide you with an informed assessment.
Remember, spotting fake art can be challenging, and even experts can be fooled. Therefore, it's crucial to gather as much information and seek professional advice when in doubt.
Animal Crossing New Horizons Guide To Know Real Art From Fake
Familiarize Yourself with Art Pieces:
Before you begin the quest for genuine art, take some time to familiarize yourself with the different art pieces available in the game. There are 43 unique artworks to collect, featuring famous works from artists like Vincent van Gogh, Leonardo da Vinci, and more. Study the real-life counterparts of these paintings to understand their distinct characteristics.
Visit Redd's Treasure Trawler:
Redd's Treasure Trawler is a unique boat that occasionally docks at the secret beach on your island. This elusive character sells art pieces, but beware, not all of them are genuine. Approach Redd's stall to browse his collection and make a selection. However, inspect each piece carefully before making a purchase.
Analyze Authenticity:
To spot fake pieces of art, you need to scrutinize them closely. Here are some key factors to consider:
a. Compare with Real-Life Art: Use a second device or computer to search for the real version of the artwork online. Pay attention to the details, colors, and composition. Compare these elements to the piece in the game to identify any discrepancies.
b. Inspect Signature: Authentic artwork will have the artist's signature in the bottom-right corner. Be vigilant for slight variations in spelling, placement, or style, as these can indicate a forgery.
c. Check the Art's Frame: Authentic artwork will have a distinct frame that complements the piece. Be aware of any mismatched or poorly crafted frames, as these are red flags for fakes.
d. Observe Artwork Details: Look closely at the details of the painting. Notice if any elements are missing or altered from the original. Pay attention to the brushstrokes, texture, and overall quality.
Seek Help from the Museum:
After purchasing a piece of art, head to your island's museum and speak to Blathers, the owl in charge. Blathers will assess the authenticity of your art and either accept it for display or inform you that it is fake. This can be a useful confirmation of your own observations.
Trade with Other Players:
If you're having trouble finding genuine art or simply want to expand your collection, consider trading with other players. Engage with the Animal Crossing community through online forums, social media groups, or dedicated Discord servers. This way, you can acquire real art from players who have duplicates or are willing to part with their collections.
Academic Painting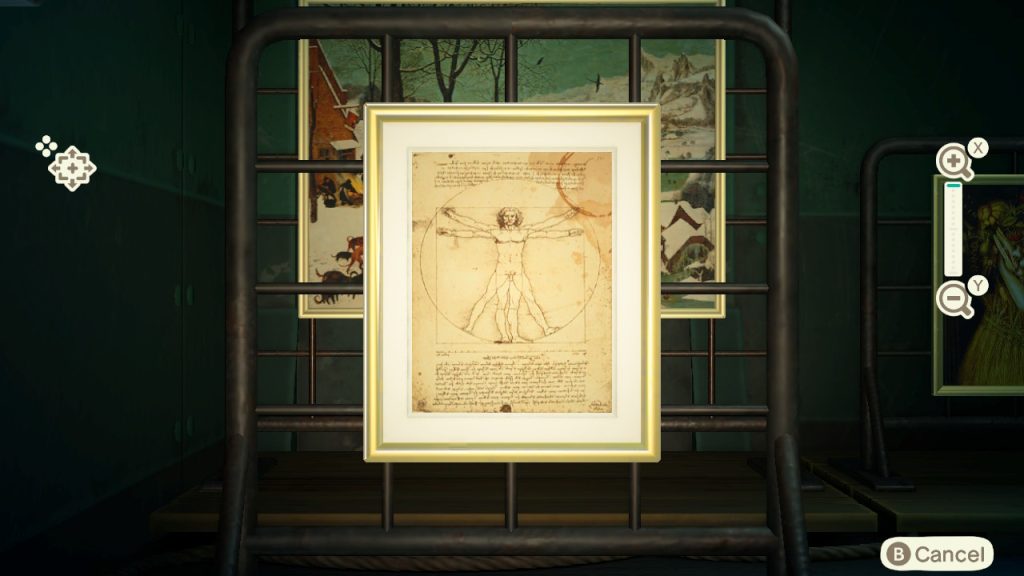 There are coffee stains in the top right corner of the fake academic painting.
Basic Painting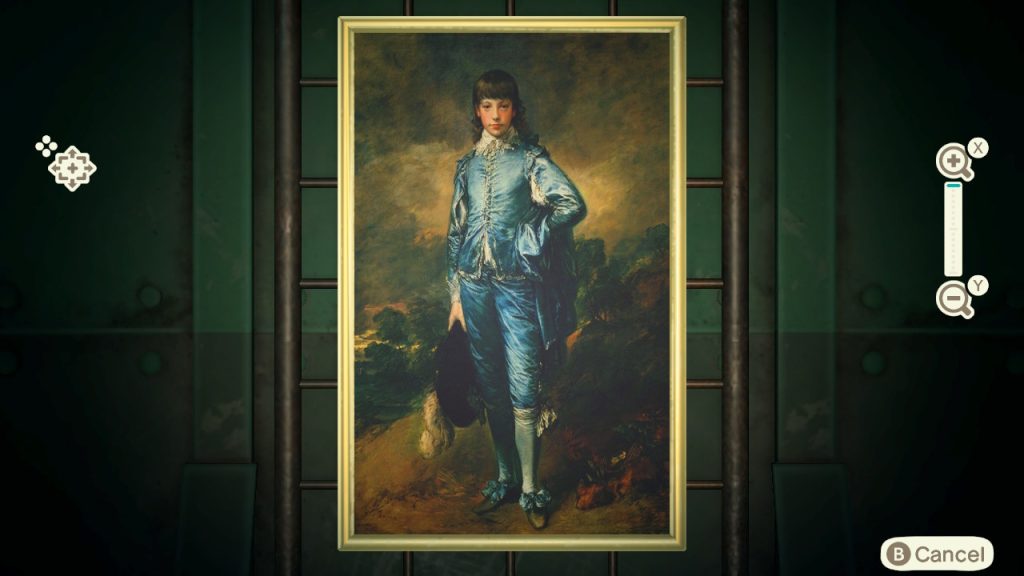 In the fake basic painting, the boy has heavy, straight-across bangs.
Common Painting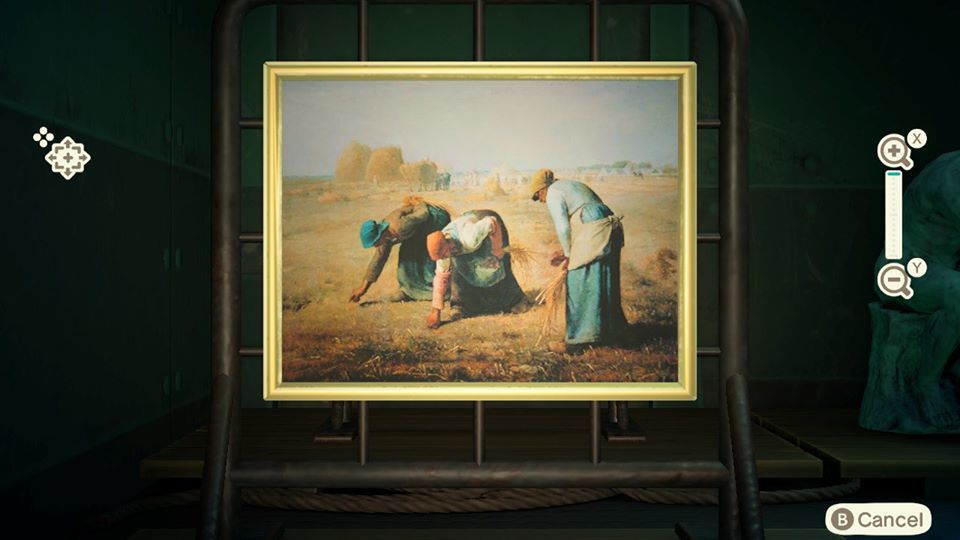 There is no fake version of the common painting.
Detailed Painting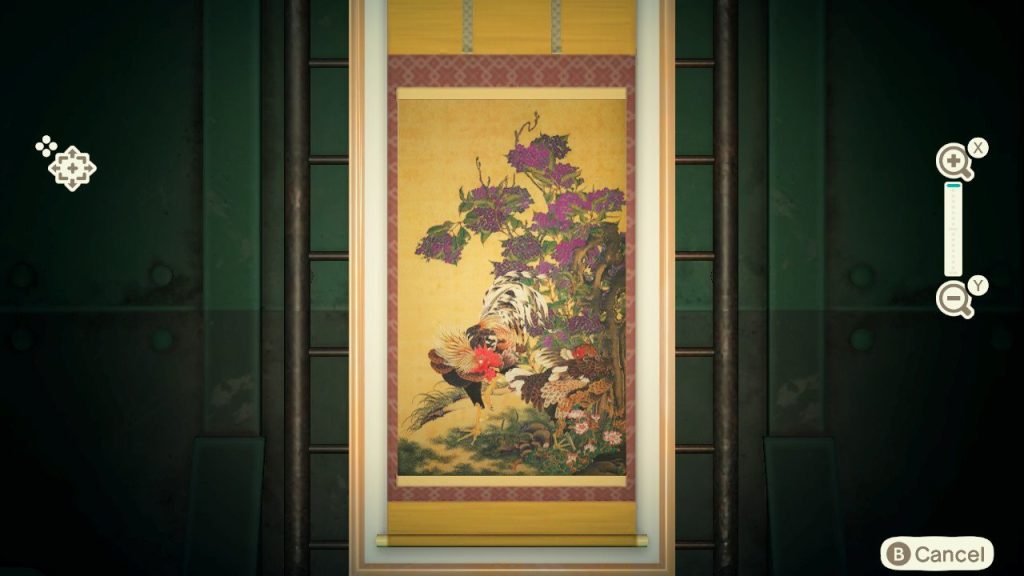 The flowers are purple in the fake; in the real detailed painting, they are blue. There is also vertical text and an icon on the left side of the real painting.
Dynamic Painting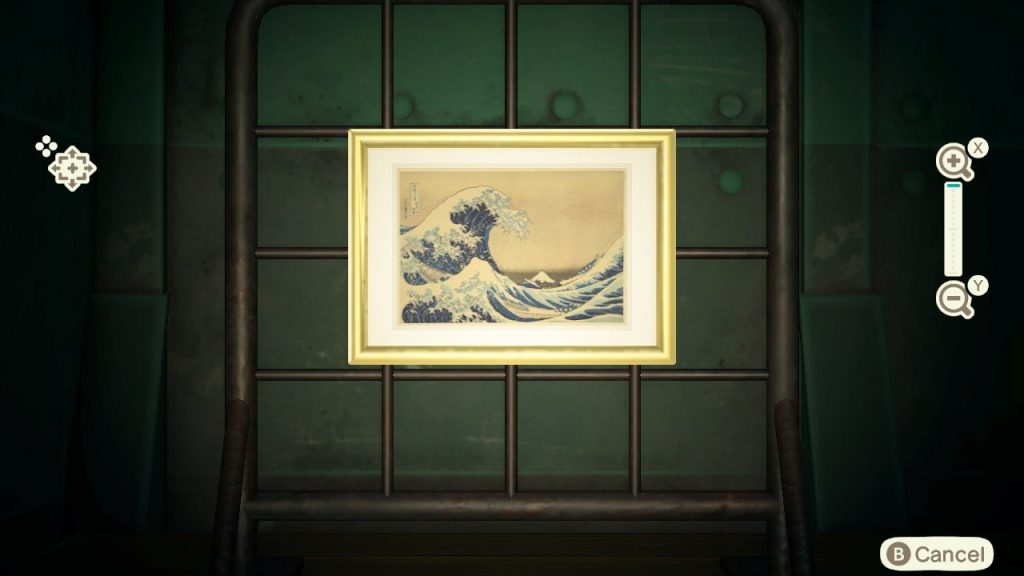 There is no fake version of the dynamic painting.
Famous Painting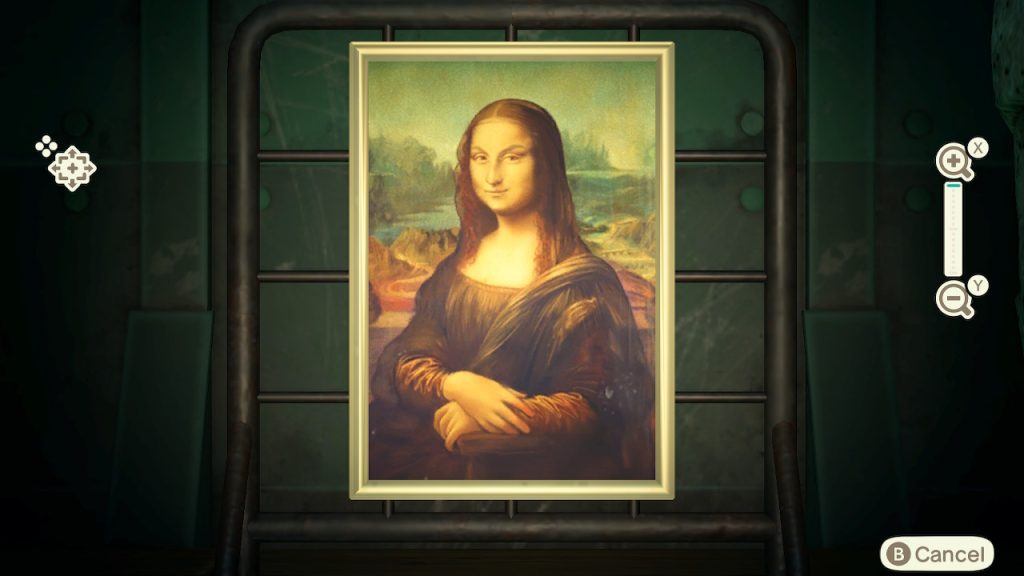 The fake Mona Lisa has arched contoured eyebrows.
Flowery Painting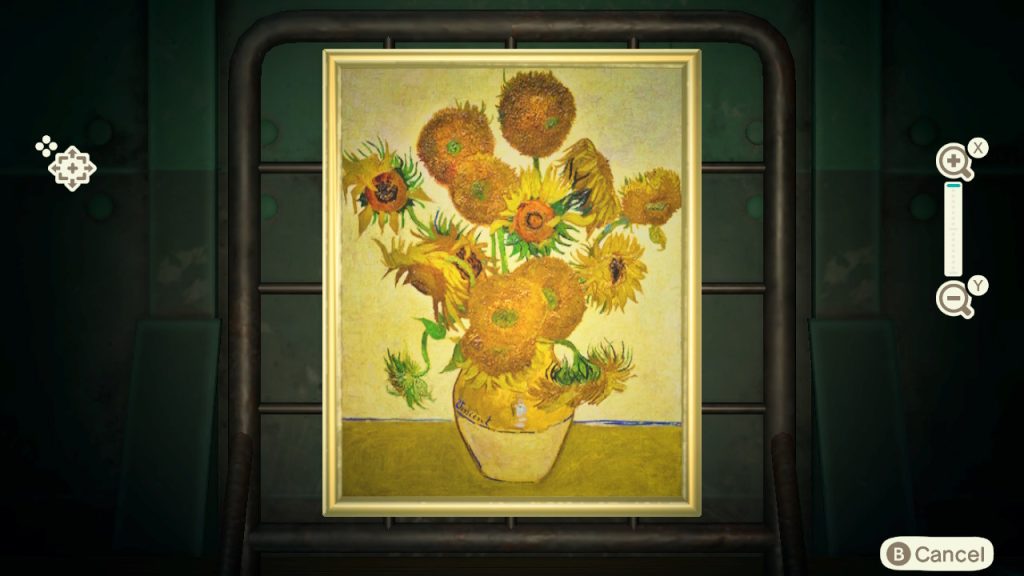 There is no fake version of the flowery painting.
Glowing Painting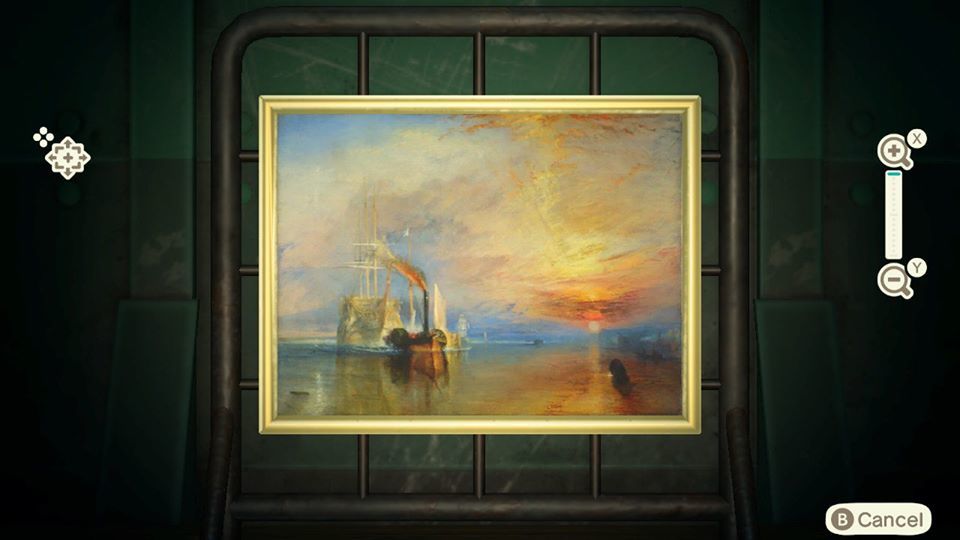 There is no fake version of the glowing painting.
Graceful Painting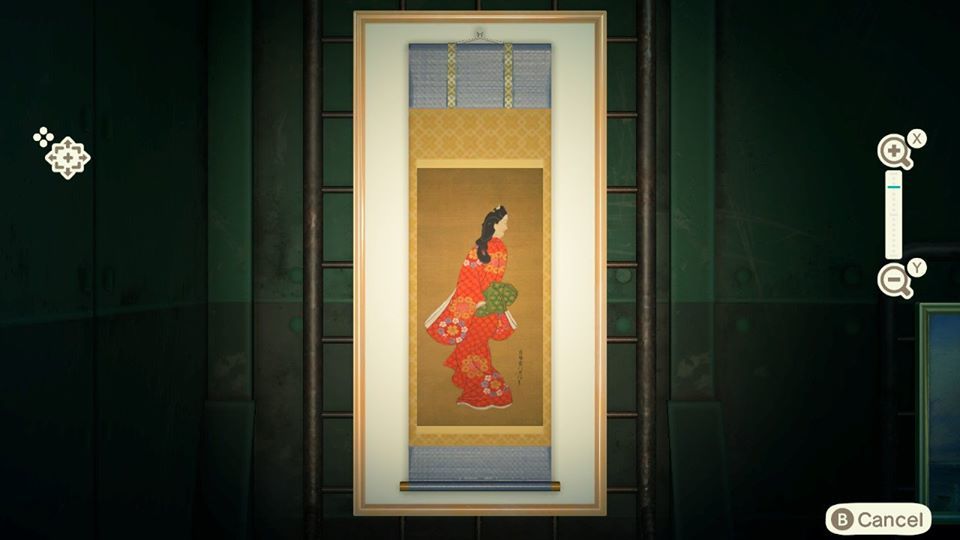 The woman should only take up two-thirds of the height of the graceful painting. In the fake, she's much taller. There's also another version of this fake in which she's facing the other way (but she's the same size).
Jolly Painting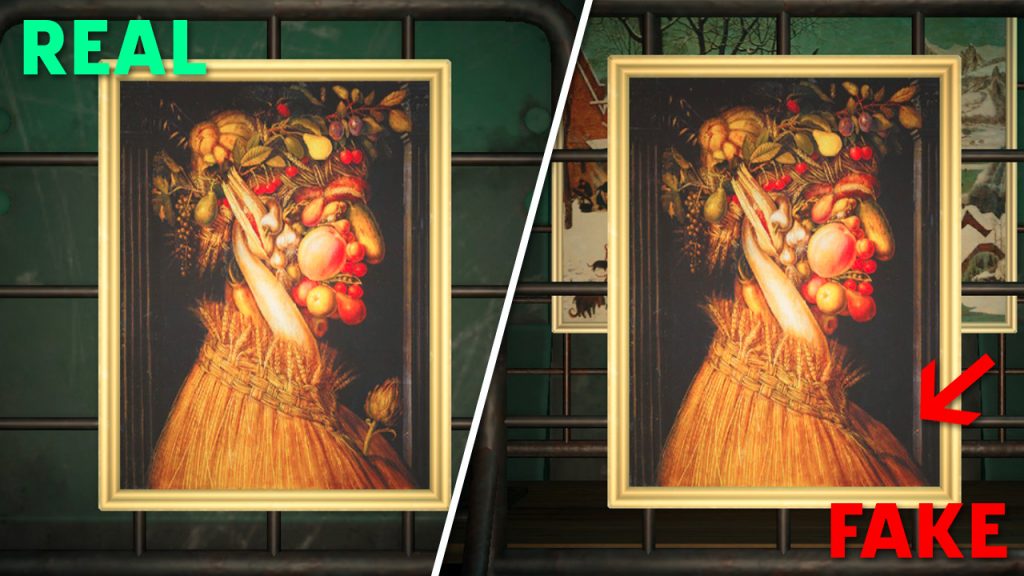 In the real jolly painting, the subject has a leaf coming out of their chest in the bottom right corner.
Moody Painting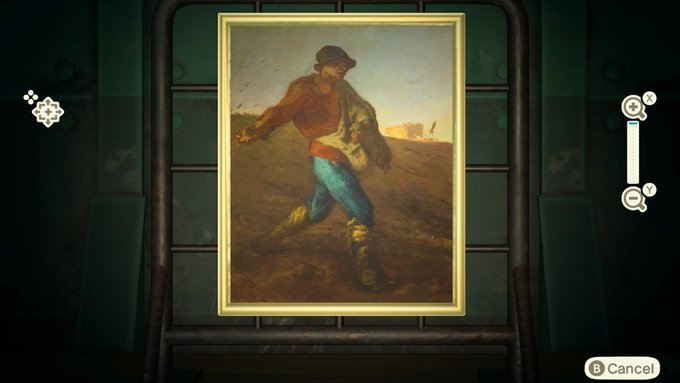 There is no fake version of the moody painting.
Scenic Painting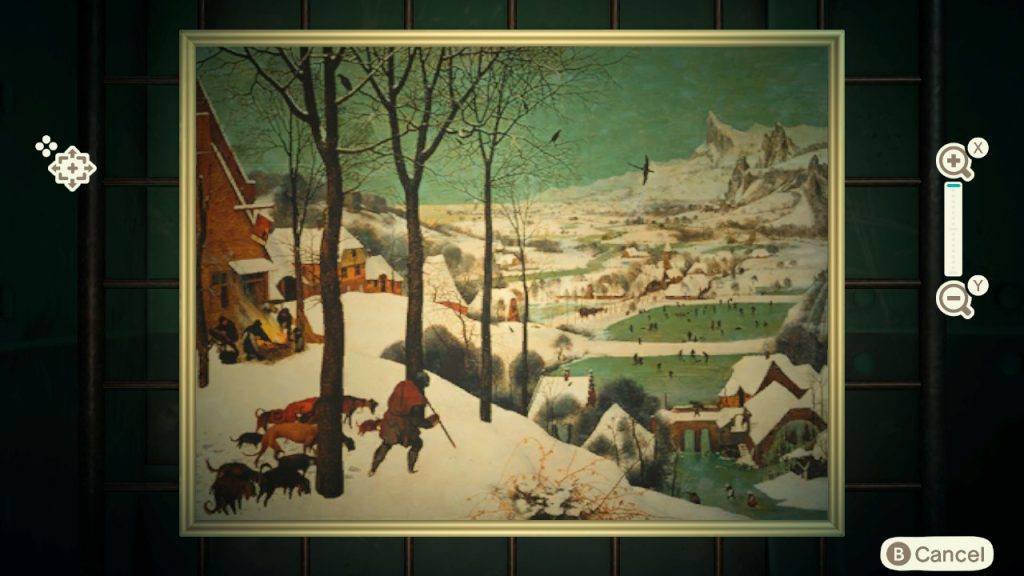 In the fake scenic painting, there is one man in the bottom-left corner; in the real painting, there are two.
Serene Painting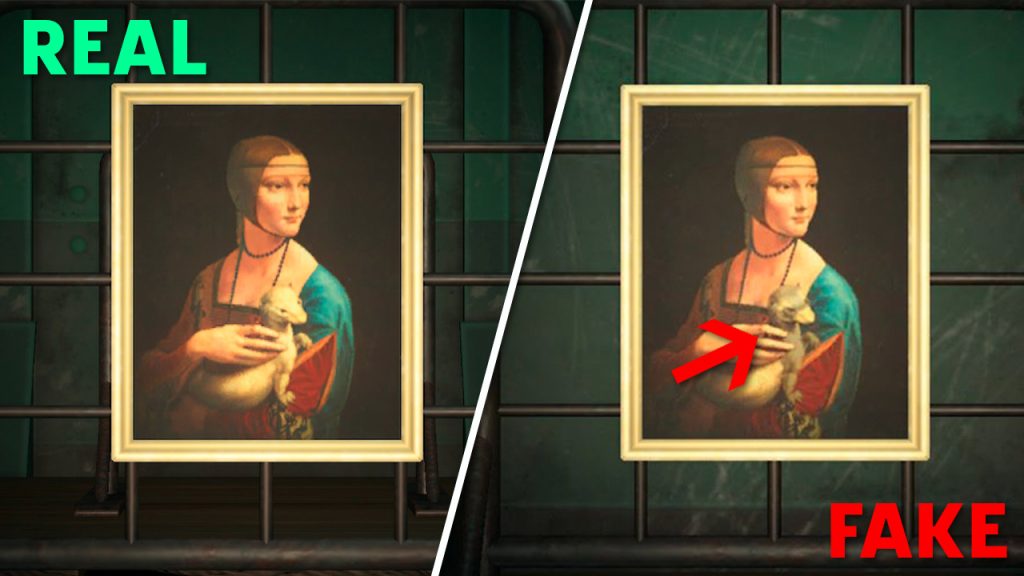 The animal in the fake serene painting looks more like a duck, with dark markings around its eyes and a yellowish snout. In the real painting, it is all white.
Conclusion:
Animal Crossing: New Horizons offers a charming and immersive experience, and collecting art is an exciting aspect of the game. However, it can be challenging to distinguish genuine art from forgeries. By familiarizing yourself with the different art pieces, carefully inspecting the details, seeking help from the museum, and engaging with the player community, you can increase your chances of acquiring authentic masterpieces to adorn your island. Happy art hunting, and may your collection shine with true creativity!