In today's fast-paced digital landscape, video content has become the dominant form of communication, capturing attention and conveying messages in ways that static images simply can't. With the rise of social media platforms and the constant demand for fresh, engaging content, it's no surprise that video editing tools are evolving rapidly. In this post, we'll delve into the world of creating trendsetting videos using the powerful combination of PhotoLeap's AI Scenes Editing and CapCut's innovative templates.
The Power of Video Content
Before we dive into the specifics of these tools, let's understand why video content matters. Videos are inherently more captivating than static images. They combine visuals, sound, and often text to convey messages that resonate deeply with audiences. From sharing personal experiences to showcasing products, videos have the ability to tell stories that engage, entertain, and educate.
Introducing PhotoLeap's AI Scenes Editing
Unlock the true potential of your photos with PhotoLeap's revolutionary AI Scenes Editing. Say goodbye to dull and ordinary images – our cutting-edge technology will transform your pictures into breathtaking masterpieces with just a few clicks.
🌟 Enhance Your Visual Storytelling: Whether it's a serene landscape, a bustling cityscape, or a candid portrait, PhotoLeap's AI Scenes Editing understands the unique characteristics of each scene. It intelligently enhances colors, tones, and details, breathing life into your photos and making them pop like never before.
🎨 Customized Artistry: We believe that every photo has its own story to tell. That's why our AI Scenes Editing adapts to your style and preferences. Want vibrant and energetic colors? Or perhaps a classic and moody feel? PhotoLeap has got you covered. Simply choose from our range of preset styles or fine-tune the settings to match your vision.
📸 Instant Results, Effortless Process: Transforming your photos has never been this easy. With PhotoLeap, all it takes is a single click to witness the magic unfold. Our AI technology works behind the scenes to analyze and optimize your image, saving you time and effort while delivering exceptional results.
🔍 Intelligent Object Recognition: PhotoLeap's AI doesn't just stop at global enhancements. It can also identify and intelligently enhance specific objects within your photos. Want to make that sunset even more vibrant? Or highlight the intricate details of a flower? Our AI Scenes Editing knows just what to do.
🌐 Cross-Platform Convenience: Whether you're a professional photographer or an amateur enthusiast, PhotoLeap's AI Scenes Editing is designed to fit seamlessly into your workflow. Our intuitive interface is available on desktop and mobile devices, ensuring that you can achieve stunning results no matter where you are.
🔄 Non-Destructive Editing: Worried about making permanent changes? PhotoLeap has your back. Our non-destructive editing ensures that your original image remains untouched. Experiment with different styles and settings without fear – your masterpiece is always just a click away.
Step into the future of photography editing with PhotoLeap's AI Scenes Editing. Elevate your images, evoke emotions, and create unforgettable visual experiences like never before. Try it today and watch your photos leap to life!
Here's how to get started:
Upload Your Footage: Import your video clips into PhotoLeap's interface. Whether it's footage from a recent vacation, a product demonstration, or a vlog, PhotoLeap can work its magic on any genre.
Choose an AI Scene: PhotoLeap's AI offers a variety of scene presets that align with popular video trends. From vintage filters to modern cinematic effects, these scenes elevate your video's visual appeal effortlessly.
Customize and Refine: While the AI does an impressive job on its own, you have the flexibility to tweak and refine the scenes to match your vision. Adjust colors, transitions, and other elements to create a video that's uniquely yours.
Add Music and Text: Enhance your video's impact by adding suitable background music and text overlays. Music sets the mood, while text can provide context, information, or even humor.
Export and Share: Once you're satisfied with the result, export your edited video. PhotoLeap ensures that even those with minimal editing skills can create professional-looking videos.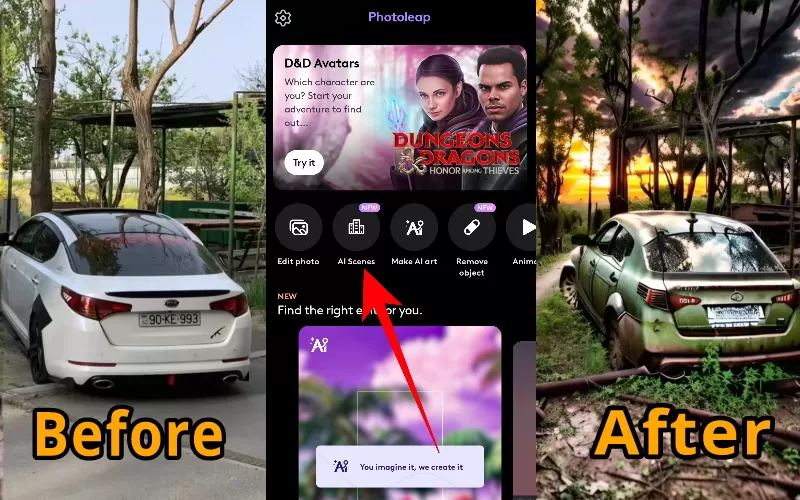 Elevating Your Edits with CapCut Templates: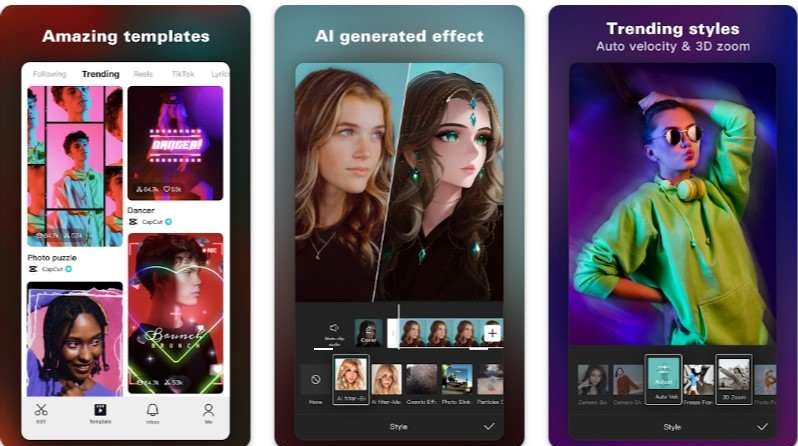 While PhotoLeap takes care of the editing process, CapCut steps in to add an extra layer of trendiness to your videos with its diverse collection of templates. CapCut is a popular mobile video editing app that offers pre-designed templates for a wide range of video types.
Select a Template: Whether you're creating a short video for Instagram Stories or a longer tutorial for YouTube, CapCut has a template for you. Choose a template that complements the style and tone of your video.
Insert Your Edited Video: Seamlessly integrate the AI-edited video from PhotoLeap into the CapCut template. This ensures that your video maintains a cohesive look throughout.
Customize and Enhance: CapCut's templates are fully customizable. Adjust the text, transitions, and effects to match your brand's aesthetics. You can also add stickers, filters, and other creative elements.
Fine-Tune the Details: Pay attention to the finer details, such as the duration of each clip, the timing of text animations, and the overall flow of the video. These nuances contribute to a polished end product.
Export and Share: Once you're satisfied with your video's look and feel, export it from CapCut and share it across your preferred social media platforms.
Conclusion:
The fusion of PhotoLeap's AI Scenes Editing and CapCut's templates opens up a world of creative possibilities for aspiring content creators and seasoned professionals alike. By harnessing the power of AI-driven editing and combining it with trendsetting templates, you can create videos that not only keep up with the latest digital trends but also set new standards for engaging, shareable content. So, whether you're a social media influencer, a marketer, or simply someone who loves sharing stories, give these tools a try and watch your video content soar to new heights.