For those of you who wish to have more than one grid option higher than the default Samsung TouchWiz default setting of 5×6, you can enter the GRX TouchWiz mod if you have a Samsung device rooted with a custom ROM. The GRX TouchWiz MOD APK will give you a fully modulated TouchWiz launcher that can give you 6 × 6, 7 × 7, 8 × 8 and 9 × 9 grid sizes higher on your home drawer and apps.
On smaller phones like Galaxy S6, this may not seem like a big deal, but if you use bigger phones like the Galaxy Note 8, you'll benefit greatly from being able to use higher grid sizes. Currently, I use it on a custom Galaxy S9 ROM on my Note 8 with 7×7 grid size and I like the fact that I can fit just about all my apps on the home screen instead of have to scroll left or right or make folders.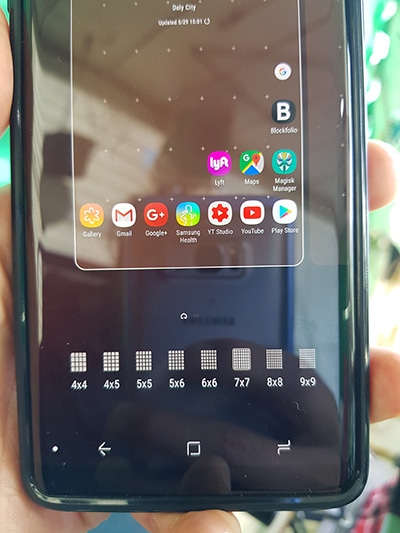 Performance is also very fast with this launcher so you will not have any problems using it and can dramatically improve your user interface on the original TouchWiz launcher. In addition, this launcher comes with different customizations where you can customize icons, docks, application drawer, and even custom gestures for quick launch applications.
However, your Samsung Android device must run Android 6.0 Marshmallow and also supports the latest Android 7.0 Nougat or 8.0 Oreo.
This should work on ANY Samsung devices like the Galaxy Note, Note 2, Note 3, Note 4, Note 5, Note 7, Note 8, Galaxy S, S2, S3, S4, S5, S6, S6 Edge, S7, S7 Edge, S8, S8 Plus, S9, S9 Plus and any other Samsung device.
How to install GRX TouchWiz MOD??
Download the APK file onto your phone.
Uninstall any TouchWiz app updates in Settings->Apps. If you don't see any updates, then you are good to go.
Also make sure you are running a custom ROM as it will not work on stock firmwares.
Reboot into TWRP recovery and install the zip file and follow the AROMA graphical installer for instructions.
Download TouchWizHomeMod
You download GRX TouchWiz Mod V8 for Samsung Android smartphones, should work on all Samsung Galaxy phones running Android Marshmallow, Nougat, or Oreo. Please uninstall all TouchWiz app updates prior to installation and pre-backup your ROM to avoid boot-up loops.
Name: Samsung/Launcher/[Aroma]TouchWizHomeMod_V8Fix.zip
File Size: 15.66 MB
NB: You can also easily uninstall these apps afterward in Settings->Apps or Settings->App Manager depending on your device.